Mitch McConnell Says It's 'Laughable' To Think Donald Trump Deserves To Be Impeached—But What Did He Say When It Was Bill Clinton?
For Senate Majority Leader Mitch McConnell, the very notion that President Donald Trump could be deserving of impeachment seemed "laughable" earlier this week.
After having read a summary of the July phone call between Trump and Ukrainian President Volodymyr Zelensky that sparked House Democrats' impeachment inquiry into the president, McConnell said on Wednesday that it was "laughable to think this is anywhere close to an impeachable offense."
"If this is the 'launching point' for House Democrats' impeachment process, they've already overplayed their hand," the Senate Majority Leader said.
In the hours following the White House's release of a rough transcript of the phone call, in which Trump can clearly be seen pressing Ukraine's leader to investigate Democratic presidential candidate Joe Biden and his son, McConnell still appeared unmoved.
The Kentucky Republican made no mention of the transcript or impeachment inquiry on his social media accounts, while his office also stayed quiet, having only issued a press release on the matter the day before the White House's records were released.
While, when it comes to Trump's impeachment inquiry, McConnell appears determined to keep his cards close to the vest, that was far from the case 20 years ago, when the Republican was given a chance to speak during closed-door deliberations on impeachment proceedings against former Democratic President Bill Clinton.
In 1998, Clinton became the second president in U.S. history to be impeached, following President Andrew Johnson, who was impeached 130 years before in 1868.
While the House formally adopted the articles of impeachment charging Clinton with lying under oath and obstruction of justice for denying having sexual relations with his then-aide Monica Lewinsky in a sexual harassment lawsuit filed by Paula Jones, the Senate failed to convict him on either charges by the necessary two-thirds majority vote.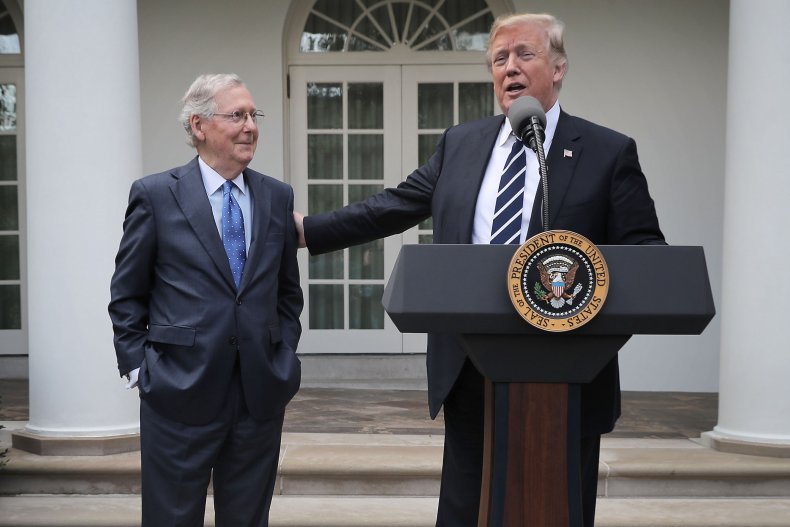 While a handful of Republicans had joined Democrats in deeming Clinton "not guilty," McConnell was not one of them, with the GOP senator finding the then-president guilty on both counts.
In a transcript of McConnell's comments in February 12's closed-door hearing, the GOP senator condemned Clinton for having chosen a "path of lies and lawlessness" in a desperate bid to stay in office.
"Time after time, the President came to a fork in the road," McConnell said in his 1999 statement, according to a transcript previously published by CNN. "Time after time, he had the opportunity to choose the noble and honorable path. Time after time, he chose the path of lies and lawlessness—for the simple reason that he did not want to endanger his hold on public office."
In a "cold" and "calculated" decision, McConnell said Clinton had given up the chance to "tell the truth," choosing to "cling to public office and deny, delay and obstruct" instead.
"The President would seek to win at any cost. If it meant lying to the American people. If it meant lying to his Cabinet," he continued. "The name of the game was winning. Winning at any cost."
McConnell's speech spanned more than 4,000 words, with the Republican repeatedly admonishing Clinton for having "looked 270 million Americans in the eye" and having "lied—deliberately and methodically."
"He took an oath to faithfully execute the laws of this nation, and he violated that oath," the senator said. "He pledged to be the nation's chief law enforcement officer, and he violated that pledge. He took an oath to tell the truth, the whole truth, and nothing but the truth, and he willfully and repeatedly violated that oath."
"I think that the United States Senate has a clear choice," McConnell said at the time. "Do we want to retain President Clinton in office, or do we want to retain our honor, our principle, and our moral authority?"
"For me, and for many members in my impeachment-fatigued party, I choose honor," he said.
Now, 20 years later, with a Republican leader in office, McConnell could be asked to make a similar choice on whether or not he believes a sitting president should be impeached.
Trump has insisted that he has "done nothing wrong," when it comes to his call with Zelensky.
The defense that he has "done nothing wrong," however, is one that the U.S. leader has repeatedly been forced to make throughout his short time in office, with the president facing calls to resign or be impeached over a series of scandals, including special counsel Robert Mueller's Russia probe.
Meanwhile, according to The Washington Post's Fact Checker database, as of August 5, Trump's 928th day in office, the U.S. leader had been found to have made at least 12,019 false or misleading claims throughout his tenure.
The president crossed the 10,000 mark on April 26 and had been averaging around 20 questionable claims a day since then.