McConnell Trolls Trump With Kentucky Derby Gifts to Fellow GOP Senators
The 2022 Kentucky Derby is Saturday, and Republican Senate Minority Leader Mitch McConnell is using the occasion as an opportunity to troll former President Donald Trump.
McConnell, playing off of a nickname the former president had given him, gave fellow GOP senators a bottle of Old Crow bourbon as a gift meant to showcase his state's bourbon industry, the Louisville Courier Journal reported.McConnell's gesture took place Thursday afternoon during a weekly luncheon that he always hosts during the week of the popular horse race.
McConnell's gift to his colleagues came as the Kentucky senator and Trump are at odds on several issues. McConnell has faulted Trump for helping incite violence at the U.S. Capitol on January 6, 2021, and he also did not support raising objections to certifying the 2020 Electoral College votes. Since then, Trump has continued to maintain that the 2020 election was rigged against him and has also referred to McConnell publicly as "Old Crow" amid an ongoing feud over the future of the GOP.
McConnell, in a statement to the Courier Journal, pointed out Kentucky's rich history with the Derby and bourbon.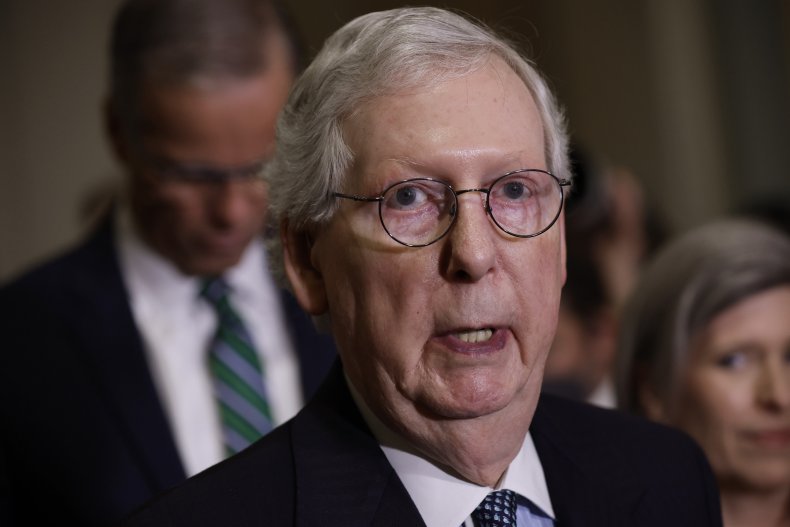 "I am so proud to call Kentucky home and bring the spirit of the Kentucky Derby to our Nation's Capitol. This event unites everyone from across my home state and puts the best of the Commonwealth on display under the Twin Spires of Churchill Downs. Kentucky is recognized as the world capital of both bourbon and horses, industries that contribute to our state's economy and tourism," the statement read.
Last month, McConnell, while speaking at a Kentucky Chamber of Commerce event, remarked on his many nicknames given by the former president, joking that "Old Crow" has been his favorite.
"Some of you may not have heard that my latest nickname is 'Old Crow.' It was given to me by the former president, who's apparently not a fan," he said.
"And my response was, I wanted to thank him because this was Henry Clay's favorite bourbon," McConnell added, receiving a round of applause from the audience.
Old Crow, which is made and sold by the James B. Beam Distilling Co., is described on the company's website as likely to have been found at the "tables of United States presidents like Ulysses S. Grant and on the desks of renowned American writers like Mark Twain."
Newsweek reached out to representatives for Trump and McConnell and to the James B. Beam Distilling Co. for comment.