Mitch McConnell Elicits 'Very Cold' Feelings in About Half of U.S. Voters
Senate Majority Leader Mitch McConnell, set to debate Democratic challenger Amy McGrath Monday evening, received a "very cold" or "somewhat cold" rating from a majority of Americans, 57 percent, according to a new survey of U.S. voters.
McConnell will face only the opinions of Kentucky voters during his upcoming Election Day fight against McGrath, but U.S. voters at large have largely negative views of the Republican Senate leader. A new Pew Research Center survey conducted ahead of Monday's Senate Judiciary Committee hearings on Amy Coney Barrett's nomination asked voters to rate both McConnell and Senate Minority Leader Chuck Schumer.
Neither senator received a "very warm" or "somewhat warm" rating above 25 percent. And each saw around half of Americans giving them at least "somewhat cold" reviews.
The survey data from nearly 12,000 U.S. adults between September 30 and October 5 found nearly half, or 48 percent, saying they have a "very cold" opinion of McConnell. An additional 9 percent said they view him as "somewhat cold," the same single-digit percentage who rated him "somewhat warm." Under half of voters identified as Republican and Republican-leaning voters gave McConnell "warm" ratings, with just 46 percent sharing a positive review of the GOP senator.
On the Democratic Senate leadership side, New York's Schumer was given a "very cold" rating by 42 percent of American adults, with an additional 9 percent also giving him a "somewhat cold" reception.
Schumer was given a "neutral" rating by 23 percent of respondents, compared to 20 percent for McConnell.
The graphic below, provided by Statista, illustrates the poll results.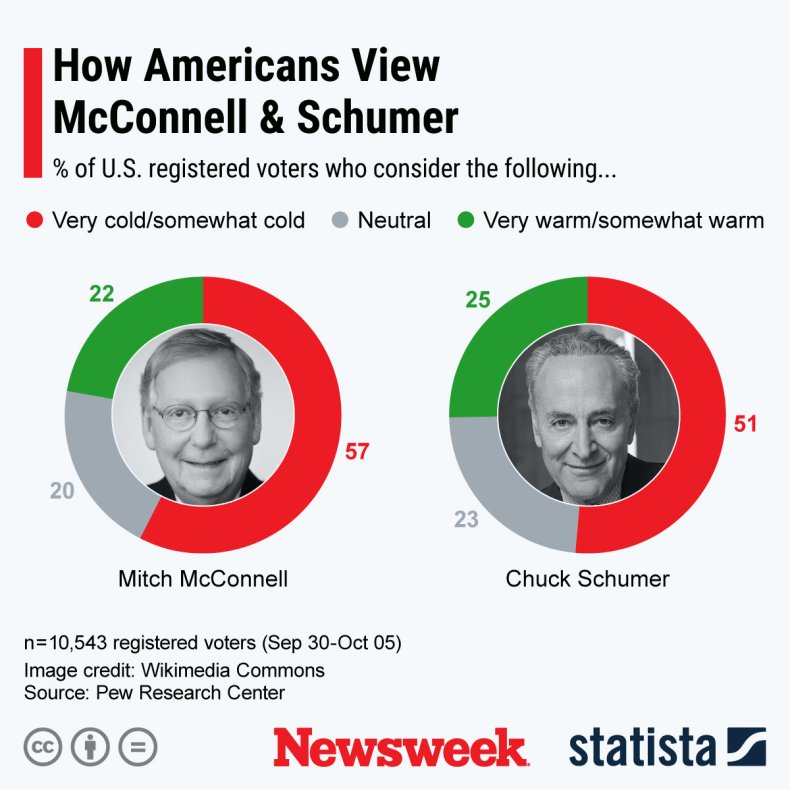 Among voters identified as conservative Republicans, a 56 percent majority of respondents said they view McConnell warmly, while just 20 percent of moderate or liberal GOP voters said the same. Among voters who identified as liberal Democrats, 60 percent said they have a warm view of Schumer, a longtime leader of Senate Democrats. One-third of the party's more moderate or conservative members said they have warm feelings toward Schumer.
About 90 percent of liberal Democrats said they feel very coldly toward McConnell, while Schumer was given a considerably less negative reviews among conservative Republicans, with 69 percent feeling very cold toward him. Among Democratic voters as a whole, McConnell was given a warm rating by just 2 percent of respondents.
But only Kentucky voters will decide if McConnell reclaims his Senate seat on November 3. A Quinnipiac poll of likely Kentucky voters conducted in early September showed McConnell with a 12-point lead over McGrath, although more recent polls have put the U.S. Marine Corps veteran within single digits of the longtime GOP senate leader.
Newsweek reached out to McConnell's and Schumer's offices for reaction Monday afternoon.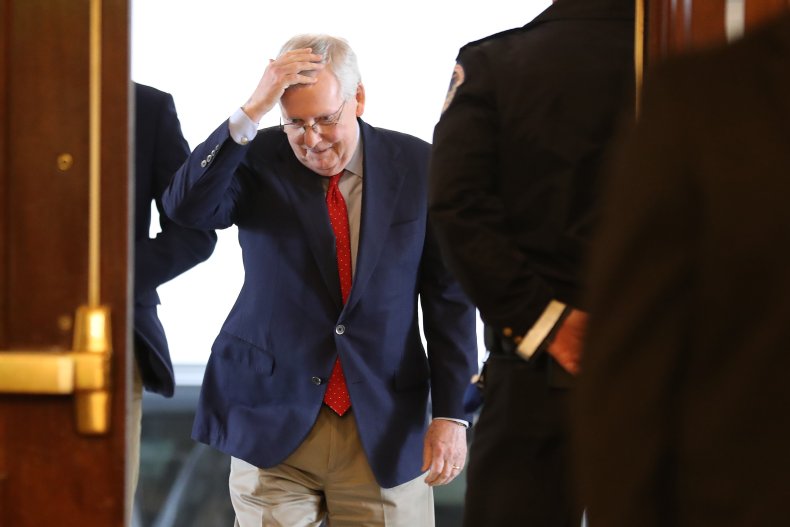 Update 10/13/20: This article was updated to include an infographic.