Senate Minority Leader Mitch McConnell has warned that if the Democrats destroyed the legislative filibuster, a "nuclear winter" in Congress' upper house would ensue.
With Democratic lawmakers keen to end the Senate rule requiring 60 votes to get legislation passed, the 50-50 split in the upper house means that getting much of the new administration's agenda over the line will prove to be difficult.
However, if Democrats forced a change or managed to abolish the measure via the so-called "nuclear option", the Kentucky Republican warned it would be tough to get even small things done.
"If they destroy the essence of the Senate—the legislative filibuster, they will find the Senate will not function," he told the Ruthless podcast released on Tuesday.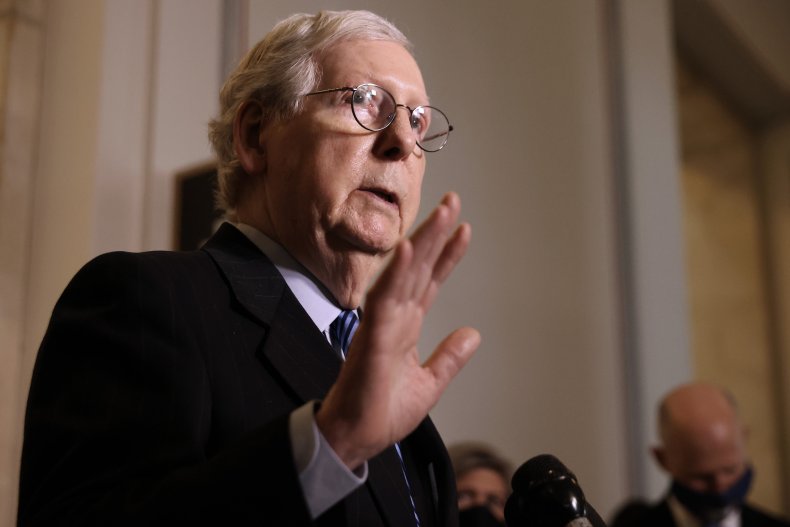 "It takes unanimous consent to turn the lights on here and I think they would leave an angry 50 (GOP) senators not interested in being cooperative—on even the simplest things.
"It may not be the panacea that they anticipate it would be. It could sort of turn the Senate into sort of a nuclear winter. The aftermath of the so-called 'nuclear option', is not a sustainable place."
McConnell said the Senate was a place where ideas could be "slowed down" and "thought over." If it was turned into a simple majority body, he said, "the essence of the Senate is lost."
"It has forever been the place where bad ideas die and where compromises are made," said McConnell who himself invoked the "nuclear option" to change the rule for Supreme Court justices in 2017.
"These folks are not interested in compromise. They are interested in passing all of their bills to remake America," he said.
McConnell also described as "brave" the centrist Democrats, Sens. Joe Manchin (W-VA) and Kyrsten Sinema (AZ) for their opposition to scrapping the legislative filibuster and for "preserving the institution."
McConnell has constantly used dramatic language to describe the prospect of an end to the filibuster, having previously referred to a "scorched-earth Senate."
President Joe Biden has suggested he would be open to the idea of the filibuster of old, when a lawmaker had to hold the floor. "You've got to work for the filibuster. It is almost getting to the point where democracy is having a hard time functioning," Biden said.
This week, the former president Donald Trump said in a podcast interview that McConnell "was hanging by a thread and if they get rid of the filibuster, if they knock it out, it will be catastrophic for the Republican Party."
Newsweek has contacted the White House for comment.