Mitch McConnell Flouts Trump, Again Says Russia Should Not Be Allowed in G7
Senate Majority Leader Mitch McConnell flatly rejected on Tuesday the idea of Russia rejoining the Group of Seven (G7). President Donald Trump has suggested allowing Russia to be readmitted to the group of world leaders after it was ousted in 2014 after the annexation of Crimea.
McConnell's statement represents a difference of opinion with Trump, who said during a Fox News Radio interview in June that admitting Russian President Vladimir Putin to the next G7 meeting was "common sense." Trump explained that having Putin present at the meetings would make discussions concerning Russia easier. "Half of the meeting is devoted to Putin," Trump said, "and he's not there."
When asked by reporters on Tuesday if he would support Russia retaking its place at the G7 table, McConnell said, "Absolutely not."
McConnell also dismissed the idea in 2018 after Trump made a similar statement.
"Whether you like it or not, and it may not be politically correct, but we have a world to run," Trump told reporters in 2018. "And in the G7, which used to be the G8—they threw Russia out—they should let Russia come back in because we should have Russia at the negotiating table."
McConnell said during a 2018 interview that Russia should be kept out of the G7. "Putin yearns for the old days," McConnell said, "and acts like it."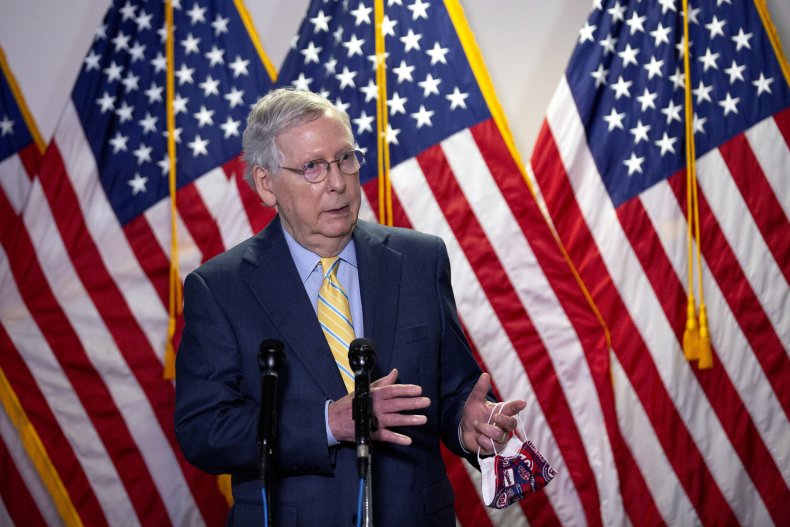 Newsweek reached out to Senator McConnell's office for comment. This story will be updated with any response. The White House directed Newsweek to Tuesday's press briefing, in which Press Secretary Kayleigh McEnany said she had not personally spoken with President Trump about McConnell's comments.
"The President believes that we have to have diplomatic relations with the top economies of the world," McEnany said, "but there's been no one that's been tougher on Russia than this president."
Other members of the G7 have also displayed reticence to allow Russia back into the fold. Canadian Prime Minister Justin Trudeau said that Russia would not be allowed to rejoin the G7, citing the country's "continued disrespect and flaunting of international rules and norms."
Originally formed in 1975, leaders of the G7 normally meet once a year to discuss important world issues. While the U.S. was expected to host the 2020 G7 Summit, it was postponed because of the coronavirus pandemic. Currently, the G7 consists of the U.S., Canada, Germany, the U.K., France, Japan and Italy.
Russia's relationship with the White House came under scrutiny Saturday after documents were leaked indicating a bounty system instituted by Russian intelligence agents in Afghanistan. Russians allegedly offered members of the Taliban money for each American soldier killed. While President Trump denied having any knowledge of the bounty situation, reporting by the Associated Press on Monday said that Trump knew about the situation as early as 2019.
Former National Security Adviser John Bolton, a vocal critic of the Trump Administration, said Tuesday that if the reports about the bounties are true, then "it's tantamount to an attack on Americans directly."
During Tuesday's briefing, Press Secretary McEnany told reporters on that President Trump was ready to take action against Russia if the reports are verified. "Make no mistake," McEnany said, "this president is prepared to act and will always act in protecting our American troops."