Is Mitch McConnell Going Down?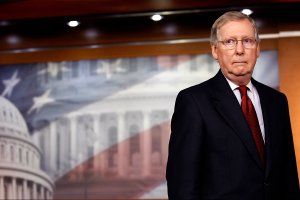 The consensus in politics land is that Senator Mitch McConnell, the Republican minority leader from Kentucky, will win his re-election bid this November and likely become Senate majority leader. The FiveThirtyEight polling forecast puts McConnell's chance of winning at 77 percent.
But Richard Trumka, the president of the AFL-CIO, the largest federation of unions in the country, disagrees.
At a roundtable briefing with reporters Tuesday at the AFL-CIO's headquarters, Trumka gave a cautiously optimistic view of the midterm elections — now just four weeks away. "We still have a lot of work to do," said Trumka, whose group is working to elect Democrats up and down the ballot across many states. "We know we're close, we're within striking distance."
But when asked about Kentucky, he got a twinkle in his eye.
McConnell has held a lead against his opponent, Kentucky Secretary of State Alison Lundergan Grimes, in every non-campaign-sponsored poll since June, according to FiveThirtyEight. But this Monday, a SurveyUSA poll found Grimes up two points on McConnell, 46 percent to 44 percent.
"She is going to beat him in the election," Trumka said of Grimes. It was the only prediction he made Tuesday.
It wasn't just the latest poll that had Trumka optimistic. Trumka says he gets his optimism from being on the ground and watching the messages coming from the campaigns.
"I've been Owenboro, I've been in Louisville, I've been in Paducah, I've been in the Eastern part of the state. I know what's happening," he said. "McConnell is against everything, and he's running against Barack Obama. But Barack Obama isn't on the ballot. Alison Lundergan Grimes is. And she is going to beat him in the election because she has a positive program."
Trumka's optimism felt like more than bluster. "Your whole demeanor changes when you talk about that race," one reporter remarked. "You're positively gleeful."
Trumka has an obvious affection for Kentucky, where he spent a lot of time as president of the United Mine Workers nearly two decades ago. He waxed poetic about Grimes. "You talk to her, she'll tell you exactly why she wants to be senator and it's to help working people in Kentucky," he said. "Every time I've run across the candidate like that, it excites me. That's the kind of candidate [where] you don't have to say to your members, 'Yes but the other guy's worse.'"
Meanwhile, Trumka says that McConnell's strategy of tying Grimes to Obama has "run its course."
Election forecasters have largely treated Grimes' lead in the latest poll as an anomaly. Unlike Trumka, they continue to see McConnell as the heavy favorite. "I would take these results with a grain of salt, given that they deviate from everything we've seen recently," University of Kentucky political scientist Stephen Voss told the Louisville Courier-Journal of the latest poll.
Team McConnell similarly dismissed the poll. "After fourteen straight public polls all showing Sen. McConnell with a clear lead, this Bluegrass Poll is obviously an outlier," spokeswoman Allison Moore said in a statement. "We're very comfortable with where this race stands."
"I hope Mitch keeps thinking that," Trumka said Tuesday.