Mitch McConnell, GOP Leaders Tell Party Not to Dispute Election Results
In a pivot from the claims that Republican officials have bolstered over the last six weeks, a number of GOP leaders are now urging the party to stop disputing the results of the presidential election a day after Electoral College voters formalized President-elect Joe Biden's win.
Among the group of Republicans telling the GOP to stand down is Senate Majority Leader Mitch McConnell.
On a Tuesday caucus call, McConnell urged colleagues not to object during Congress' count and certification of the Electoral College vote next month.
Senate Republican Whip John Thune and Senate Rules Committee Chairman Roy Blunt joined McConnell in advising House Republicans not to object the votes when they are to be ratified during a joint session of Congress on January 6.
While no one has indicated that they would object to a state's electoral votes, McConnell warned that an objection, which "isn't in the best interest of everybody," would force the Senate to debate and vote on the objection and leave Republican senators in a tough spot, according to a report from The Hill.
"It creates a debate that has a certain outcome and that will certainly fail," Blunt said. "I certainly don't see any merit in that."
"If you view the Electoral College vote as determinative, the receiving of those votes in the joint session should be very non-controversial," Blunt added. "I think objecting serves no purpose."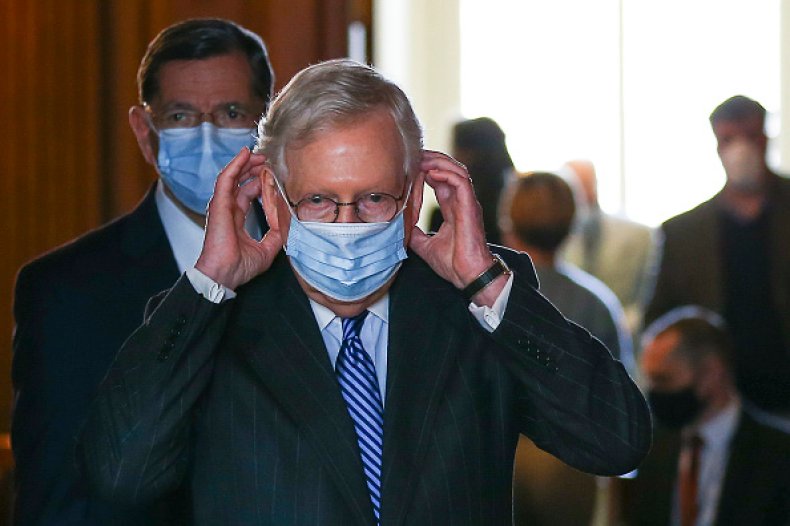 In order for a Trump supporter in the House to successfully force a debate, at least one GOP senator will need to support the objection. Both chambers would then meet separately to debate the issue before casting a vote.
As of yet, lawmakers have never been able to successfully throw out a state's election results.
"I think that there was encouragement on the phone for us to accept the result, as much as it's not what we, you know, would have envisioned for the next four years, and to try to do what's best for American people, which is to look forward," Republican Senator Shelley Moore Capito, who was on the call, told The Hill.
Senate Minority Leader Chuck Schumer said that he also heard McConnell was discouraging GOP senators from objecting.
"I am told he… urged members to just go forward, not to mess around with the Electoral College or any shenanigans," the Democrat said to reporters on Tuesday.
McConnell acknowledged Biden's win in the election for the first time on Tuesday.
"Many of us hoped that the presidential election would yield a different result, but our system of government has processes to determine who will be sworn in on January 20. The Electoral College has spoken," the Senate Majority Leader said in a floor speech. "So today, I want to congratulate President-elect Joe Biden."
Newsweek reached out to the Republican National Committee and the Trump campaign for comment.