Mitch McConnell Splits With Trump Over Government Shutdown, Returns to Kentucky
Republican Senate Majority Leader Mitch McConnell has washed his hands of President Donald Trump's border wall ultimatum, hiding out in Kentucky amid the government shutdown.
One week before the Christmas break, McConnell led the Senate in passing a short-term spending bill he believed Trump would sign. But the president's latest rebuke of fellow Republicans has caused McConnell to retreat into the shadows since a quarter of the government shut down on December 22. Although McConnell issued a statement publicly supporting Trump's push for a border wall, he has been noticeably absent from the president's side despite his reputation as a Washington "dealmaker."
"McConnell is one of the best vote-counters in politics, and he generally knows when to fold a losing hand," former Biden chief of staff during several McConnell deals, Bruce Reed, told the Washington Post Saturday. "He did that on a number of occasions in the Obama years. He's now stuck with a president who prefers to double down on a losing hand."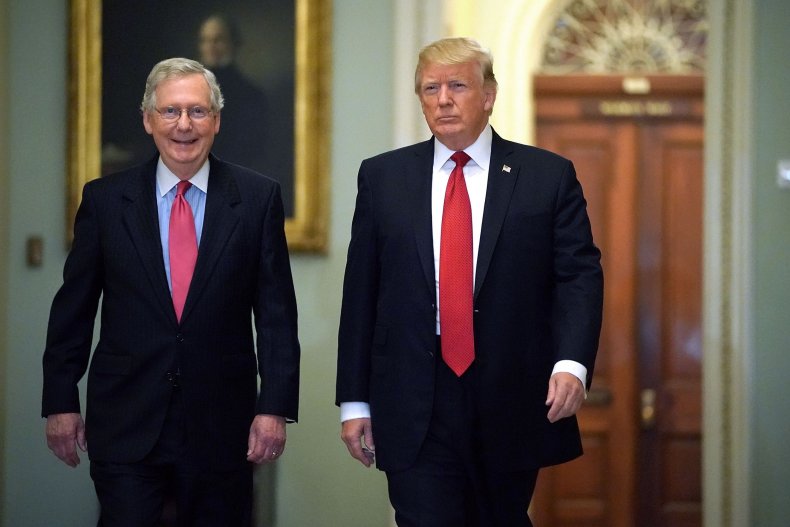 However, the 76-year-old Kentucky senator, who is up for reelection to a seventh term in 2020, was recently touted by the president on Twitter. Although McConnell and Trump fought over attempts to repeal the Affordable Care Act, McConnell gained favor with the president over his brutal maneuvering to put conservatives on the Supreme Court.
"Mitch McConnell just told a group of people, and me, that he has been in the U.S. Senate for 32 years and the last two have been by far the best & most productive of his career. Tax & Regulation Cuts, VA Choice, Farm Bill, Criminal Justice Reform, Judgeships & much more. Great!" Trump tweeted Sunday.
Fellow Kentucky politician Rep. James Comer said both he and McConnell oppose government shutdowns but rural voters in their districts are firmly behind the president's push for a border wall. But Comer told the Post he is concerned the Senate leader has been very absent from Trump's side as he demands $5 billion for a border wall.
"My experience with McConnell from a historical perspective, and as well as a colleague so to speak over the last 19 years in Kentucky politics, he's the best in the business at closing deals," Comer said. "I hope the president is in communication with McConnell hourly, because I think that McConnell has the best perspective on how to navigate the perils of a shutdown."
McConnell's staff has recently refused to indicate when he and the president last spoke.
As Trump's demand for a border wall continues into its second week, McConnell and other GOP leaders in the Congress have made it clear they are not standing behind the president.