Mitch McConnell: 'Nobody Wants Terrorists to Have Firearms'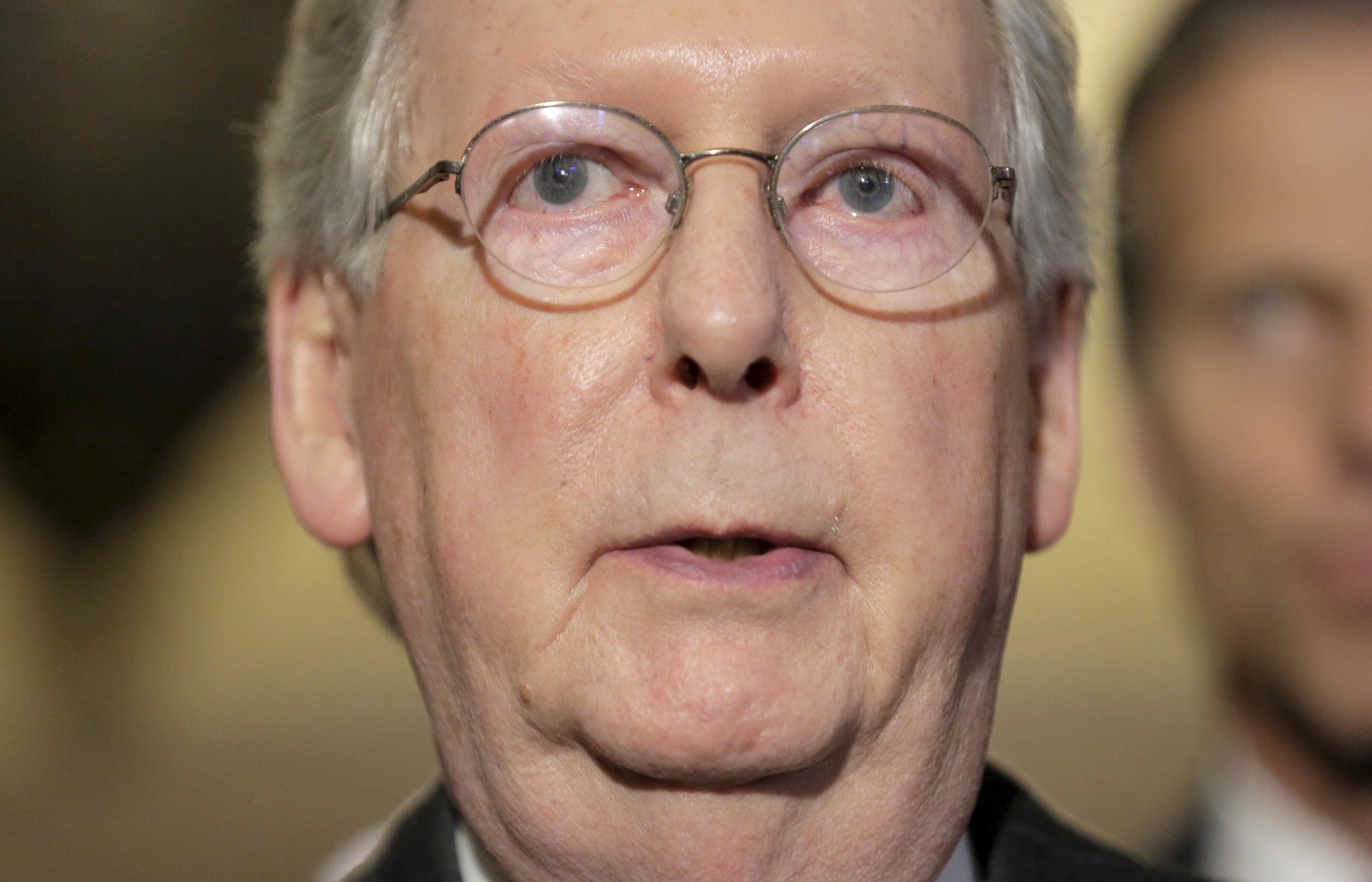 WASHINGTON (Reuters) - U.S. Senate Majority Leader Mitch McConnell said on Tuesday that "nobody wants terrorists to have firearms" and that he was open to suggestions from experts on legislation that could address the problem, following the worst mass shooting in U.S. history.
McConnell, a Republican, made his remarks amid blistering attacks by Democrats on the lack of action in Congress on legislation to prevent suspects on "watch lists" from purchasing guns or explosives.
While there was no firm evidence of Republicans and Democrats in either the Senate or House of Representatives moving toward a compromise, there were hints they at least might be willing to talk.
"Maybe we can find some middle ground. I hope so," said Dick Durbin, the No. 2 Senate Democrat.
The debate in Congress over firearms was reignited on Sunday after a gunman in Orlando, Florida, armed with an assault rifle killed 49 people at a gay nightclub and injured 53 others before he was shot to death by law enforcement officers.
The assailant, New York-born Omar Mateen, had been investigated by the FBI for 10 months in 2013 and 2014 over possible connections he had to foreign militant groups.
Democrats are pressuring Republicans in the Senate and House to quickly bring up legislation closing a loophole that allows those on "no fly" watch lists to purchase weapons in the United States.
The Democrats are targeting a Justice Department appropriations bill this week, hoping to add an amendment prohibiting such gun sales. A similar effort last December failed.
"There's no excuse for allowing suspected terrorists to buy guns," said Senate Democratic leader Harry Reid.
McConnell took a swipe at the Democrats, saying: "Our suspicion is this is basically a politically motivated effort that we're likely to see" on the Justice Department spending bill.
The Republican leader added, however: "We're open - nobody wants terrorists to have firearms - we're open to serious suggestions from the experts as to what we might be able to do to be helpful."
On Wednesday, senators from both parties will have an opportunity to speak directly to some experts when Federal Bureau of Investigation Director James Comey and Homeland Security Secretary Jeh Johnson are scheduled to brief them on the Orlando attack.
The officials briefed House members on Tuesday and several House Democrats brought up the watch list issue.
"There was some question about procedures going forward," said Representative Jan Schakowsky, a Democratic member of the House Intelligence Committee.
But House Majority Leader Kevin McCarthy, the No. 2 Republican in that chamber, told reporters that law enforcement was already being notified if people being investigated for terrorism try to buy firearms. "If you listen, they are being notified."
Durbin said he and his colleagues might pursue other gun-related amendments as well, including tougher background checks on gun buyers, closing some gun show loopholes and possibly new limits on assault rifles like the one used in Orlando.