Mitch McConnell: I'm 'Comfortable' With Donald Trump Despite 'Obvious Shortcomings'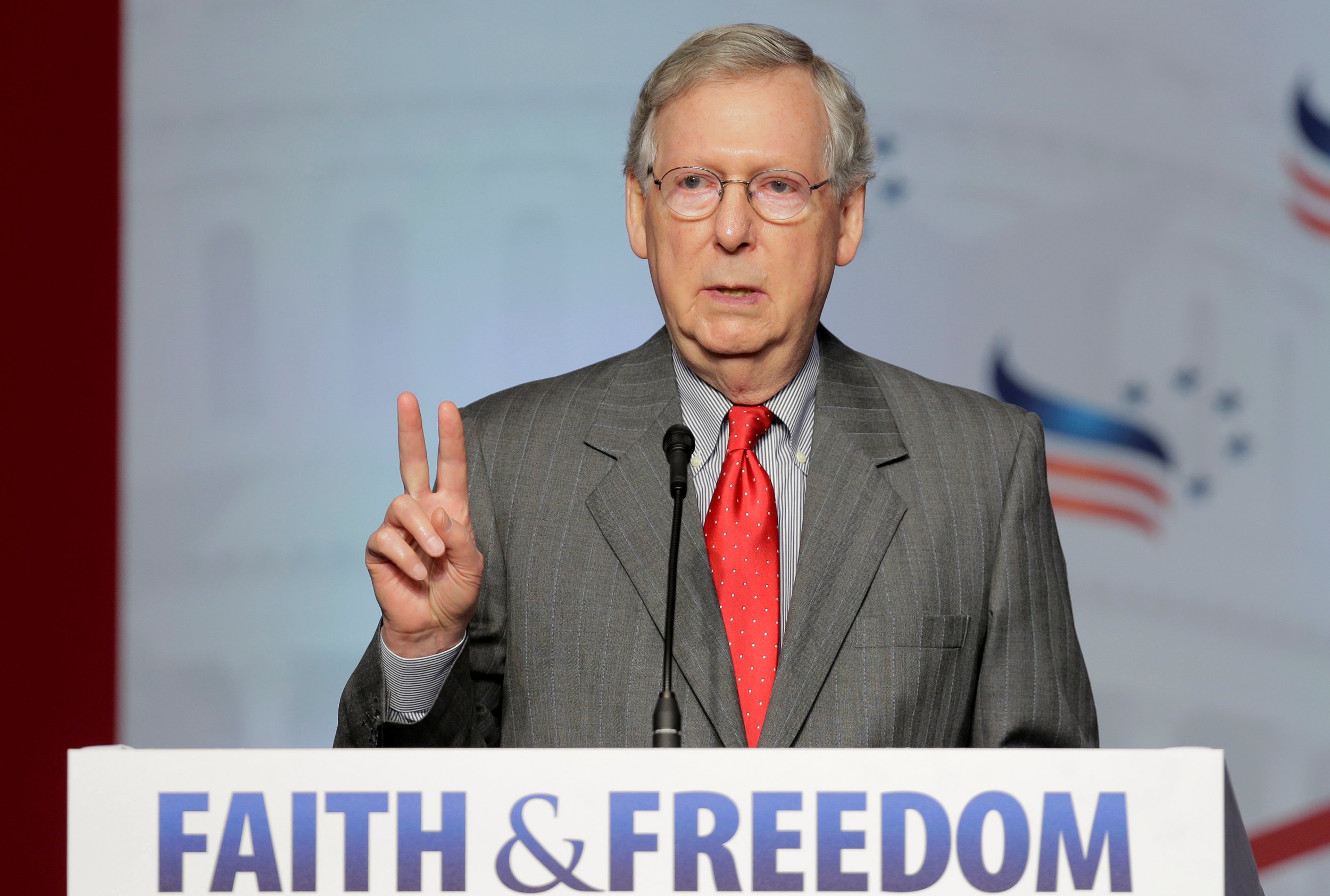 For Mitch McConnell, it's "obvious" Donald Trump "doesn't know a lot about the issues," but the Senate majority leader will nonetheless back the New York businessman and reality-TV star against Hillary Clinton, he tells Bloomberg.
"For all of his obvious shortcomings, Donald Trump is certainly a different direction, and I think if he is in the White House he'll have to respond to the right-of-center world which elected him, and the things that we believe in. So I'm comfortable supporting him," McConnell said.
McConnell is only the latest Republican to perform rhetorical gymnastics in an effort to distance himself from Trump without alienating the 13.4 million Americans who have voted for him while either overlooking or embracing his call for banning Muslims from entering the country and his plan to build a wall along the U.S.-Mexico border. Few Republican Party leaders have actually said they will "endorse" Trump. Most common are those who say they will "support the nominee," a way of saying they will back whomever the Republican Party nominates to oppose Clinton without actually jumping aboard the Trump train.
Others walk an even thinner rhetorical line. New Hampshire Senator Kelly Ayotte, for example, said she "supports" the real estate mogul but will not "endorse" him—the difference between support and endorsement is unclear.
In his interview with Bloomberg, McConnell made it clear that while he may be "comfortable" with Trump, he's not comfortable with some of the things he's said. "I object to a whole series of things that he's said—vehemently object to them. I think all of that needs to stop. Both the shots at people he defeated in the primary and these attacks on various ethnic groups in the country," he said.
For instance, Trump has repeatedly charged that Gonzalo Curiel, the federal judge overseeing a class-action fraud case against the candidate's eponymous university, is a "hater" who isn't treating him fairly because Trump wants to build a wall along the U.S.-Mexico border. This has drawn rebukes from McConnell as well as Speaker of the House Paul Ryan.
"I think he'd have a much better chance of winning if he would quit making so many unfortunate public utterances and stick to the script," McConnell said.
McConnell is not the first Republican to suggest that Trump could somehow be tamed or molded into a more palatable form by the Republican establishment. Ryan has spoken at length about his desire to find common ground with Trump and has assured the public that the GOP and its nominee share certain "core principles." The trick for the Republicans over the next five months is convincing the public that tolerance and nondiscrimination are among those principles.