Mitch McConnell Laughs as Opponent Grills Him on COVID Response During Debate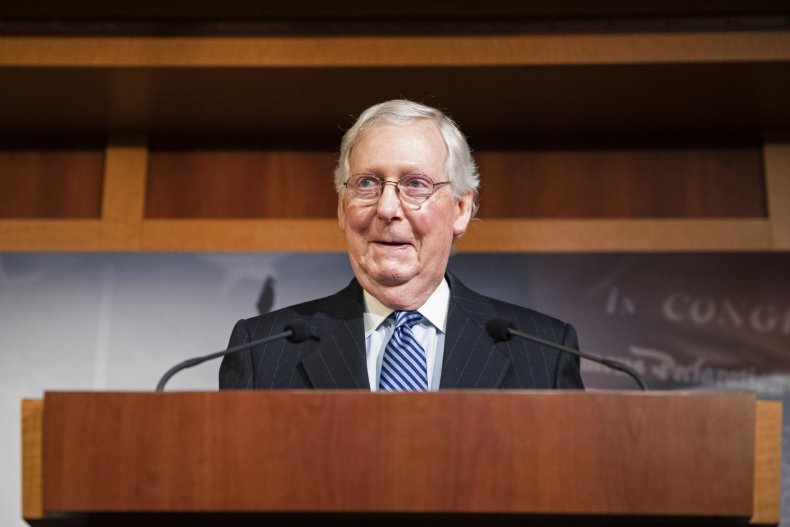 Senate Majority Leader Mitch McConnell was blasted on social media for laughing when challenged over his response to the COVID-19 pandemic during a debate with his Democratic challenger, Amy McGrath, on Monday.
McGrath, a former U.S. Marine Corps fighter pilot, denounced McConnell for the Senate's failure to pass an additional pandemic relief package, saying he had focused on partisan politics over the best interests of Americans struggling during a national crisis. McConnell insisted that Democrats were to blame, prompting a slight exasperated laugh from McGrath that McConnell echoed and then amplified as the Democrat made her case.
"The House passed a bill in May and the Senate went on vacation," McGrath said as McConnell laughed. "You don't do that, you negotiate. Senator, it is a national crisis. You knew that the coronavirus wasn't going to end at the end of July. You knew this."
"If you want to call yourself a leader, you've got to get things done," added McGrath, with McConnell continuing to grin and laugh. "Those of us who served in the Marines, we don't just point fingers at the other side, we get the job done."
McConnell's continued laughter prompted outrage from some on Twitter, where several video clips of the incident were shared with comments disparaging the majority leader's reaction. Former Army officer Mark Hertling remarked that the clip could pass unedited as an ad from The Lincoln Project, the political action group formed by former and current Republicans who hope to defeat President Donald Trump and his allies in the Senate.
McGrath, who became the first woman to fly a combat mission for the Marines during her two decades of military service, had begun her assault on McConnell's pandemic response by comparing the difficulty of her military experience to McConnell's recent history in the Senate. McConnell had a brief stint with the Army Reserves in 1967, leaving on a medical discharge after about a month.
"All summer long, Senator McConnell didn't see the urgency of doing anything, in even negotiating," McGrath said. "He sits here, and he says it's too hard... strap on a $70 million jet to your back, land it on an aircraft carrier, 150 miles an hour at night, in bad weather with no navigational tools. That's hard. Doing what's right for the American public, in the middle of a national crisis: not hard."
McConnell is seeking a seventh term and is the contest's clear favorite. The Kentucky Republican has led in almost all polling of the race, sometimes by double digits. The most recent poll, released September 24 by Data for Progress, found McConnell had a 7 percent advantage over McGrath. The last favorable poll for McGrath was a June 9 survey from RMG Research, which showed her leading by 1 point.
Newsweek reached out to McConnell's office for comment.