Mitch McConnell May Be In Jeopardy of Losing His Senate Seat If He Doesn't Deliver Bailout Bucks to Kentucky | Opinion
Welcome to On the Street #12. I'm sick of Wall Street, aren't you? After a nice run of euphoria, the S&P 500 Index dropped 4.8 percent last week. Investors, whoever they are, were suddenly unnerved by, among other things, a Fed prediction that we're in for a long economic slog. But isn't that what Fed Chair Jerome Powell has been saying all along? Jeez, folks, go easy on...whatever. Other than that, here are a few thoughts on the Fortune 500, tricks of the bailout trade and Kentucky Sen. Mitch McConnell's upcoming smackdown with Amy McGrath—if she wins the Democratic U.S. nomination that is. (See Loose Change below.)
Fortune 500: I haven't looked at the annual Fortune 500 list for years. (Shame on me.) But I'm back at it again and there are always a lot of of takeaways. My favorites from the 2020 list, which was published last month: First off: Amazon, with its $281 billion in sales is #2 now, ahead of Exxon and behind the country's largest company, Walmart. Why is this so crazy to me? Well, on last year's list, Amazon checked in at #5. In 2018? Number 8. In 2017, not even in the top 10. And you know what's really amazing, notes my pal Brian Dumaine, author of the great new book, Bezonomics: "Amazon still lags Walmart in sales, but its stock market cap is more than 3X Walmart's," Dumaine says. "Shows where the Street is betting the future lies." I'd say so. (And, please buy the book so he'll take me out to lunch.) More news of note from the Fortune 500: Ok, you could look at this a couple of ways, but I prefer the glass half-full thing. There are now a record number of women CEOs in the Fortune 500: In total, 37, up from 24 a couple of years ago. Yeah, that's only 7 percent or so of the 500. But, still a good thing. I think. But it does beg the question: After all these years, why not more?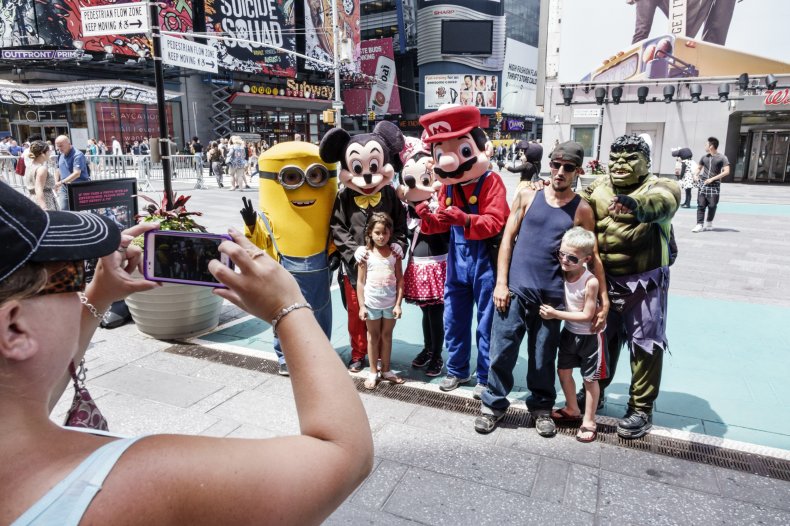 Three Card Monte: Remember that street hustle card game? It's the one that targeted Times Square tourists long before costumed characters like Hulk and Spiderman separated them from their money. (See this video.) Well, watch out for Congress. It's great at hiding the winning card from you with trickery and slight of hand. As you know from reading my columns, I'm unhealthily focused on Congress' reluctance to extend certain unemployment benefits — and help state and local governments that have enormous COVID budget deficits. The reason, according to Republicans like Sen. Rick Scott of Florida: you cannot bail out states that aren't well run. (Like Florida and Mitch McConnell's Kentucky, both of which take in more Federal bucks than they pay in taxes. Moocher states, in other words.) And they often attack unemployed folks who they accuse of spending their days watching Netflix because their benefits are so wonderful. To see what's really going on with bailouts—and see the Three Card Monte thing in action— check out these two great recent stories. While you weren't really looking, according to ProPublica's Allan Sloan, Congress was larding on CARES Act payouts for wealthy folk who had no business getting them. And the New York Times recently reported that big hospital chains got billions in bailout bucks, but still laid off, or threatened to layoff, a bunch of people. (One was HCA Healthcare, once run by Mr. Scott and, under his watch, defrauded Medicare.) Congress will be dealing with another bailout bill soon—watch those cards closely.
Stock Pickers Ain't Pickin': At the Berkshire Hathaway annual meeting last month, Warren Buffett was asked if the days of passive investing—putting your money in an index fund instead of trusting stock pickers—was a thing of the past. No, Buffett sneered. Well, he's right again. Per the Wall Street Journal: From January through April of this year—including the big COVID market collapse—64 percent of actively managed U.S. stock funds underperformed the S&P Composite 1500 index. (That tracks large, mid and small-cap stocks.) To be sure, an improvement. Over the past 15 years, 88% of actively managed U.S. equity funds did worse than the composite index. But still, my money's on Buffett.
Loose Change: As I said, I'm wondering about the anticipated U.S. Senate race between Mitch McConnell and Amy McGrath in Kentucky, which is pretty close in the polls. Big question: If McGrath becomes the Democratic nominee, which is likely, will McConnell's reluctance to provide aid to states and municipalities—and extend unemployment benefits— help put her over the top? Latest Kentucky unemployment filings don't look great—in fact, about 45 percent of the workforce has filed over the past 12 weeks, per the Courier Journal. The state's projected revenue shortfall doesn't look all that great either...The U.S. entered the recession zone in February, ending a record-smashing 128-month expansion, the National Bureau of Economic Research declared. President Trump accounted for about three years' worth. The rest? Obama. But don't tell the president...Song of the week? This thanks to Pitchfork: The track Chameleon, from the Jazz/Funk classic, Head Hunters by Herbie Hancock. Listen here...Until next week.