Mitch McConnell Mocks Brett Kavanaugh Bar Fight Story That Led to a Man Being Treated at a Hospital
Senate Majority Leader Mitch McConnell appeared Tuesday to mock a recent report about a bar fight involving Supreme Court nominee Judge Brett Kavanaugh when he was in college that resulted in one person being treated at a hospital.
The top Senate Republican made his comments on the body's floor and derided The New York Times story as "trivial." McConnell's comments came as the FBI further investigated claims of sexual assault against Kavanaugh, and amid McConnell's insistence that the Senate would confirm Kavanaugh as soon as possible.
"Get this, Judge Kavanaugh may have been accused of throwing some ice across a college bar in the mid-1980s, in the mid-1980s. Talk about a bombshell," McConnell said.
McConnell added: "One can only imagine what new bombshell might be published today or tomorrow."
McConnell and other top Senate Republicans, including Lindsey Graham, have blasted the media and Democrats over reports about Kavanaugh's alleged past behavior. Kavanaugh has been accused of sexual assault or misconduct by at least three women, including Christine Blasey Ford before Congress on Thursday.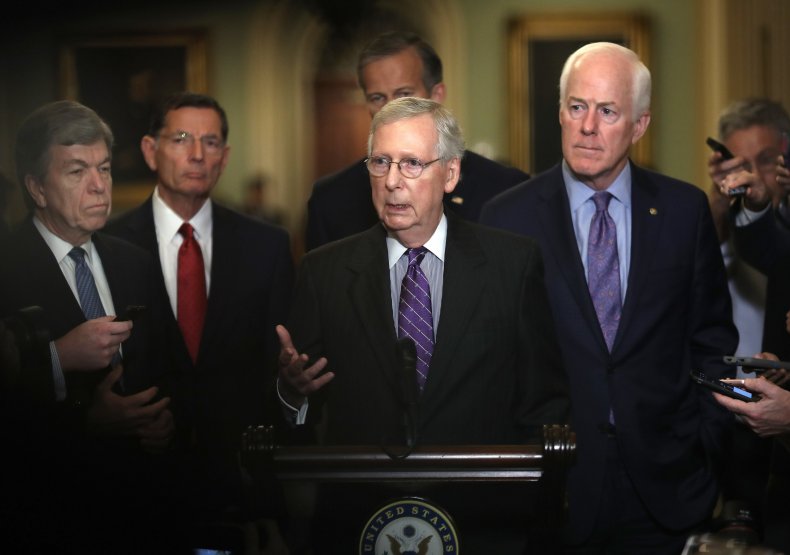 Graham accused Democrats of withholding information about Kavanaugh for months in order to drag out his confirmation process, destroy Kavanaugh's life and prevent President Donald Trump from naming a second justice to the nation's highest court.
Kavanaugh has firmly denied the allegations and claimed a "smear campaign" was run against him out of revenge over his investigation of Bill and Hillary Clinton and Trump's election victory.
According to The Times, police reportedly questioned Kavanaugh about a late-night bar fight that took place in September 1985 in New Haven, Connecticut, where Yale University is located. Kavanaugh attended Yale for his undergraduate and law degrees.
Kavanaugh reportedly threw ice at the victim, Dom Cozzolino, and former NBA and Yale basketball player Chris Dudley was accused of throwing a glass at Cozzolino. The glass led to Cozzolino "bleeding from the right ear," and he was taken to a hospital for treatment.
However, the police report did not state if the incident led to an arrest or charges being filed.
For Kavanaugh's critics and detractors, the incident was an example of the federal judge not being entirely open about his drinking and actions in high school and college.
Kavanaugh denied during testimony before the Senate Judiciary Committee Thursday that he ever drank to the point of "blacking out," although he said he did and still does like beer.