Mitch McConnell Pessimistic About Another Stimulus Package: 'Doesn't Look Good'
Senate Majority Leader Mitch McConnell on Friday expressed pessimism that another coronavirus stimulus relief package will be passed by Congress, saying the situation "doesn't look good."
Speaking at a hospital in Mount Sterling, Kentucky, the Republican senator offered his most pessimistic assessment of a possible deal since negotiations began a few months ago.
"We have been in a challenging period. Regretfully, I can't tell you today we're going to get there," he said. "I wish I could tell you we were going to get another package, but it doesn't look that good right now."
McConnell's remark comes after Senate Republicans' recent proposal of a scaled-down $500 billion stimulus was defeated on Thursday. Democrats opposition blocked the GOP's "targeted" relief offer due to the amount falling far short of their initial $3 trillion bid, which they believe to be an adequate amount that will properly address the economic implications of the pandemic.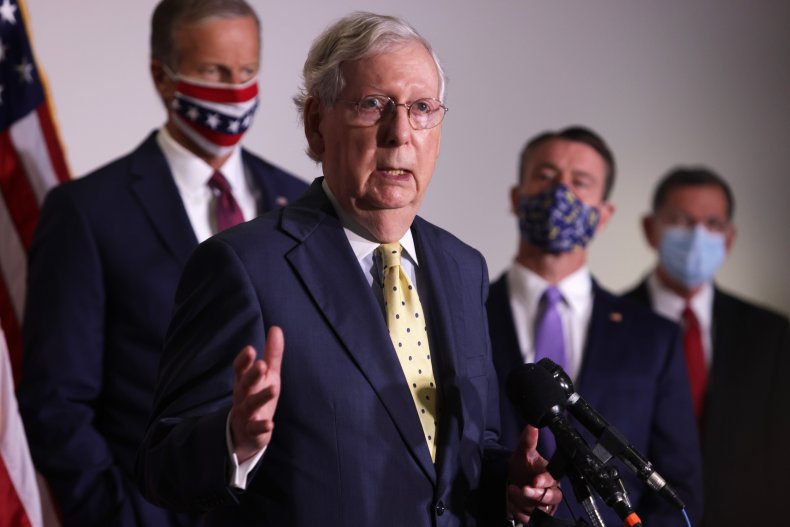 Much of the coronavirus relief provided to Americans in the Coronavirus Aid, Relief and Economic Security (CARES) Act has been used, and lawmakers in Congress are still in disagreement on the price tag attached to another round. The months-long partisan gridlock has left several Republican members of Washington pessimistic that a deal will be passed before the November election.
"When facing any great trial, one of the most important things for those in positions of leadership to do is to tell people the truth about the challenge that's before us, no matter how hard it is to deliver that truth," Senator Marco Rubio of Florida said in a video shared to Twitter this week. "Congress is not going to pass another COVID relief bill before the election."
Senator Pat Roberts of Kansas called the efforts to reach a deal "sort of a dead-end street."
No Democrats supported the GOP's scaled-down deal and one Republican, Rand Paul, defected. With the 52-47 vote, Republicans failed to reach the required 60 to proceed.
Shortly after it was introduced on Tuesday, Democratic Senate Minority Leader Chuck Schumer called the skinny $500 billion proposal, an even smaller amount than the $1 trillion put forth by Republican in July, dead on arrival.
It's "only intended to help vulnerable Republican senators by giving them a 'check the box' vote to maintain the appearance that they're not held hostage by their extreme right-wing that doesn't want to spend a nickel to help people," Schumer and House Speaker Nancy Pelosi said in a statement.
Newsweek reached out to Nancy Pelosi's office for comment.