Mitch McConnell Praises Joe Biden for 'Moving in the Right Direction' on Ukraine
Senate Minority Leader Mitch McConnell praised President Joe Biden in an unexpected move on Tuesday, commending him for "moving in the right direction" on the Russia-Ukraine standoff.
"What I've been hearing since then is encouraging, that they're prepared to take steps before an incursion, not afterwards," McConnell said about Biden's response to the growing tensions in Ukraine.
"It appears to me that the administration is moving in the right direction," the Kentucky Republican said.
McConnell's remarks come a day after Biden held a video call with European officials over the threat of a Russian invasion.
The White House said the president spoke with leaders from the European Commission, the European Council, NATO, France, Germany, Italy, Poland and the United Kingdom about their concerns over the situation on Ukraine's border and their "preparations to impose massive consequences and severe economic costs on Russia for such actions."
In addition, the Pentagon has placed 8,500 troops on "heightened alert" to assist NATO allies, but no deployment orders have been given at this time.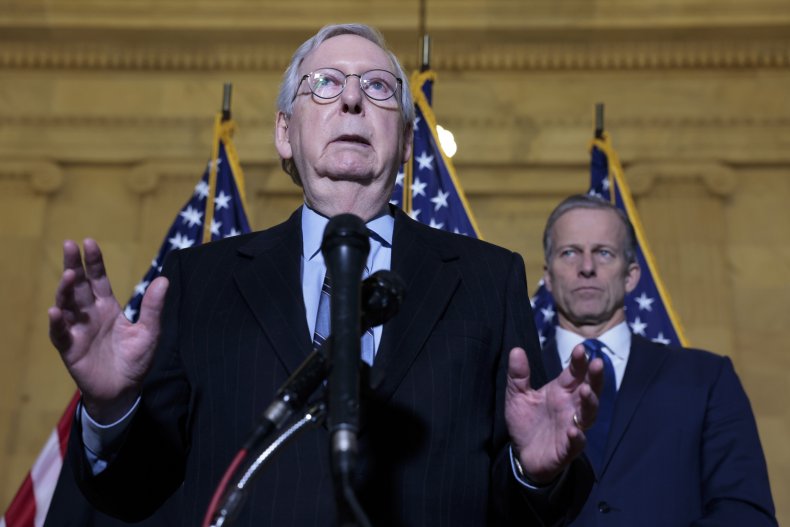 Asked about the positive words from McConnell, White House press secretary Jen Psaki said, "Yes, of course, we were" pleased to hear his response.
"I think abiding by our Article Five commitments [in NATO], standing up for the territorial sovereignty of Ukraine, making clear that one country should not be able to invade and take over territory from another country—that's not just a Democratic belief or Republican belief," she said at a Tuesday briefing.
"That's central to who we are as a country and who leaders like Leader McConnell or...like President Biden [are]. That's what their belief has been for many decades, so we certainly welcome that," Psaki said.
Last week, Biden said he thought that Russia, which has amassed more than 100,000 troops at Ukraine's border, will soon invade its neighbor. But he promised to hold Russian President Vladimir Putin accountable should he order any moves against Ukraine.
Biden warned that if Putin invaded, it would be "the most consequential thing that has happened in the world since World War II."
Americans have been advised to leave Ukraine because of the "threat of Russian military aggression," according to the U.S. Embassy in Ukraine. U.S. officials have cautioned that "security conditions, particularly along Ukraine's borders in Russia, occupied Crimea and in Russia-controlled eastern Ukraine, are unpredictable and can deteriorate with little notice."
Similar messages have been sent to Canadian, British and Australian diplomats in Ukraine by their respective government officials.
On the other hand, Russia has accused the U.S. of "building up tension" by preparing its troops.
"We are observing these actions of the United States with profound concern," Kremlin spokesman Dmitry Peskov said.