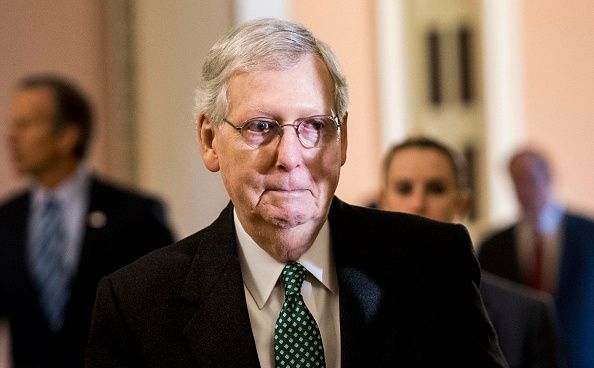 Senate Majority Leader Mitch McConnell is one of six Republicans who have been targeted as candidates to defeat in the 2020 elections by a group aiming to elect more pro-choice female Democrats to Congress.
On Friday, the political action committee EMILY's List released its opposition program titled "On Notice," which includes a list of conservative senators that the group hopes to knock out of office during the 2020 election cycle.
The group's targets include McConnell, Susan Collins, Joni Ernst, Cory Gardner, David Perdue and Thom Tillis.
In a press release, EMILY's List President Stephanie Schriock specifically called out McConnell and his leadership in the Senate over the past five years.
"Between the Kavanaugh confirmation, loading the courts, and attempts to dismantle health care, Leader McConnell has made it clear that he will continue to advance his party's dangerous and destructive agenda," Schriock wrote.
In 2018, McConnell championed the confirmation of Donald Trump's second Supreme Court nominee, Brett Kavanaugh, even amid allegations that the judge had sexually assaulted women in his high school and college years.
"It's hard to judge your own legacy, but I can say this: I think it's the single most important thing I've been involved in in my career," McConnell told reporters in a news conference after Kavanaugh was narrowly confirmed in a 50-48 vote.
In January, McConnell and other Senate Republicans were criticized for advancing legislation that would codify a ban on federal abortion funding during the longest government shutdown in U.S. history. The bill ultimately stalled when it did not get enough votes to proceed.
Democratic Senator Patty Murray slammed McConnell for supporting the bill while refusing to bring legislation to end the shutdown to a floor vote.
"All it would take is a vote—we know it would pass—and we can move it through the House and send it to the president. But what have Republican leaders done instead?" Murray said. "They have done what they've always done when they don't know what else to do. They've scheduled a vote to attack women and their health care."
McConnell has not lost an election since first joining the Senate in 1984, and last year he became the longest-serving Senate Republican leader in history.
McConnell's campaign manager, Kevin Golden, said on Friday that EMILY's List targeting the Republican is no surprise.
"We fully anticipate the abortion lobby, who mobilized this week to kill Senator McConnell's efforts to ban infanticide, to campaign against Kentucky values and anybody who supports them," Golden said, according to the Charlotte Observer. "It's honestly hard to believe there is anyone who would oppose the Born Alive Act and Senator McConnell is certainly not going to back down in this fight against radical far-left."