Mitch McConnell Reportedly Warms to Stimulus Checks as Bipartisan Deal Remains Elusive
Senate Majority Leader Mitch McConnell, one of the few congressional leaders who opposed doling out a second stimulus check in more coronavirus relief, is reportedly coming around to the idea of including another direct payment for struggling Americans in any future deal that Congress can cobble together.
No potential stimulus package that is being currently negotiated on Capitol Hill includes anything like the $1,200 checks that many Americans received under the CARES Act. However, McConnell's opposition to the idea is waning, Politico reported Tuesday.
The Kentucky Republican spoke Monday afternoon with House Minority Leader Kevin McCarthy (R-Calif.), Treasury Secretary Steven Mnuchin and White House Chief of Staff Mark Meadows, per Politico. Notably, McCarthy and President Donald Trump have previously been far more supportive of more stimulus checks.
McConnell's office did not respond to Newsweek's request for comment.
However, an agreement remains elusive. A bipartisan proposal worth $908 billion that does not include checks appears to be Congress' most viable path forward. But major disagreements persist with state and local aid, as well as liability protections—the same two issues that have handicapped stimulus negotiations since Spring.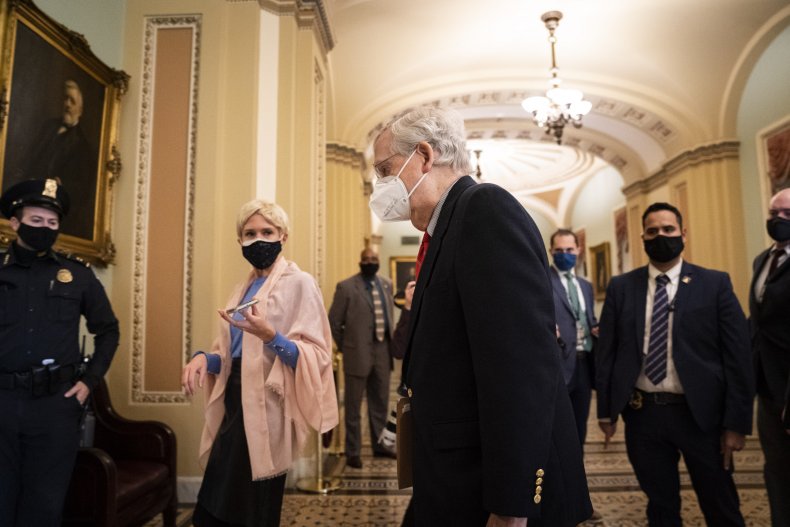 Leaving a closed-door meeting Monday evening, lawmakers involved with the bipartisan proposal said no solution had been reached. Sen. John Cornyn (R-Texas) said his suggestion to focus on the provisions they could agree on—like small-business relief and unemployment insurance—and omit the items causing the logjam—liability protections and state and local aid—went over "like a lead balloon."
In addition, McConnell is holding firm behind his own scaled-down measure worth about $500 billion, despite the momentum behind the bipartisan plan. House Speaker Nancy Pelosi (D-Calif.) and Senate Minority Leader Chuck Schumer (D-N.Y.) have said they're willing to use the $908 billion offer as a starting point for negotiations.
"Imagine holding emergency aid hostage, help for the unemployed, help for small businesses, help to pay salaries of police and firefighters, help for individual Americans, funding to deliver a vaccine, in order to give corporations legal immunity," Schumer said in a Tuesday morning floor speech.
At least one rank-and-file Republican has been more supportive of a second stimulus check, but he appears to be one of the only ones. The provision was not included in the bipartisan proposal in an effort to keep the overall cost low amid GOP heartburn for another costly bill.
Sen. Josh Hawley (R-Mo.), for example, has urged the president to veto any relief legislation that omits such direct payments.
"I'm going to vote no on COVID relief that doesn't have direct payments. I'm continuing to be flummoxed as to why there aren't any direct payments," Hawley told reporters Monday. "Everybody supported this in March. It's the most useful, helpful and, frankly, popular aspect."
One potential solution, Politico reported, could be for the White House to propose adding the stimulus checks to whatever final measure McConnell offers them.