Republican lawmakers did something on Wednesday that President Donald Trump was unwilling to do during Tuesday night's first presidential debate—condemn white supremacy.
And now it's Trump turn, Republicans said.
"He should unequivocally condemn white supremacy," Sen. Bill Cassidy (R-La.) said.
During the chaotic hour-and-a-half debate that Sen Ben Sasse (R-Neb.) called a "shit show, " the president's refusal to denounce extremist and violent groups that promote white supremacy stood out.
Instead of a condemnation, Trump delivered a direct message to the far-right Proud Boys group, telling them to "stand back and stand by," a comment that caused GOP senators—including Majority Leader Mitch McConnell—to grimace and encourage the commander-in-chief to make clear that he opposes white supremacy.
"It was unacceptable not to condemn white supremacists," the Kentucky Republican said. "I do so in the strongest possible way."
McConnell said he agreed with remarks made by Sen. Tim Scott (R-S.C.), one of just two Black Republican members of Congress, earlier in the day. However, McConnell slightly mischaracterized Scott's comments. Scott told reporters that he felt Trump "misspoke" and needs to clarify his stance against such hate.
"I think he misspoke. I think he should correct it," Scott said. "If he doesn't correct it, I guess he didn't misspeak."
Another top Republican offered a similar sentiment.
"I think it's probably important for them to clear up that," Majority Whip John Thune (R-S.D.) said.
Several Republican senators pushed Trump to offer more condemnation of white supremacy, something the president has struggled to do at several points of his first term, including when he said there were "very fine people on both sides" of the deadly 2017 white nationalist rally in Charlottesville, Virginia.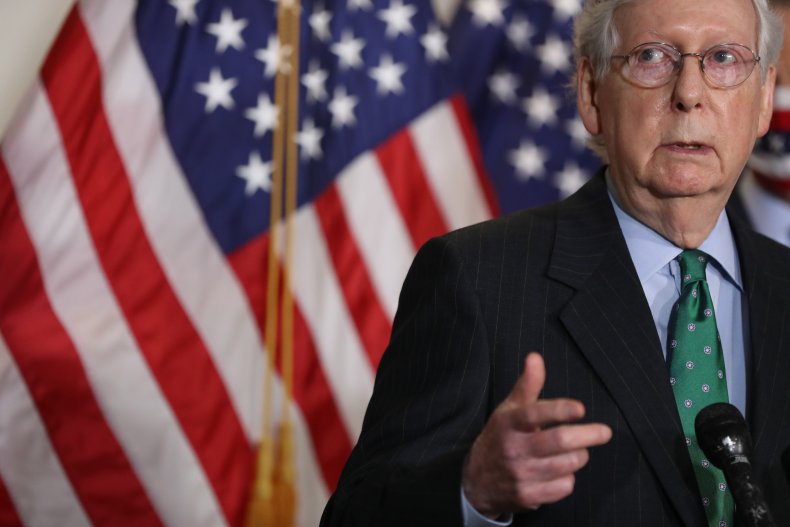 Former Proud Boys member Jason Kessler was one of the organizers of the "Unite the Right" event in Charlottesville that left one protester dead, according to the Southern Poverty Law Center.
The Proud Boys are classified by the FBI as an "extremist group." FBI Director Christopher Wray, whom Trump and the White House have increasingly been at odds with as the agency head has contradicted Trump, has labeled violent white supremacy groups as the top domestic terrorism threats.
"I also believe that he needs to be clear about his stand against white supremacy," Sen. Deb Fischer (R-Neb.) said. "It's important. I said that over and over again, and I think he needs to clarify that."
Sen. Marsha Blackburn (R-Tenn.) said "it's important to say, no extremists, left or right," adding that it "would be a good thing to stand strong against that."
Another Republican senator gave the president the benefit of the doubt.
"White supremacy or any organizations that are antagonistic should be condemned 24/7," Sen. Thom Tillis (R-N.C.) said. "I'll leave it to the president. I know he's not a racist, I'm sure he doesn't approve of their activities."
Sen. Mike Rounds (R-S.D.) said it was his "wish" that Trump would more forcefully rebuke white supremacy.
"I think there should be a very simple way of making it clear that there is no room in America for white supremacy, just as is there is no room for antifa either," Rounds said. "I think in both cases, both sides should disavow those organizations."
Others tried to offer explanations for Trump's Proud Boys remark while pivoting to say Democratic presidential nominee Joe Biden should do more to condemn violence from the left, such as antifa. At several times during his candidacy, Biden has explicitly rebuked violence from both the left and right. But Tuesday night, rather than rebuke antifa by name, Biden called it an "idea, not an organization," something he was criticized for by Republicans and conservatives.
"I think, in [Trump's] mind, he probably did [condemn white supremacy] because he's given those people who he offended by that the greatest economy they've ever had," Sen. Jim Inhofe (R-Okla.) said.
Despite the advice from Republicans on Capitol Hill, Trump on Wednesday sought to distance himself from his own remarks and further focus on antifa. Proud Boy members have since seized on the president's comments from Tuesday night, celebrating on social media and selling merchandise with the phrase "stand back and stand by."
"I don't know who the Proud Boys are," Trump claimed to reporters before heading to Minnesota for a campaign rally. "Whoever they are, they need to stand down."
As of Wednesday afternoon, neither the president nor the White House had offered further clarification. Trump campaign adviser Jason Miller argued on MSNBC that when Trump said "stand by," he meant for the Proud Boys to "stand by the wayside and get out of the way and let law enforcement do their job."
None of the dozens of tweets and retweets Trump shared on his Twitter account Wednesday mentioned white supremacy or condemnation of it.