Senate Majority Leader Mitch McConnell (R-Ky.) ridiculed a House proposal to make Election Day a federal holiday on Wednesday, announcing his opposition to the bill that would make voting easier for Americans.
"This is the Democrat plan to restore democracy? A brand-new week of paid vacation for every federal employee who would like to hover around while you cast your ballot?" McConnell said on the Senate floor. "Just what America needs, another paid holiday and a bunch of government workers being paid to go out and work for I assume... our colleagues on the other side, on their campaigns."
McConnell also condemned the bill as a "Democratic political protection act," "a power grab" and argued it would result in a "Washington-based taxpayer-subsidized clearinghouse for political campaign funding."
Widely considered a signature issue for Democrats, the package includes provisions that would allow federal employees a holiday on Election Day while also encouraging private companies to give their staffers a day off in order to vote.
"Their bill would make Election Day a new paid holiday for government workers, and create an additional brand new paid leave benefit for up to six days for any federal bureaucrats who decides they'd like to hang out at the polls during an election," McConnell said.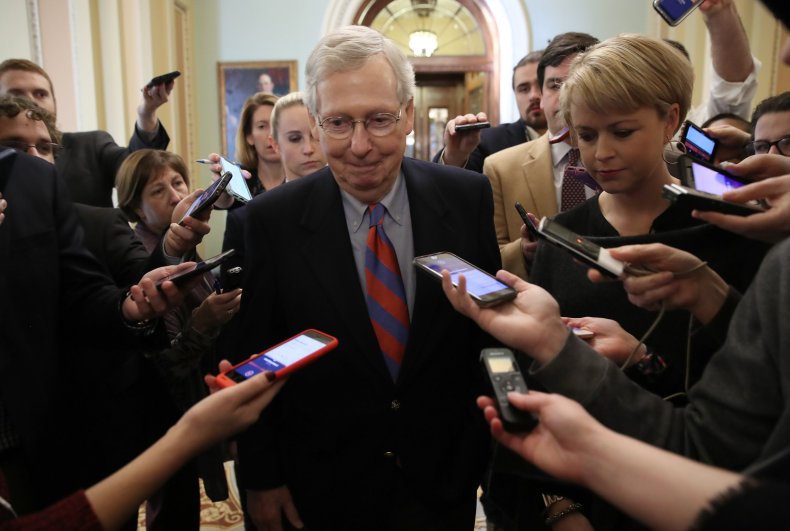 It is not the first time McConnell has expressed strong opposition towards the concept. Earlier this month, the Republican from Kentucky penned a Washington Post op-ed critical of the bill during the partial government shutdown.
"House Democrats won't come to the table and negotiate to reopen government, but they've been hard at work angling for more control over what you can say about them and how they get reelected," the Senator wrote. "They're trying to clothe this power grab with cliches about 'restoring democracy' and doing it 'For the People,' but their proposal is simply a naked attempt to change the rules of American politics to benefit one party."
Shortly after his comments on the Senate floor were made today, Americans took to social media to criticize McConnell for attempting to suppress votes for the sake of the Republican party.
"Cause he knows - If the majority of the Americans actually had the chance to vote - they would lose every single time," one user tweeted.
Another wrote: "McConnell is surely correct in that, if everyone who has the right to vote faced no impediment to exercising that right, Republicans would never win."