Mitch McConnell Stands By Roy Moore's Alabama Campaign Weeks After Saying He Should 'Step Aside'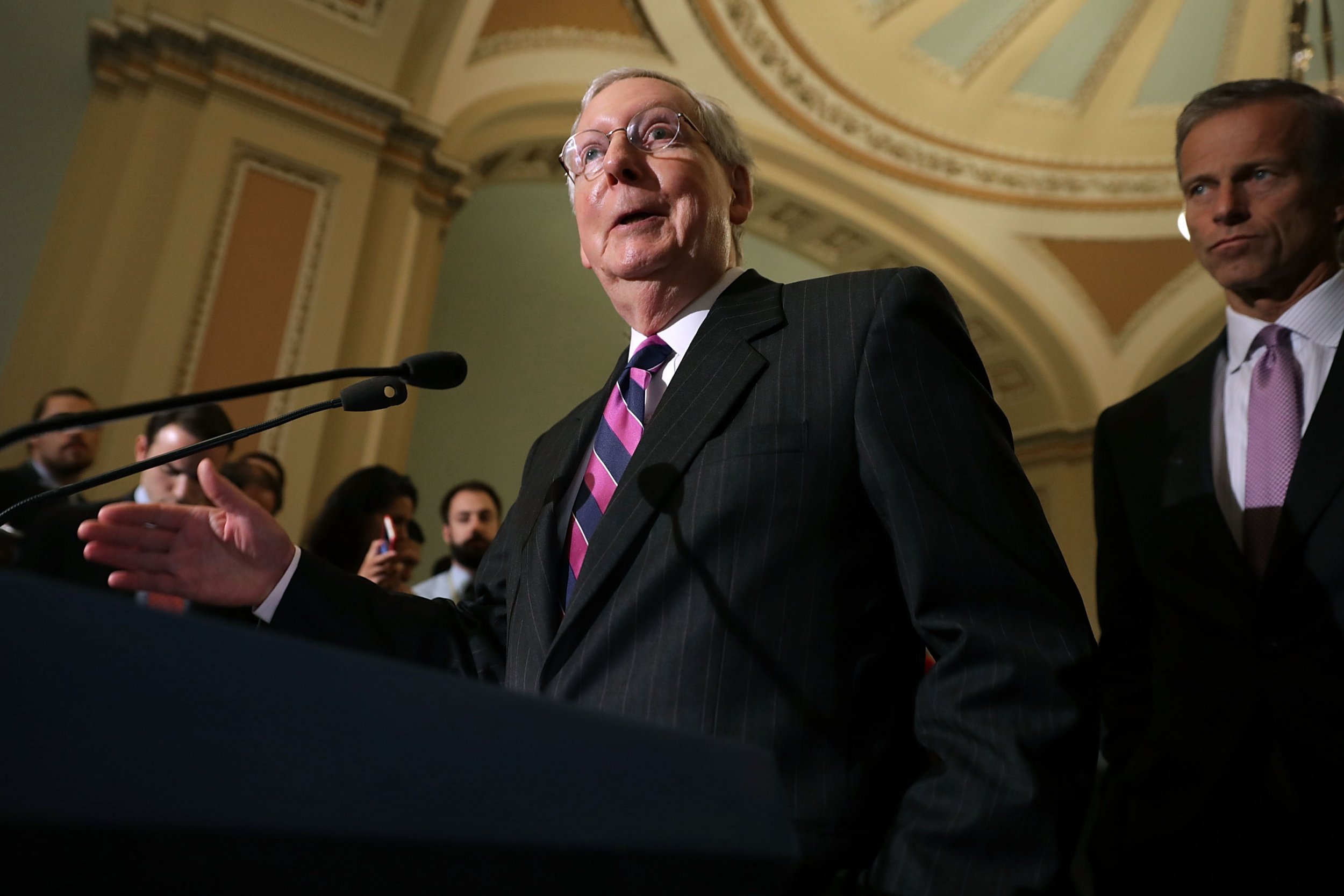 Senate Majority Leader Mitch McConnell suddenly seemed fine Sunday with the candidacy of Alabama Senate candidate Roy Moore — even though he spent weeks calling for Moore to drop out over sexual misconduct scandals.
With the Alabama race only days away, McConnell on Sunday said he's okay with letting the voters decide Moore's fate, a stark contrast of his repeated calls for Moore to be kept out of the Senate no matter what.
"I'm gonna let the people of Alabama make the call," McConnell told ABC News' "This Week" when pressed for his stance on Moore's candidacy.
"This election's been going on a long time, there's a lot of discussion about it. They're make the decision a week from Tuesday."
Asked what he would do if Moore prevails, McConnell simply said he would let an ethics investigation "consider the matters" around the misconduct allegations.
McConnell offered no explicit endorsement of Moore, but he also had none of the fiery rhetoric from weeks ago insisting the former judge had no place in the Senate.
After assault and harassment allegations against Moore poured in from nine women, McConnell led the GOP efforts to prevent the party's own candidate from winning the seat Dec. 12. In November, McConnell said Moore should "step aside" and that he believes the women making accusations. McConnell reportedly even considered asking U.S. Attorney General Jeff Sessions, a former Alabama senator, to step down and take Moore's place. More than 30 other Republicans spoke out against Moore, with some suggesting he even be voted out if he wins.
Moore has denied the accusations, refused to drop out, and fired back at McConnell by saying it's him who should quit. "He has failed conservatives and must be replaced," Moore wrote in a tweet about his party's Senate leader.
President Donald Trump, like McConnell, has implicitly supported Moore's campaign without outright endorsing him. Trump has not formally campaigned for Moore, but he said he believes Moore's denials and that he would rather see the accused abuser in the Senate than a Democrat.
Moore will face off against Doug Jones, the Democratic candidate who has climbed ahead in the polls since the scandal broke.