Mitch McConnell Sarcastically Mocks Trump Claim That He Helped Him Win in 2020
Senate Minority Leader Mitch McConnell sarcastically mocked and laughed at former President Donald Trump's claim that he helped the Kentucky senator—now in his seventh term—win reelection in 2020.
At the Conservative Political Action Conference, during his first major speech after leaving office and a second impeachment trial, Trump called out a number of Republican lawmakers who condemned him for inciting the violent attack on the U.S. Capitol.
Taking aim at McConnell, Trump said on Sunday: "He asked for my endorsement. Brought him from 1 point down to 20 points up, and he won his race in the great state and actually the great Commonwealth of Kentucky. And he won it."
Asked about the claim during a Tuesday press conference, McConnell laughed and responded with sarcasm. "Yeah, well, I want to thank him for the 15-point margin I had in 2014 as well." He then smiled and took the next question.
In 2014, McConnell easily won reelection with 56.2 percent of the vote, compared with his Democratic opponent's 40.7 percent. The Republican senator did perform a bit better in 2020, gaining 57.8 percent of Kentucky's votes, compared with the 38.2 percent that went to his Democratic rival. But polls ahead of the November 3 election consistently showed McConnell in the lead. A Quinnipiac University poll carried out last September showed McConnell ahead by a double-digit margin.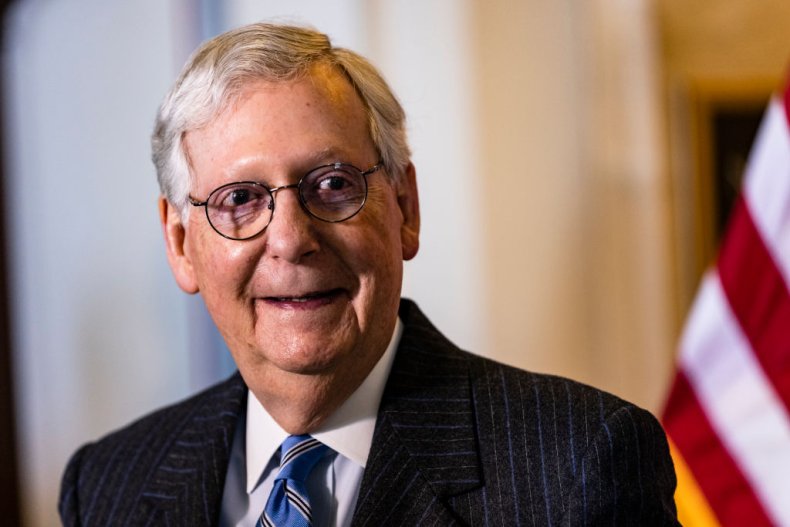 At the same time, Trump outperformed McConnell in Kentucky in 2020. The former president won 62.1 percent of the state's voters, with the backing of nearly 1.33 million individual Kentuckians. McConnell was backed by approximately 1.23 million of state voters.
McConnell strongly condemned Trump at the conclusion of his second Senate impeachment trial last month. Although McConnell voted to acquit the former president, he said this was because he did not believe it was constitutional to hold a Senate trial for a former president. He suggested that Trump should face criminal prosecution instead for his role in helping to incite the January 6 assault on the Capitol.
"Former President Trump's actions preceding the riot were a disgraceful, disgraceful dereliction of duty," McConnell said from the Senate floor at the conclusion of the trial on February 13. He asserted that the former president was "practically and morally responsible for provoking the events of the day, no question about it."
Seven GOP senators joined with all 50 members of the Senate's Democratic Caucus to convict Trump for his incitement of the riot. While that was the most bipartisan impeachment trial vote against a president in U.S. history, it fell short of a high constitutional threshold: A two-thirds majority of senators (67) was required for a conviction. In the House before the trial, 10 Republicans voted with their Democratic colleagues to impeach the former president.
But McConnell and other GOP lawmakers who voted against or condemned Trump appear to be out of step with most Republican voters. Following the impeachment trial, nearly 60 percent of GOP voters said Trump should play a "major role" in the political party going forward, according to polling by Morning Consult. A CBS News/YouGov survey found that 71 percent of Republicans said that GOP lawmakers who supported Trump's impeachment or conviction were "disloyal."
Newsweek reached out to Trump's office for comment but did not hear back before publication.