Mitch McConnell Says an Additional COVID-19 Relief Package Needs to Be Done Before the End of the Year
Senate Majority Leader Mitch McConnell said Wednesday a second coronavirus relief package needs to be done before year's end, although he previously indicated it likely wouldn't happen until early 2021.
"We need another rescue package...I think we need to do it and do it before the end of the year," McConnell said in Louisville, Kentucky, according to a tweet from CSPAN Capitol Hill Producer Craig Caplan.
The deadline to pass the next federal budget falls on December 11. Congress must approve another spending bill by that date to avoid a shutdown.
"We need to fund the government. The Speaker and I agree that we ought to do an omnibus appropriations bill and do it in December," McConnell said.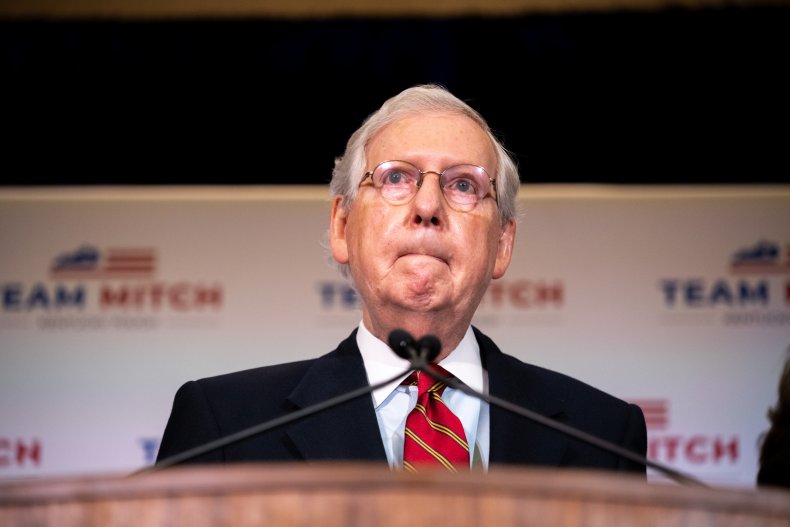 McConnell's statement follows his win over Democrat Amy McGrath in Kentucky's Senate race. The Associated Press called the race for McConnell at 8:01 p.m. ET on Tuesday—a victory that lands him a seventh consecutive term in the upper chamber.
The Kentucky Republican said last week that the U.S. economy will likely need a scaled-down economic stimulus package at the beginning of next year, which was a strong indicator that the second wave of coronavirus relief was not going to reach the pockets of struggling Americans during Congress' lame-duck session in November and December.
"We probably need to do another package, certainly more modest than the $3 trillion Nancy Pelosi package," McConnell told radio host Hugh Hewitt in an interview on October 30. "I think that'll be something we'll need to do right at the beginning of the year."
McConnell's remarks then implied that he didn't expect ongoing talks between House Speaker Nancy Pelosi and Treasury Secretary Steven Mnuchin to result in a bipartisan deal that can pass in the current Congress.
McConnell held firm that a more targeted measure is needed than the $1.9 trillion package Mnuchin has offered and the $2.2 trillion measure Pelosi is demanding.
"We could target it particularly at small businesses that are struggling and hospitals that are now dealing with the second wave of the coronavirus, and of course the challenges for education, both K-12 and college," McConnell continued.
McConnell's comments Wednesday are a sign that the probability that another stimulus agreement will be reached and passed before a new Congress, and possibly a new president, is sworn into office in January is dwindling but not gone.
Pelosi said on Thursday her preference is to come to an agreement and pass legislation before year's end, regardless of the election winner.
"The American people need help. They need real help," she said. "Second of all, we have plenty of work to do in a Joe Biden administration...We want to have as clean a slate as possible going into January."
McConnell did not respond to Newsweek's request for comment in time for publication.