Amid Filibuster Fight, Mitch McConnell Says Anti-China Bill Shows Bipartisanship Works
Republican Minority Leader Mitch McConnell said Tuesday that the Senate's success in passing a bill aimed at helping United States companies better compete with China was an example that bipartisanship can work in the Senate.
McConnell's remarks were a veiled reference to a furious debate within the Democratic Party over the filibuster, a Senate rule that prevents most legislation from passing without 60 votes in a chamber that is split 50-50.
"One thing this legislation did demonstrate extremely well...was that the rules of the Senate don't stand in the way of bipartisan legislating," McConnell said Tuesday. McConnell, who is from Kentucky, also said the final bill was "incomplete" and "imperfect" since it passed without several GOP amendments, but that it "includes several smart, targeted measures."
Progressive Democrats, accusing the Republicans of obstructionism, want to abolish the filibuster or limit its scope to ram through legislation on their agenda. Republicans resolutely oppose such a rule change, but so do some Democrats, including Joe Manchin of West Virginia.
Despite McConnell's emphasis on bipartisanship the the bill passed in a 68-32 vote after several partisan fights. The Senate originally voted to advance the bill on May 17. But then it was delayed by roughly two weeks when Republican senators tried to force a series of hurdles to pass the bill, including attempting to keep the Senate over the Memorial Day holiday. Their efforts pushed Schumer to punt the bill into a June vote, which eventually ended in a bipartisan success.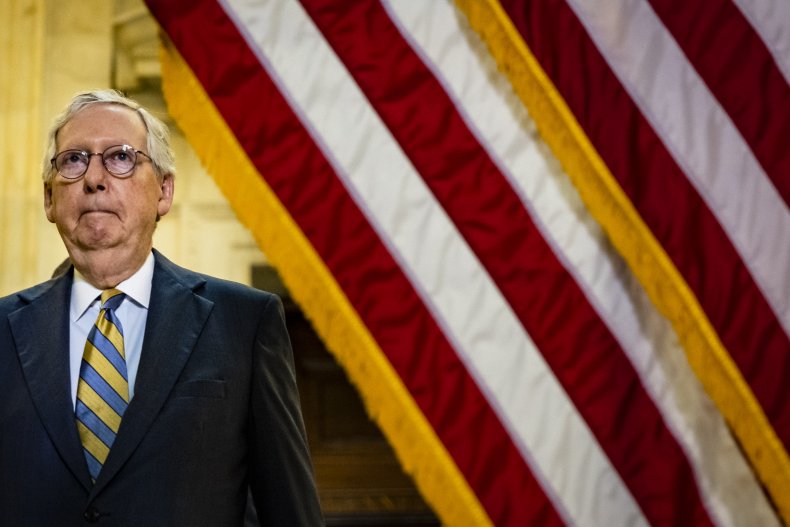 The bill, called the U.S. Innovation and Competition Act, is intended to bolster the nation's ability to compete with China on a global scale, and will allocate $250 billion for American research grants and will boost semiconductor manufacturing—a field where the U.S. is falling far behind China in production. The bill also includes a strategy to handle Chinese security threats.
"When all is said and done, the bill will go down as one of the most important things this chamber has done in a very long time," Schumer said. "We can concede the mantle of global leadership to our adversaries, or we can pave the way for another generation of American leadership. That is what this bill is about."
While there have been recent attempts to remove the filibuster as a mechanism of the Senate recently, McConnell has been a staunch defender of its value.
"Rules like the filibuster, which requires 60 votes to advance most legislation, exist to block bad ideas from becoming law and to encourage bipartisan solutions. This design also stabilizes national policy from swinging with every shift of the political winds," McConnell wrote in an op-ed in March. "The legislative filibuster is the essence of the Senate."
Manchin reiterated his opposition to the filibuster in an op-ed published Sunday in the Charleston Gazette-Mail. In the piece, he explained his opposition to H.R. 1, a voter rights bill also called the For the People Act, which would expand voter access, improve election integrity and security, revise political spending rules and place limits on gerrymandering, according to a summary of the legislation.
"I believe that partisan voting legislation will destroy the already weakening binds of our democracy, and for that reason, I will vote against the For the People Act. Furthermore, I will not vote to weaken or eliminate the filibuster," Manchin wrote. "Of course, some in my party have argued that now is the time to discard such bipartisan voting reforms and embrace election reforms and policies solely supported by one party. Respectfully, I do not agree."
Manchin was heavily criticized by progressive Democrats for his stance. Mondaire Jones, a congressman from New York, said that Manchin's op-ed "might as well be titled, 'Why I'll vote to preserve Jim Crow.'"
Congressman Jamaal Bowman of New York compared Manchin to McConnell on Monday.
"Mitch McConnell during Obama's presidency said he would do everything in his power to stop Obama. He's also repeated that now during the Biden presidency by saying he would do everything in his power to stop President Biden. And now Joe Manchin is doing everything in his power to stop democracy and to stop our work for the people, the work that the people sent us here to do," Bowman told CNN's John Berman.
"Manchin is not pushing us closer to bipartisanship. He is doing the work of the Republican Party by being an obstructionist, just like they've been since the beginning of Biden's presidency," Bowman added.
Newsweek reached out to Leader McConnell for comment.