Mitch McConnell Says 'Nothing Necessary' About Democrats' Election Reform Proposal
Senate Minority Leader Mitch McConnell said there's "nothing necessary" about the latest elections reformation legislation proposed by Democrats.
Senate Majority Leader Chuck Schumer announced in a Thursday "Dear Colleague" letter that he would be taking procedural steps on Monday to set up a Wednesday vote on the bill. While Schumer said the legislation will "give fair access to our democracy to all Americans," Republicans are unlikely to support the endeavor.
"The Senate is designed to stop bad ideas and purely partisan proposals while helping truly necessary and bipartisan bills become law. As we have shown in the recent past, the Senate is fully capable of making law in this area when actual issues need actual solutions and actual bipartisan work occurs," McConnell said in a statement regarding Schumer's announcement. "By contrast, there is nothing necessary or bipartisan about this naked power grab, so it will continue to go nowhere."
The elections and ethics reform bill is the result of negotiations between Schumer, Sen. Joe Manchin and seven Democratic senators, Politico reported. The legislation would federally mandate voting rules like requiring early voting options and expanding access to mail ballots. Unlike the first version of the bill, this would not broadly change the election process.
However, no members of the GOP support the legislation.
"Another week, another effort by Washington Democrats to create fake drama over a proposed election takeover that will go nowhere," McConnell wrote. "Senator Schumer wants to stage another political stunt around the umpteenth iteration of the same partisan power grab that the Senate has already considered and rejected repeatedly."
The Republican continued that the bill is essentially the same as Nancy Pelosi's For The People Act, H.R. 1, that sought to rechange many components of the election process. Democrats argued the legislation would improve voter access in states with restrictive laws.
McConnell argued that Democrats consider the bill "repacking a 'compromise" but one that occurred without Republican input.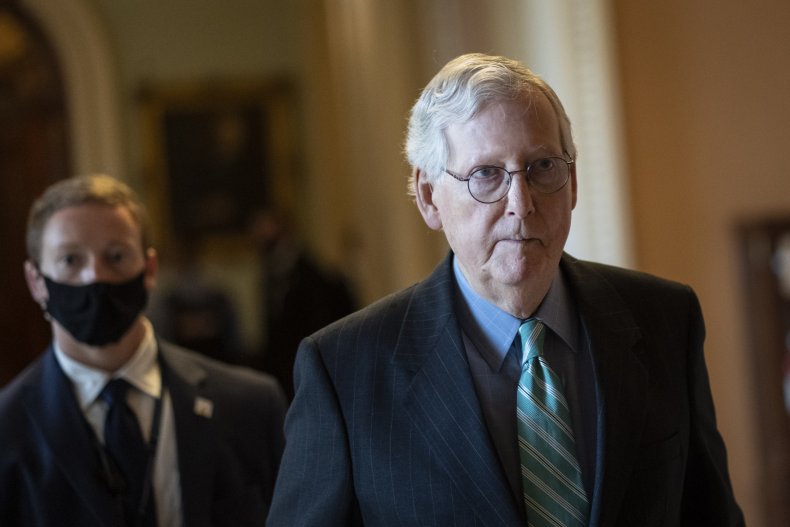 "It is not a compromise for the left and the far left to discuss how much power they should grab," the GOP leader wrote. He continued, "All the facts about voting and turnout contradict the far-left hysteria about our democracy. But this has never been about reality."
He criticized the Democrats for pushing "the same legislative proposals" after former President Donald Trump won the election in 2016. Then, he said, they believed America's democracy was in crisis but after 2020 they said it was strong if not for red states.
"Democrats' claims turn on a dime every couple of years, but somehow their desired response never changes: Giving Washington Democrats vast and unprecedented partisan power to micromanage elections across America," McConnell wrote.
The Republican speculated that the reform bill is a top priority for Democrats because of upcoming re-elections and "unhappy" citizens and the party is trying to "rig the game."
However, Democrats have advocated for the legislation arguing that it sets election standards and responds to restrictive laws in Republican states. Unlike the first proposal that called for provisions such as nationwide ID mandates, the newest version provides an outline of what to do if a state enacted such a provision. Among other changes, the party felt it was a compromise bill.
It's the latest legislation at risk of being caught in a political stalemate.
For Schumer and other Democrats, "failure is not an option" when it comes to the bill. But they cannot pass the proposal without support from at least 10 members of the GOP or by changing Senate rules.
Newsweek reached out to Schumer for comment.