Mitch McConnell Says People 'Most Interested' in Hearing Fauci, Birx at Coronavirus Briefings, Not Trump
Senate Majority Leader Mitch McConnell implied Monday that President Donald Trump's remarks may not be a necessary component in the daily coronavirus task force briefings from the White House.
Criticism has been leveled at Trump for his comments during the briefings which have included bickering with the dissemination of incorrect information about the coronavirus.
Thursday, President Trump appeared to suggest that injecting a form of disinfectant such as bleach into a coronavirus patient could cure the illness. Experts disagreed with the president and encouraged the American public not to ingest any form of disinfectant.
McConnell told Fox News Radio host Guy Benson on Monday that changing the format of the briefings to allow health experts more speaking time was "a good idea."
"Well, certainly what the American people are most interested in is the advice from health professionals about how to conduct their daily lives safely," McConnell said during the interview.
"To the extent that the White House decides to recraft those briefings to reflect that goal would probably be a good idea," McConnell added.
Newsweek reached out to McConnell's office and the White House for comment.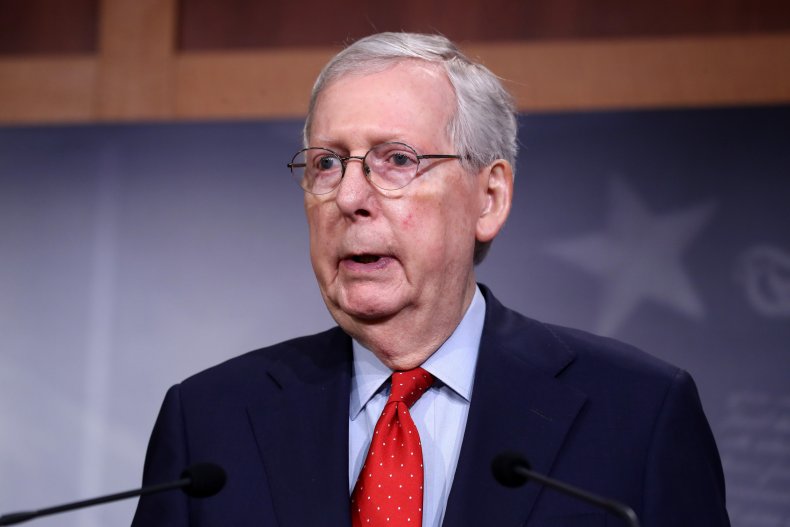 Trump's remarks regarding disinfectants came after a presentation by the head of the Science and Technology Directorate at the U.S. Department of Homeland Security Bill Bryan. According to data Bryan presented, coronavirus can be killed by ultraviolet rays which diminish the half-life of the virus to two minutes.
Bryan also said bleach will destroy the virus within five minutes while isopropyl alcohol will kill the virus in 30 seconds. "That's with no manipulation," Bryan said, "no rubbing—just spraying it on and letting it go. You rub it and it goes away even faster."
Trump commented on the information, asking aloud if there were "a way we can do something like that, by injection inside or almost a cleaning. Because you see it gets into the lungs and it does a tremendous number on the lungs. So it would be interesting to check that."
During a press briefing Friday, Trump told reporters he was not making a serious suggestion.
"I was asking a question sarcastically to reporters like you," Trump said, "just to see what would happen."
In response, cleaning product manufacturer Reckitt Benckiser (RB) issued a statement asking people not to take their products internally.
"As a global leader in health and hygiene products," the April statement said, "we must be clear that under no circumstances should our disinfectant products be administered into the human body (through injection, ingestion or any other route)."
Former Vice President Joe Biden, the presumptive Democratic nominee for the 2020 presidential race, tweeted a related request on Friday.
"I can't believe I have to say this," Biden wrote, "but please don't drink bleach."
Michigan Governor Gretchen Whitmer told ABC News on Sunday that after Trump's remarks, telephone calls to the state's poison control centers shot up.
"We have seen an increase in numbers of people calling poison control," Whitmer said on This Week, "and so I think it's really important that every one of us with a platform disseminate medically accurate information. I want to say unequivocally no one should be using disinfectant—to digest it to fight Covid-19."
When asked about the uptick in those calls, Trump said during Monday's news briefing that he "can't imagine why" they would have occurred.