Mitch McConnell Slammed For Claiming Congress Can't Do Much to Stop School Shootings Other Than Appropriate Funds
While talking with a group of community leaders about school safety, Senate Majority Leader Mitch McConnell said that there's not much the federal government can do to ensure protection for students other than "appropriate funds."
According to a report by The Lexington Herald-Leader, McConnell told concerned community members from Danville, Kentucky on Tuesday that he doesn't believe gun legislation can be changed by Congress.
"You would think, given how much it takes to get on an American plane or given how much it takes to get into courthouses, that this might be something that we could achieve, but I don't think we could do that from Washington, I think it's basically a local decision," McConnell said.
McConnell added that it's a "darn shame" that the federal government cannot do more to help students and schools during this "epidemic."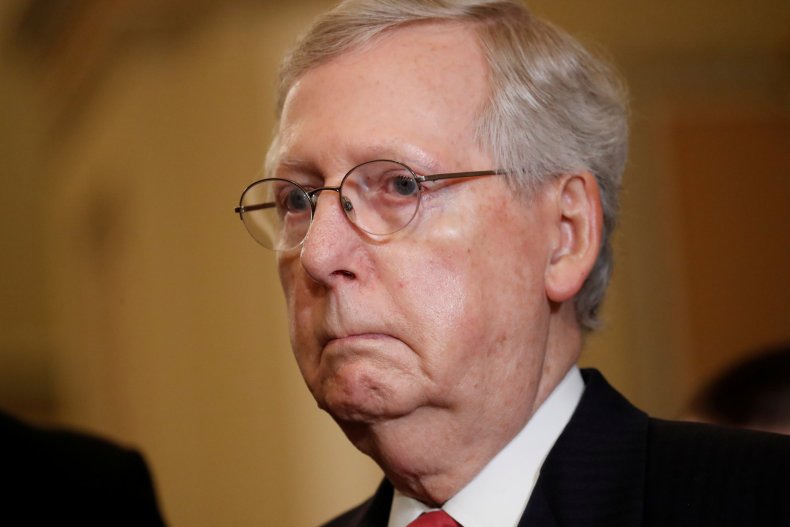 While gun control laws are unlikely to be passed, McConnell did praise Congress for devoting federal funds for school counseling and safety in its appropriations bill. In April, lawmakers in Washington D.C. passed the Consolidated Appropriations Act of 2018, which sets aside $1 billion in funds each year until 2028 for programs dedicated to stopping school violence.
The Trump administration also created the Federal Commission on School Safety in the wake of the shooting at Marjory Stoneman Douglas High School in Parkland, Florida, in which 17 people, 14 of them students, were killed.
However, Education Secretary Betsy DeVos, who is tasked with heading the commission, has said that they will not be examining the role of guns in school-related violence.
McConnell's comments came as advocates have continued to press lawmakers for gun reform laws in the wake of dozens being killed in school shootings in 2018 alone. In May, 10 people were killed after a gunman opened fire at Sante Fe High School in Texas.
After the shooting, Trump tweeted that reports on the situation were "not looking good. God bless all!"
Congress has not progressed on any gun legislation since the topic was pushed aside in March when the Senate turned its focus toward a contested banking bill.
Some Democratic politicians have taken to social media to refute McConnell's claims that the federal government can't do more to ensure school safety, citing legislation that can be done regarding background checks, gun technology and banning assault weapons.