Mitch McConnell, Shrugging Off Trump's Fury, Says Infrastructure Bill Good for America
Senate Minority Leader Mitch McConnell, one of 19 Senate Republicans who voted to pass President Joe Biden's $1.2 trillion infrastructure bill, defended his vote during a Kentucky radio interview this week, calling it "good for the country."
"I'm glad it passed," McConnell told WHAS. But don't expect to see him celebrating its passage at the White House.
McConnell confirmed he has no plans to attend Biden's signing ceremony Monday. "I've got other things I've got to do," he said.
McConnell's praise of the bill, which received backing from 13 Republicans in the House, came after former President Donald Trump slammed the infrastructure package and Republicans who aided its passage.
"Why is it that Old Crow Mitch McConnell voted for a terrible Democrat Socialist Infrastructure Plan, and induced others in his Party to do likewise, when he was incapable of getting a great Infrastructure Plan wanting to be put forward by me and the Republican Party?" Trump said in a statement Tuesday, lashing out at McConnell.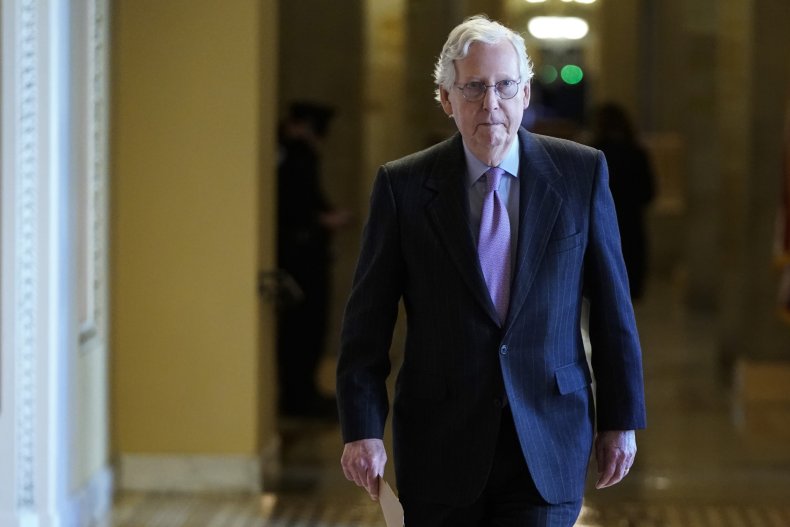 Trump repeatedly tried unsuccessfully to pass his own infrastructure deal while he was in office and Republicans controlled the House and Senate. The Trump administration was frequently mocked for declaring "Infrastructure Week" multiple times without passing a bill.
Biden made a slight reference to the joke on Saturday after the House passed the final version of the bill.
"Well, finally: Infrastructure Week," Biden said, laughing, in public remarks. "I'm so happy to say that: Infrastructure Week."
McConnell and Trump were once close allies but have frequently been at odds since Trump lost the 2020 election and a mob of Trump supporters stormed the U.S. Capitol in a failed attempt to stop certification of Biden's election on January 6. McConnell's wife, Elaine Chao, who was Trump's transportation secretary, resigned from the administration after the Capitol riot.
As many Republican allies of Trump refused to acknowledge Biden's win, McConnell publicly congratulated his former Senate colleague.
Biden has scheduled his signing ceremony for the infrastructure package for Monday, when members of Congress will return to the Capitol from a weeklong district work period.
Biden has spent the week highlighting the bipartisan bill, which will fund improvements to roads, bridges, water systems and other infrastructure projects, as well as expansion of broadband internet.
The bill had been held in the House as lawmakers worked to pass it in tandem with a separate bill expanding the social safety net. Democratic leaders ultimately advanced the infrastructure proposal on its own and continue to try to build support for the larger spending package that Biden has called his "Build Back Better" plan.
House GOP leader Kevin McCarthy had instructed Republican members to vote against the bipartisan infrastructure bill, even after McConnell voted in favor of its passage in the upper chamber. Trump and his allies have suggested that Republicans who voted for it should face a backlash.