Mitch McConnell Signals Smaller Infrastructure Deal Within Reach Ahead of GOP Talks With Joe Biden
Senate Minority Leader Mitch McConnell on Monday signaled to Democrats that a smaller infrastructure deal is within reach ahead of expected White House negotiations with Republicans this week.
In a press conference in Kentucky, McConnell made clear that Republicans wouldn't support the high cost of President Joe Biden's $4.1 trillion sweeping infrastructure proposal and floated a smaller package.
"I think it's worth talking about but I don't think there will be any Republican support—none, zero—for the $4.1 trillion grab bag which has infrastructure in it but a whole lot of other stuff," the senator said.
He added: "We're open to doing a roughly $600 billion package which deals with what all of us agree is infrastructure. If it's going to be about infrastructure, let's make it about infrastructure."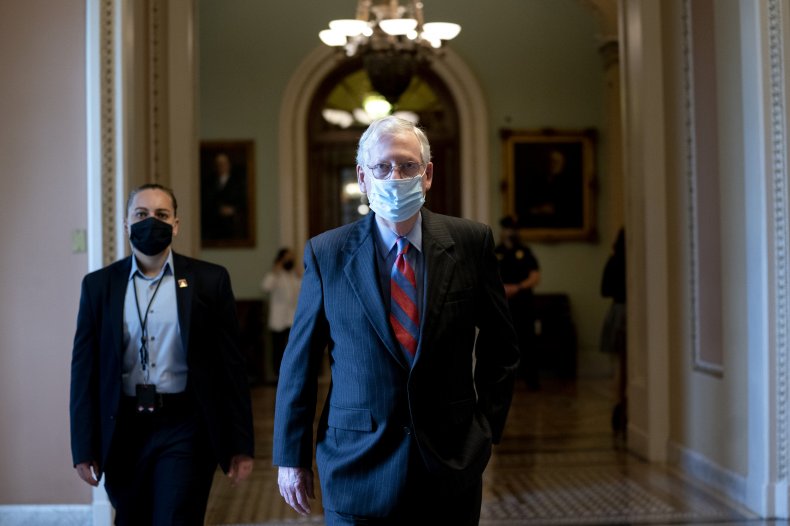 Biden's plan is divided into two parts: a $1.8 trillion American Families Plan that would allocate funds for education and tax cuts for families, and a $2.3 trillion American Jobs Plan that would boost infrastructure, create high-paying jobs to facilitate innovation, and strengthen manufacturing.
McConnell's $600 billion is far less than the $2.3 trillion that Biden is seeking for infrastructure, but his remarks were the strongest signal yet that a smaller bipartisan deal could be reached.
On April 22, a group of Republicans proposed a $568 billion counteroffer to Biden's $2.3 trillion American Jobs Plan as the party stepped toward bipartisan negotiations. They called their offer a good faith effort, but the package fell between the $600-$800 billion that members of the GOP floated earlier that week.
Asked if the GOP proposal was a "hard cap" on Monday, McConnell said it wasn't a red line.
"If it's going to be about infrastructure, let's make it about infrastructure. And I think there's some sentiment on the Democratic side for splitting it off," he added.
Biden wants to fund his plan by raising taxes on capital gains and wealthy individuals, but McConnell strongly warned that "revisiting the 2017 tax bill" was a non-starter. "We're not willing to pay for it by undoing the 2017 bill," he said.
On Sunday, Independent Senator Bernie Sanders of Vermont told NBC "the very rich and large corporations should start paying their fair share of taxes to help us rebuild America and create the jobs that we need."
The Republican leader's remarks comes ahead of an expected meeting between the Biden administration and Republicans. In a recent interview on CBS, White House Chief of Staff Ron Klain said that Biden has invited Republicans, including West Virginia Senator Shelley Moore Capito, a lead GOP negotiator, to a meeting this week, according to the Wall Street Journal.
"We're going to work with Republicans. We're going to find common ground," Klain said.
Centrist Republican Senator Susan Collins of Maine said Biden should make the next offer in negotiations to reach a deal.
On Sunday, Biden senior adviser Anita Dunn told CNN that Biden's open to compromise. "He wants to move this package forward in a bipartisan way, if that's possible," she said. "His red line if inaction, that we cannot afford not to make these investments in America's economy."
Democrats, who narrowly control both chambers of Congress, could use the budget process called reconciliation to pass at least a significant portion of Biden's overall bill without GOP support.
However, centrist Democratic Senator Joe Manchin of West Virginia has signaled that he supports a bipartisan deal and could be against using reconciliation.
Newsweek reached out to the White House for comment. This story will be updated with any response.