Mitch McConnell Slams Steve King Over White Supremacy Remarks: 'Unworthy of His Elected Position'
Senate Majority Leader Mitch McConnell (R-KY) joined the chorus of Republicans who have condemned conservative Rep. Steve King (R-IA) for his recent controversial comments in support of white supremacy.
In a recent interview with the Washington Post, published Monday, McConnell rebuked King's remarks questioning how language like "white nationalist" and "white supremacist" became racist. "White nationalist, white supremacist, Western civilization — how did that language become offensive?" King was quoted saying in a New York Times report. "Why did I sit in classes teaching me about the merits of our history and our civilization?"
"[There is] no place in the Republican Party, the Congress or the country for an ideology of racial supremacy of any kind," McConnell said, referring to King's remarks. "I have no tolerance for such positions and those who espouse these views are not supporters of American ideals and freedoms. Rep. King's statements are unwelcome and unworthy of his elected position. If he doesn't understand why 'white supremacy' is offensive, he should find another line of work."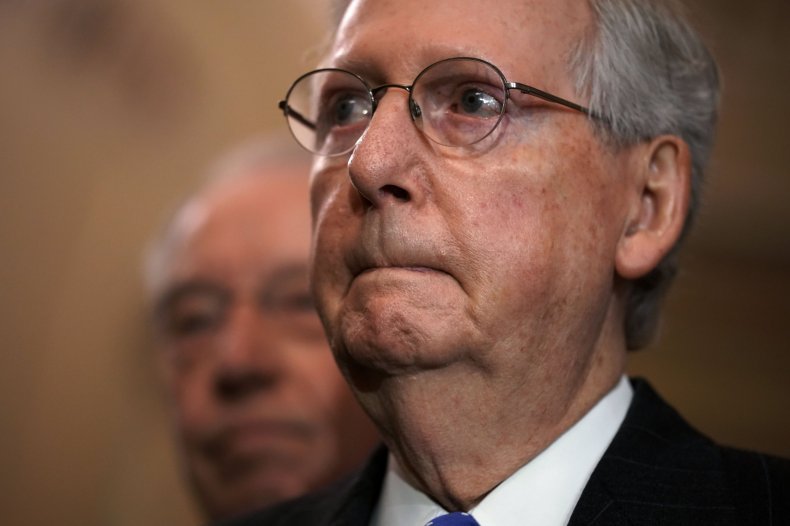 McConnell's comments came after several prominent Republicans moved to publicly denounce King's words last week, including Iowa Senator Joni Ernst, the third-ranking GOP House member Liz Cheney, House Minority Leader Kevin McCarthy and Tim Scott, the Senate's only black Republican.
"I condemn Rep. Steve King's comments on white supremacy; they are offensive and racist — and not representative of our state of Iowa," Ernst tweeted on Saturday morning, alongside a Washington Post op-ed by Tim Scott titled "Why are Republicans accused of racism? Because we're silent on things like this."
"We are a great nation and this divisiveness is hurting everyone. We cannot continue down this path if we want to continue to be a great nation," she added.
In a statement posted to social media, the 69-year-old congressman defended his position and claimed he isn't an advocate for white nationalism. "Today the New York Times is suggesting that I am an advocate for white nationalism and white supremacy," King tweeted. "I want to make one thing abundantly clear; I reject those labels and the evil ideology they define."
King — a prominent Trump ally — also attempted to walk back his comments last Friday on the House floor, calling it a "freshman mistake."
"I regret the heartburn that has poured forth upon this Congress and this country and especially in my state and in my congressional district," he said.
Trump declined to condemn King's comments when asked by reporters on Monday.
"I haven't been following it, I really haven't been following it," the president said, dismissing the issue before heading to New Orleans for a conference.
McCarthy vowed that "action will be taken" against King for his comments last week.