Mitch McConnell Says Slavery Reparations Aren't Needed Because We Elected Barack Obama President
Senate Majority Leader Mitch McConnell told reporters on Tuesday that he doesn't believe reparations are an appropriate remedy for America's centuries-long history of slavery.
"I don't think reparations for something that happened 150 years ago, for which none of us living are responsible, is a good idea," he told reporters at a press conference on Capitol Hill.
McConnell added that the country has tried to reckon with the "original sin of slavery" by passing "landmark civil rights legislation" and, more recently, by having "elected an African-American president."
The majority leader called America a "work in progress" and countered calls for reparations by saying it would be "pretty hard" to figure out how to distribute restitution.
McConnell's comments come on the eve of a historic hearing set for Wednesday, when the House of Representatives will convene a panel to discuss the continuing legacy of the trans-Atlantic slave trade for the first time in more than a decade.
The House Judiciary subcommittee will call witnesses from a broad cross-section of public life to better understand the institutional effects of slavery, including "its continuing impact on the community and the path to restorative justice."
The panel will examine H.R. 40, a bill repeatedly introduced by veteran congressman John Conyers which would create a commission to study the history of slavery in the United States and make recommendations about how to educate the public and meaningfully address its findings.
The hearing coincides with the holiday of Juneteenth, which was established to commemorate the 1865 abolition of slavery in Texas.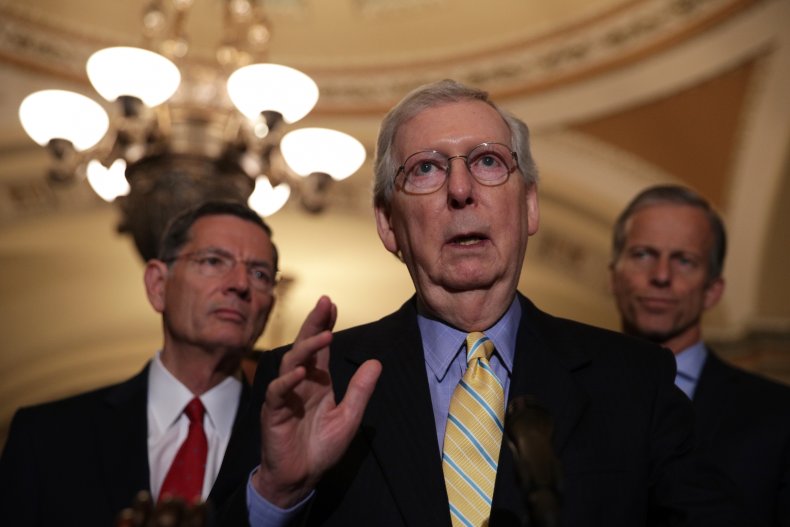 While the question of reparations has long been sidelined by most prominent presidential candidates, including Barack Obama, a growing number of Democrats running for the 2020 nomination have begun to endorse a reparations program, at least in theory, to help address the lingering effects of slavery and Jim Crow.
Senators Kamala Harris and Elizabeth Warren and former HUD Secretary Julián Castro, all running for president, have come out in favor of reparations or an inquiry into how such a program would be implemented.
Senator Cory Booker has introduced the only reparations bill to ever receive consideration in the post-Reconstruction U.S. Senate. It would create a commission to study the impact of slavery and propose reparations-style remedies in response to its findings.
Marianne Williamson, a self-help guru who has received comparatively little attention for her 2020 bid, has proposed perhaps the most sweeping measure to tackle reparations. Her platform calls for a $200 billion to $500 billion investment, over 20 years, in various educational and economic projects to be selected by "an esteemed council of African-American leaders."
The current conversation can be traced, in part, to Ta-Nehisi Coates's influential 2014 essay for The Atlantic in which the author argued for reparations as a way for the country to reckon with its slave-owning legacy. Coates will appear alongside actor Danny Glover, documentarian Katrina Browne and other scholars at Wednesday's hearing.