McConnell Challenger Blames Stimulus Bill Delay on His 'Terrible Leadership'
Mitch McConnell's Democratic challenger for his Senate seat in Kentucky has accused him of "terrible leadership" after he suggested a further stimulus bill will not be passed by the end of next week.
The Senate majority leader was asked about the timescale for a further such package, to address hardships posed by COVID-19 and set to include further direct stimulus checks, after previous suggestions one would pass this month.
Asked whether it will be signed off by the end of next week, the last of the month, he said: "No."
Amy McGrath, who won the Democratic primary to challenge McConnell for his seat come November, hit out at her rival in response to this.
"How many days did Mitch recess the Senate this summer? We knew this was coming. More terrible leadership...," she said in a tweet.
This comes after she criticized the federal response to the pandemic so far and the previously passed relief measures.
Quoted by the Lexington Herald Leader, she said: "We need help.
"And it's just unacceptable to just dole out billions, $500 billion for corporations to bail out Wall Street and then turn around and say to state and local governments — public schools, firefighters, teachers, social workers, the very fabric of our society — well you ought to go bankrupt."
McConnell's campaign press secretary Kate Cooksey was quoted in response saying McGrath should "try talking with the thousands of Kentuckians — and even her own campaign vendors — whose livelihoods have been saved thanks to Senator McConnell's leadership."
Newsweek has contacted the McConnell and McGrath campaigns for comment.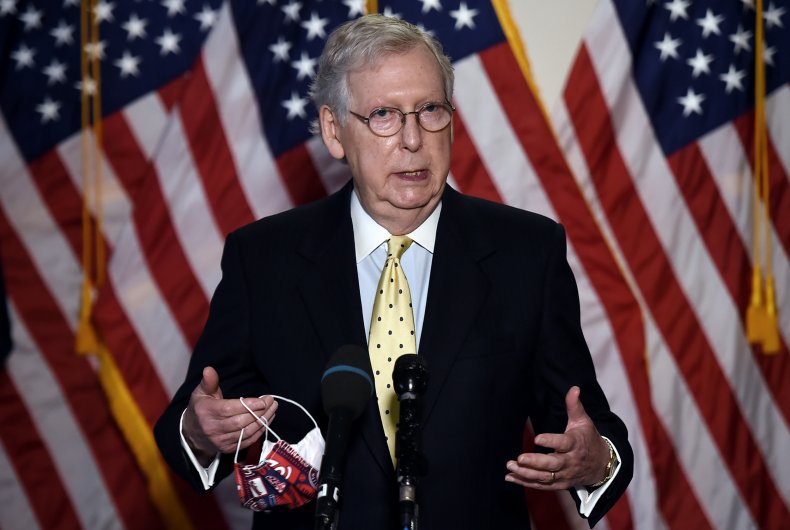 The potential for delay means millions could be set to lose the unemployment boost granted under the CARES Act, which is due to expire in coming days.
Many could see their benefit payments slashed in half starting next week, with it unclear whether the boost will be extended, or when this will happen should Congress decide to do so.
The GOP leadership across Congress is discussing what action to be taken next, having held discussions with the White House on future plans.
Republicans have set a $1 trillion spending goal, according to Treasury Secretary Steve Mnuchin.
The last relief package, the CARES Act, was worth more than $2 trillion, while the HEROES Act, proposed by Democrats and passed by the Senate, would cost $3 trillion.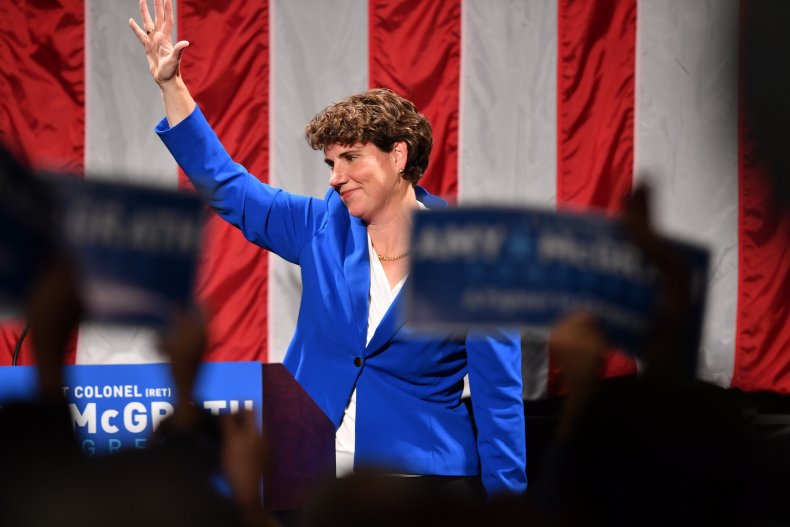 Economic Impact Payments, sent to many in the form of stimulus checks, were included in the CARES Act and are set to be in the next package.
"We want another round of direct payments to help American families keep driving our national comeback," McConnell said on Tuesday.
President Donald Trump had previously indicated support for such measures, while Democrats have also called for them, with similar payments to those in the CARES Act included in their HEROES Act.
Lockdowns due to the coronavirus dented the economy, with Americans across the nation taking a hit to their finances due to the pandemic.
As restrictions aimed at reducing the spread lift, spikes have occurred over the U.S., as people return closer to normality.
The U.S. has seen more than 3.9 million confirmed COVID-19 cases, according to Johns Hopkins University figures.
The graphic below, from Statista, shows the states with the most cases.