Mitch McConnell's Stimulus Gambit Tests Public Trust in Congress
Senate Majority Leader Mitch McConnell (R-KY) has been accused of undermining trust in Congress, where public faith is already low, with his latest stimulus check gambit.
As lawmakers wrangle over boosting direct relief payments from a maximum of $600 to $2,000, McConnell has moved to bring a proposal tying this action to other measures less palatable to many of those who want the increase.
"This is exactly why people don't trust Congress," Sen. Jon Tester (D-MT) wrote on Twitter, in response to details of McConnell's proposal—which would tie the stimulus increase to funding investigations into voter fraud and also look to repeal Section 230 of the Communications Act of 1996.
"Instead of having a real debate and letting folks vote how they want, Sen McConnell is setting up a sham vote with the aim of nothing happening.
"It's pathetic and Americans deserve better."
Tester's comments on McConnell's actions attributing to distrust in Congress come with the public's faith in the lawmaking apparatus at a low point, according to recent polling.
A Gallup poll conducted December 1 to 17 among 1,018 U.S. adults found 82 percent of respondents disapproved of how Congress is functioning, with 15 percent approving.
The 82 percent disapproval rating is the lowest in Gallup's polling since it hit 83 percent in July 2016.
YouGov/The Economist polling similarly found a majority of people disapproving of how Congress is handling its job.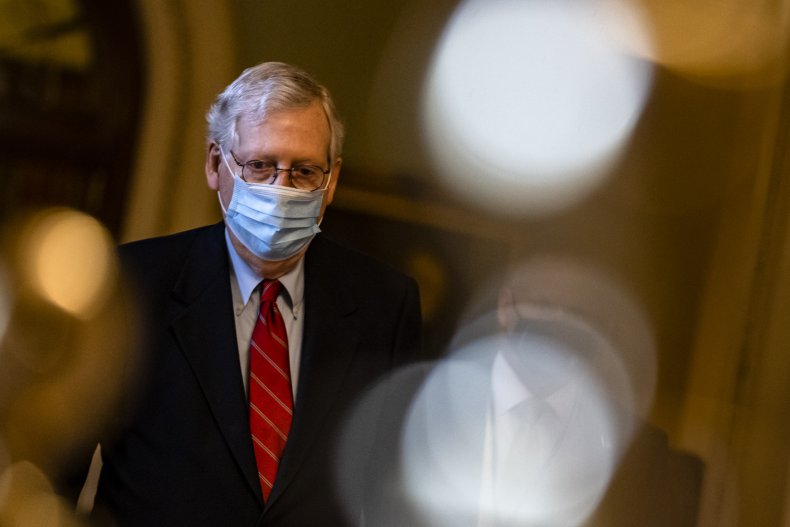 More than half, 58 percent, disapproved—22 percent somewhat and 36 percent strongly. The question was put to 1,500 U.S. adults December 19 to 22.
Prior polling related to a stimulus also highlighted the public's lack of faith in its functionality, with many having not expected a relief deal to be struck this year prior to the recent agreement.
Newsweek has contacted McConnell's office for comment on how his actions might impact the public's view of Congress.
His moves have prompted disdain from many lawmakers who are for the $2,000 payments, with demands for a vote solely on the stimulus boost.
Democrat lawmakers are strongly pushing for the increased checks, with a measure to this end having passed the House, while President Donald Trump is also an advocate of the amount being raised.
The president attributed some of his hesitance in signing the latest relief legislation to the amount in direct payments being below what he felt it should be.
While the debate over the stimulus check boost continues, the already signed off payments have started to be sent out. The current maximum amount is $600.