Mitch McConnell Insists He'd Confirm Supreme Court Nominee in Election Year, Claims Situation Different to 2016
Senate Majority Leader Mitch McConnell has again insisted that Republicans would be willing to confirm a new justice to the Supreme Court during the upcoming presidential election, arguing that the situation is different than it was in 2016 when he infamously refused to consider President Barack Obama's nominee Merrick Garland.
"The precedent that people ignored back in 2016 when I made the decision not to fill the vacancy during the middle of the presidential election was who controlled the Senate," McConnell, a Republican from Kentucky, said during an interview with Fox & Friends on Monday morning. "You know, you have to go back to 1888 to find the last time a Senate of a different party from the president confirmed a vacancy to the Supreme Court that occurred during the presidential election. Makes sense," he asserted.
Continuing, he said that Republicans would "still control the Senate next year" and that "if there were to be a vacancy, of course we'd fill it."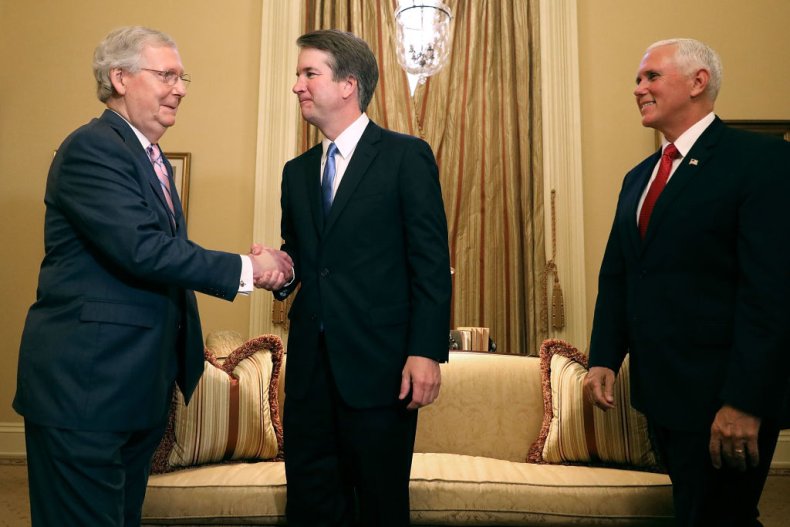 McConnel's argument is, however, a little misleading. Before Garland, the most recent case of an election-year Supreme Court judicial confirmation was Anthony Kennedy in 1988. Kennedy was nominated by Republican President Ronald Reagan in November 1987 and was eventually confirmed 97-0 by a Democrat-led Senate in February of 1988. According to The New York Times, the last time a Republican-led Senate confirmed a Supreme Court nominee put forward by a Democratic president was back in 1895. Conversely, Democrat-led Senates have confirmed 13 top court nominees from Republican presidents since then.
The Senate majority leader has been strongly criticized by Democrats for his willingness to confirm another justice to the Supreme Court nominated by President Donald Trump despite his refusal to consider doing so under Obama. Several have called out what they see as McConnell's hypocrisy.
"Senator McConnell is a hypocrite," Senate Minority Leader Chuck Schumer of New York wrote on Twitter last month.
"We've known all along how hypocritical the [Senate majority leader] is," Demoratic 2020 presidential candidate Julian Castro added. "But his shamelessness at stealing a Supreme Court seat is appalling."
Back in 2016, McConnell refused to allow the Senate to consider Garland's nomination, arguing inaccurately that it was against precedent for such a decision to be made in an election year. He had also mentioned the issue of party-divide, but has turned more to that argument as a defense of what many see as his double standard in recent months.
Garland was nominated by Obama after the sudden death of conservative Justice Antonin Scalia. As a result of McConnell's unwillingness to consider the former president's nomination, conservative Neil Gorsuch was nominated by President Trump and confirmed by the Republican-controlled Senate in April 2017.
Mitch McConnell Insists He'd Confirm Supreme Court Nominee in Election Year, Claims Situation Different to 2016 | U.S.