Senate Majority Leader Mitch McConnell said the U.S. had amassed a debt the size of its economy as he suggested the country should "take a pause" on further stimulus spending.
The Kentucky Republican told a Team Trump campaign broadcast on Monday night that lawmakers needed to "see what's working" and what wasn't working before committing to further coronavirus relief funds.
He also argued that the U.S. could not "prop the economy up forever" with emergency spending bills, which have so far provided loans to businesses and checks for individual Americans.
Speaking to Lara Trump on Monday night, McConnell said: "In the process of spending about $2.8 trillion, we now have a debt the size of our economy. So I said, and the president has said as well, that we need to take a pause here.
"Take a look at what we've done, see what's working, see what isn't. And also begin to encourage the governors around the country, who have the decision-making ability, to open up the economy."
The Senate majority leader later added: "We can't borrow enough money to prop the economy up forever."
He also cautioned that local economies would have to be reopened in line with White House guidelines and encouraged viewers to "wear a mask" as states began rolling back lockdown measures.
"I want to applaud the president for beginning to encourage the governors to begin opening up our economy," McConnell said. "It's the only ultimate solution."
Newsweek has contacted Sen. Mitch McConnell's office for further comment. This article will be updated with any response.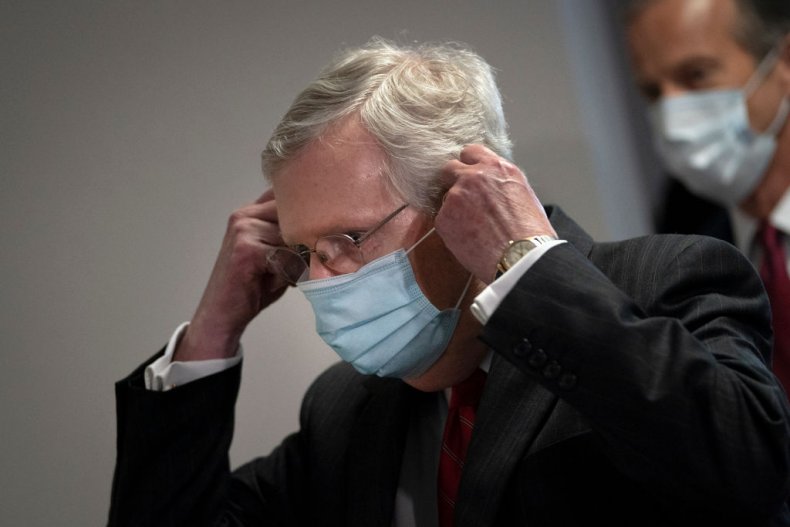 The Kentucky Republican made his remarks before Democratic House Speaker Nancy Pelosi unveiled details of a $3 trillion stimulus plan for the U.S. economy.
Under the 1,800-page HEROES Act, Americans would receive another $1,200 stimulus check and extend $600 weekly unemployment payments until January next year.
A further $1 trillion of the emergency relief fund would go to state and local governments as they deal with surging unemployment numbers and hits to local businesses. Essential workers could also benefit from $200 billion earmarked for boosts to their pay.
"Setting aside how we got here, we must approach this tragedy with the deepest humanity as we go into the future," Speaker Pelosi said Tuesday. "We must think big for the people now because if we don't, it will cost more in lives and livelihood later. Not acting is the most expensive course."
It is expected that the HEROES Act will be put to a vote in the House on Friday morning.