Senate Minority Leader Mitch McConnell (R-KY) compared the advance of the Taliban on cities in Afghanistan to the infamous Fall of Saigon during the Vietnam War and urged President Joe Biden to provide more military support for government forces.
McConnell issued a statement on Thursday suggesting that if the Afghan capital, Kabul, falls to the Taliban there could be scenes reminiscent of Saigon in 1975, when personnel were evacuated from the roof of the U.S. embassy by helicopter.
Taliban forces haven't yet taken Kabul, but they have seized control of several major cities, including Kandahar. They also claim to be in control of Herat.
McConnell's statement said: "Afghanistan is careening toward a massive, predictable, and preventable disaster. And the Administration's surreal efforts to defend President Biden's reckless policy are frankly humiliating."
"The Biden Administration has reduced U.S. officials to pleading with Islamic extremists to spare our Embassy as they prepare to overrun Kabul," the statement went on.
"Absurdly, naively, our government is arguing that bloodshed might hurt the Taliban's international reputation, as if radical terrorists are anxious about their P.R."
McConnell then made the comparison to Saigon, saying: "Unless President Biden adjusts course quickly, the Taliban is on track to secure a significant military victory.
"The latest news of a further drawdown at our Embassy and a hasty deployment of military forces seem like preparations for the fall of Kabul. President Biden's decisions have us hurtling toward an even worse sequel to the humiliating fall of Saigon in 1975."
"Here's what should happen now," McConnell said. "President Biden should immediately commit to providing more support to Afghan forces, starting with close air support beyond August 31. Without it, al Qaeda and the Taliban may celebrate the 20th anniversary of the September 11 attacks by burning down our Embassy in Kabul."
"President Biden's strategy has turned an imperfect but stable situation into a major embarrassment and a global emergency in a matter of weeks. President Biden is finding that the quickest way to end a war is to lose it. The costs and ramifications will echo across the world," McConnell said.
The graphic below, provided by Statista, shows the Taliban's advancement in Afghanistan based on data from the Foundation for Defense of Democracies' (FDD) Long War Journal.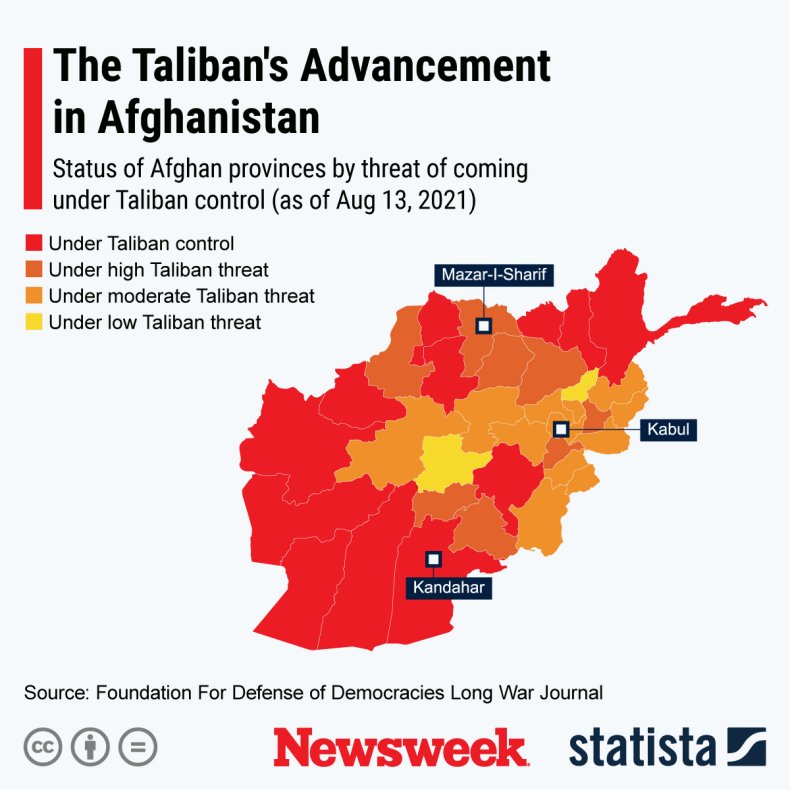 The Taliban's advance comes as the Biden administration pushes ahead with a withdrawal of troops from Afghanistan scheduled to end on August 31.
The Pentagon announced on Thursday that reinforcements will be sent to Kabul to help with the evacuation of personnel as well as Afghans who have worked with them.
President Biden dismissed comparisons to Saigon in June, however.
"There's going to be no circumstance where you'll see people being lifted off the roof of an embassy of the United States from Afghanistan," Biden said.
Biden has also defended the troop withdrawal, telling reporters on Tuesday: "I do not regret my decision."
"Afghan leaders have to come together," Biden said. "They've got to fight for themselves, fight for their nation."
Newsweek has asked the White House for comment.
UPDATE 8/13/21 9.30am ET: This article was updated to include a new graphic.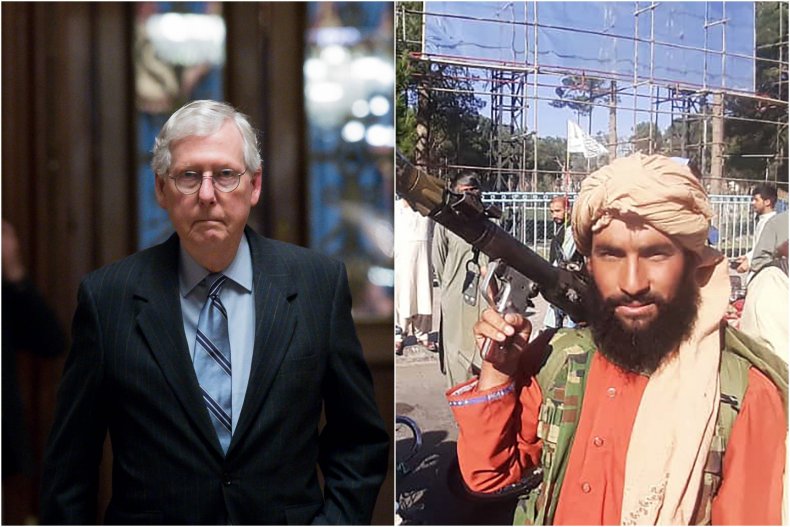 Update 8/13/21 at 5.28 a.m. ET: This article was updated to include a new image.