Mitch McConnell Tells Fox News He 'Likes' Biden Despite Policy Criticisms
Senate Minority Leader Mitch McConnell said Sunday that he "likes" President Joe Biden "personally" despite their many disagreements on national and international policy.
McConnell, a Kentucky Republican and the top GOP lawmaker in the Senate, has readily criticized the Biden administration throughout the president's tenure in the White House. However, he has also shown a willingness to work with the president in a bipartisan way when they can find common ground. The GOP senator previously wrote in his 2016 memoir that he had a positive relationship with Biden, who previously served in the Senate and as vice president.
"Yeah, I like the president personally," McConnell told Fox News Sunday. The remark came after the host asked him about Biden's low favorability among voters, according to recent polling data. "It's pretty clear to me that personality is, in my view, not what's driving his unpopularity. I think it's the policies they've been pursuing."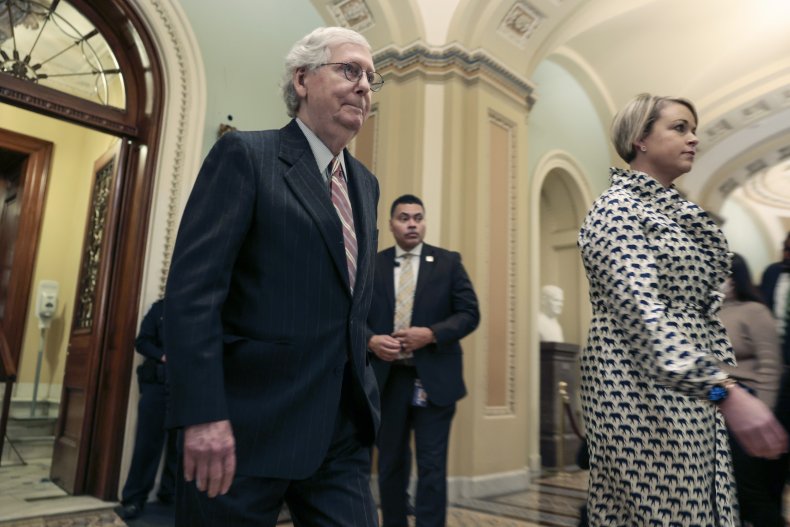 Earlier in the interview, McConnell laid out his criticism of Biden and his administration on issues ranging from foreign policy, to the southern border and immigration as well as inflation and high energy costs. He said that Republicans would tack these issues and ensure Biden governed like a moderate moving forward if they win back control of Congress in the 2022 midterms.
"Biden ran as a moderate. If I'm the majority leader in the Senate and Kevin McCarthy is the speaker of the House, we'll make sure Joe Biden is a moderate," he asserted.
Newsweek reached out to the White House for comment.
When Biden and Vice President Kamala Harris took office on January 20, 2021, McConnell spoke favorably of both of the prominent Democrats. He even made cordial remarks during a special gift ceremony after the president and vice president were sworn in.
"I have to make one point of personal privilege on behalf of the Senate, with all due respect to our distinguished speaker [of the House, Nancy Pelosi] and our colleagues from the House. I have to note, not only did we just swear in a son and daughter of the Senate to these high offices, but indeed both these former senators skipped the House altogether," McConnell said, drawing laughter from the small crowd.
The top Senate Republican emphasized that Harris was the "very first female vice president of the United States" and referred to her as "our very distinguished former colleague."
Biden was first-elected to the Senate in 1972, taking office in January 1973. The Delaware Democrat went on to serve in the upper chamber of Congress until 2009, when he became vice president under President Barack Obama. Biden served alongside many of the current members of the Senate during his decades in the legislative body. McConnell was first elected to the Senate in 1985.
McConnell and Biden have reportedly long had a positive working relationship. In his 2016 memoir, McConnell wrote fondly of Biden. "Not only did I like Joe, but I also learned that he didn't only talk; he also listened. He was, therefore, someone I could work with," the prominent GOP lawmaker wrote.
The top Senate Republican reportedly preferred to work with Biden on legislative issues during Obama's tenure as president. In early February, Biden described McConnell as a "friend" during remarks at the National Prayer Breakfast.
"Mitch, I don't want to hurt your reputation, but we really are friends. And that is not an epiphany we're having here at the moment. We've always — you've always done exactly what you've said. You're a man of word—of your word, and you're a man of honor," the president said. "Thank you for being my friend."