Mitch McConnell Urges Biden to Ignore August 31 Withdrawal Deadline Despite Taliban Warnings
Despite warnings from the Taliban for a complete U.S. withdrawal from Afghanistan by August 31, Senate Minority Leader Mitch McConnell is calling on President Joe Biden to ignore the looming deadline.
On Tuesday, the top Republican urged Biden to continue the evacuation efforts, which McConnell called "a lot worse than Saigon in 1975," past the end of the month.
"The president needs to forget about the August 31 deadline...Extend the deadline, get outside the perimeter, make sure that every single American who wants to leave is able to get out with our assistance and our Afghan allies," McConnell said during a Fox News interview.
"The Taliban should not be allowed to tell us how long we are there to get our personnel out. That's our decision, not theirs," he added.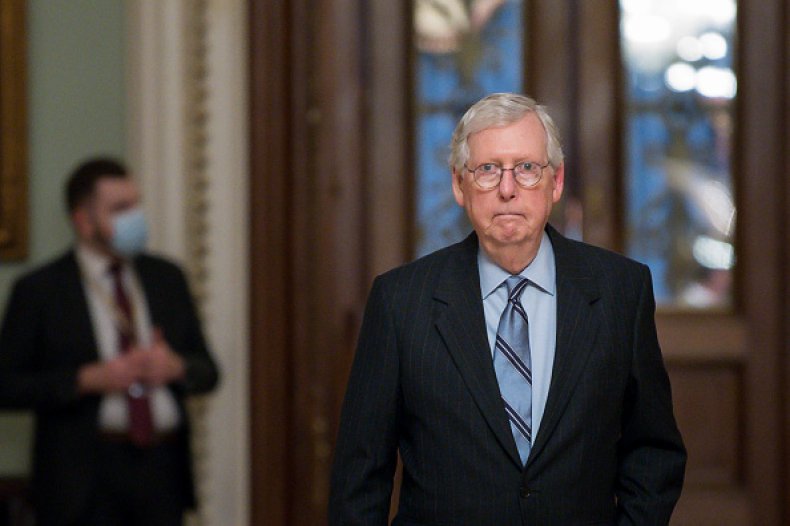 Pentagon officials have suggested that while the deadline could be extended into September, it would require further negotiations with the Taliban.
The Taliban has warned that it would be a "red line" for the Biden administration to ask for a deadline and said they would grant "no extensions" for U.S. troops to stay in Afghanistan beyond August 31.
"If they extend it, that means they are extending occupation," Taliban spokesperson Suhail Shaheen previously told Sky News. "It will create mistrust between us. If they are intent on continuing the occupation, it will provoke a reaction."
On Tuesday, Taliban officials said that although the road to the Kabul airport would remain open to foreigners, it is now blocked for Afghans attempting to flee the country in hopes of subduing the chaos at the airport. It is unclear how long the policy would be in effect.
McConnell's remarks add growing pressure for Biden to extend the presence of U.S. troops in Afghanistan, even though it could increase tensions with the Taliban.
Calls for the administration to stay past the deadline have come from both sides of the aisle.
House Intelligence Committee Chairman Adam Schiff, a Democrat, told reporters on Monday evening that while it's possible to evacuate in time, he thinks "it's very unlikely given the number of Americans who still need to be evacuated, the number of [Special Immigrant Visa holders], the number of others who are members of the Afghan press, civil society leaders, women leaders."
Last week, 40 bipartisan members of Congress implored Biden to grant those stuck in Afghanistan "an opportunity to leave," saying "We trust that the previous August 31 deadline you imposed on our military mission will not apply to this effort, and that we will stay as long as is necessary to complete it."
Representative Tom Malinowski, who led the letter with fellow Democrat, Representative Jason Crow, said it would not be "humanly possible" for Biden to keep his promise that everyone, including the military's Afghan allies, are evacuated.