McConnell Has Votes to Set Impeachment Trial Rules: Here's What It Would Mean for Trump in the Senate
President Donald Trump's impeachment trial could look very similar to Bill Clinton's in 1999 if Senate Majority Leader Mitch McConnell gets his way.
The Kentucky Republican said last Friday that Trump's trial, which has been on pause for weeks as lawmakers remained deadlocked over how to proceed, should follow the guidelines set by Clinton's case over two decades ago. McConnell also accused Democrats of trying to "deviate from a unanimous bipartisan precedent" and "write new rules for President Trump."
Now it appears that McConnell will get his wish. Republican senators told CNN and Politico on Tuesday afternoon that the majority leader has enough votes to move forward with trial rules—which could mirror those in the Clinton case—without any Democratic support.
Michael Gerhardt, a constitutional law professor at the University of North Carolina School of Law, agreed that operating under the rules set by Clinton's impeachment is an "appropriate way to start off" Trump's trial—just as long as McConnell actually follows them.
"I think that is what is causing some hesitancy among senators, particularly among Democrats.... Senator McConnell may say he's going to follow those procedures, but it's unclear whether they'll end up with the same results," Gerhard told Newsweek.
Gerhardt testified alongside other legal scholars before the House Judiciary Committee in December during the impeachment hearings. He did the same when the House impeached Clinton and was the only expert on a panel of 19 witnesses to be summoned by both parties to offer insight into the process.
During Clinton's trial, the Senate unanimously decided to first hear opening statements from the White House defense lawyers and the impeachment "managers" appointed by the House. After the initial arguments were made and senators asked questions, the chamber voted on other issues, like whether to call witnesses or consider new documents.
"The Senate has a unanimous bipartisan precedent for when to handle midtrial questions such as witnesses—in the middle of the trial," McConnell said Monday. "The Senate said, 100 to nothing, that was good enough for President Clinton. So it ought to be good enough for President Trump. Fair is fair."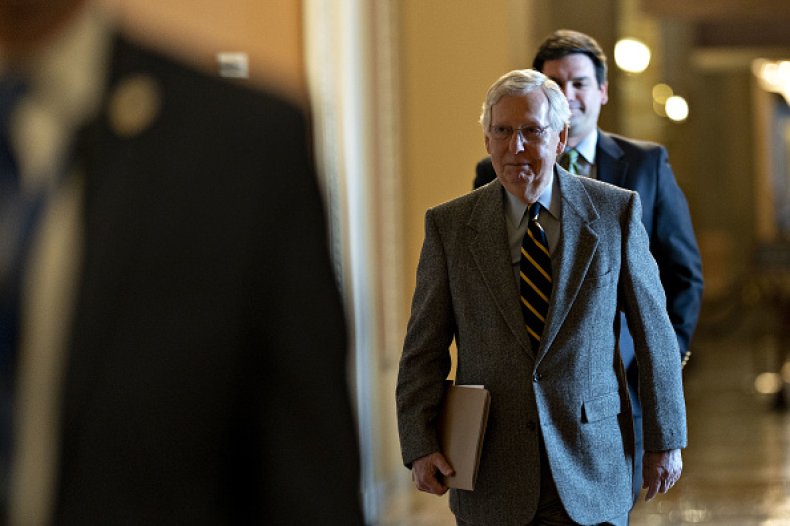 But Democrats want the Senate to make a resolution before the trial starts that deals with the introduction of witnesses and documents. They've asked the chamber to call four witnesses: former national security adviser John Bolton, White House chief of staff Mick Mulvaney, Office of Management and Budget official Michael Duffey and assistant to the president Robert Blair.
House Speaker Nancy Pelosi has said she won't send the Senate the articles of impeachment, which would allow the trial to begin, until she knows the terms of the trial. But McConnell said that having Pelosi influence the Senate proceedings was a "nonstarter."
During Clinton's impeachment, three witnesses gave closed-door depositions. McConnell supported calling witnesses in that 1999 trial but has said he doesn't want them to be part of Trump's case. However, he hasn't ruled them out completely.
Senate Minority Leader Chuck Schumer said Monday that "on the question of witnesses and documents, Republicans may run but they can't hide." The New York Democrat added that "America and the eyes of history will be watching what my Republican colleagues do."
If no deal is reached between the Democrats and Republicans, the impeachment trial process will be determined by 51 senators. A simple majority is all that is needed to approve the rules. Republicans control the chamber by eight seats.
Top Republicans have also suggested that the GOP should try to change Senate rules to hold a trial without Pelosi's articles of impeachment. Senator Lindsey Graham said Sunday that if the chamber doesn't get the articles by this week, "we need to take matters into our own hands." But that move is unlikely to succeed because of the high number of votes, 67, needed to change impeachment rules.
The House voted to impeach Trump in December on two counts: abuse of power and obstruction of Congress. Democrats charge that the president tried to pressure the Ukrainian government to investigate a potential political opponent, former Vice President Joe Biden, in exchange for the release of nearly $400 million in military aid. Trump has denied the charges.
In the end, the Senate voted 55-45 to acquit Clinton. McConnell and his Republican allies are pushing for the same outcome for Trump. The president has dismissed the prospect of being removed from office, saying that he's "not worried" and that the inquiry against him is a "sham."