Mitch McConnell Vows 'Orderly' Transfer of Power Will Happen On Time Despite Trump's Refusal to Concede
Republican Senate Majority Leader Mitch McConnell on Tuesday said America will "have an orderly transfer from this administration to the next one" on time despite President Donald Trump's ongoing refusal to concede to President-elect Joe Biden.
McConnell's comment came in response to a journalist asking him about the General Services Administration's (GSA) refusal to issue a letter acknowledging Biden's victory, thus denying Biden's team access to millions of dollars in federal transition resources.
"We are going to have an orderly transfer from this administration to the next one. What we all say about it is frankly irrelevant," McConnell said. "All of it will happen right on time, and we will swear in the next administration on Jan. 20."
Democratic congressional members have questioned whether the GSA's refusal to issue the letter was ordered by Trump who has yet to concede. Trump has repeatedly claimed that he actually won the election except for yet-to-be-substantiated allegations of widespread voter fraud that, he claims, swung the election in Biden's favor.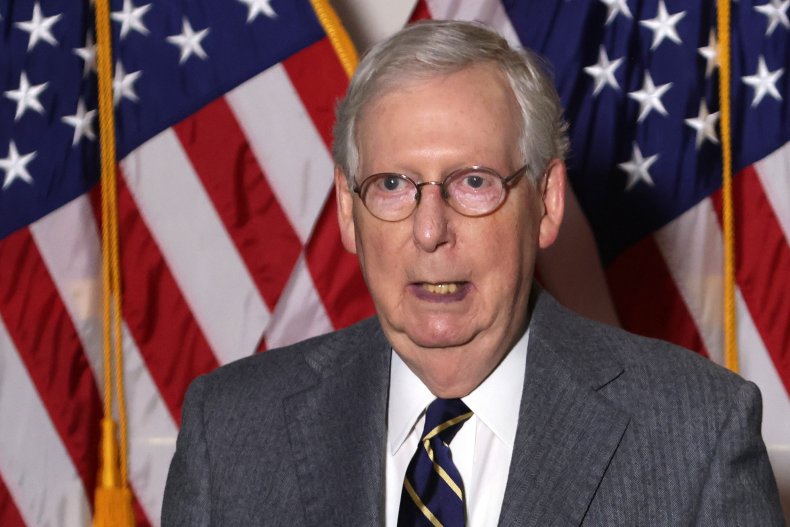 While most congressional Republicans have been silent about acknowledging Biden's presidential victory, at least three Republicans have publicly voiced doubt that Biden actually won including Secretary of State Mike Pompeo, Republican Senator Roy Blunt of Missouri and Republican Senator Ron Johnson of Wisconsin.
Republican Senator Mitt Romney of Utah; former Republican President George W. Bush; his brother, former Florida Governor Jeb Bush; Republican Governor of Maryland Larry Hogan and 13 other Republican Congress members have all acknowledged that Biden won.
During McConnell's comments, he said the media has ignored "one of the great success stories of the current administration" which was "the coordination between Homeland Security and secretaries of state in charge of conducting elections all around the country."
"I know when things don't happen they tend not to make a headline, but [there is] no indication any foreign intervention succeeded," said McConnell. "The elections were smoothly conducted."
Christopher Krebs, the former director of the Cybersecurity and Infrastructure Security Agency (CISA), a federal agency that also oversees voter fraud, said in a November 12 statement, "The November 3rd election was the most secure in American history," adding, "There is no evidence that any voting system deleted or lost votes, changed votes, or was in any way compromised."
On Tuesday, November 17, Trump fired him via tweet, calling his statement "highly inaccurate."
"There were massive improprieties and fraud—including dead people voting, Poll Watchers not allowed into polling locations, 'glitches' in the voting machines which changed... votes from Trump to Biden, late voting, and many more," Trump wrote in his tweet.
The deadlines for states to certify their election results are quickly approaching, with Georgia set to certify its results this Friday. Trump's re-election campaign has submitted numerous lawsuits, most of which have been unsuccessful in court. On December 14, the Electoral College will meet and cast the votes to formally declare Biden as the president-elect.
Newsweek contacted McConnell's office for further comment.