Mitch McConnell Vows Senate Will Vote on Trump Supreme Court Nominee 'This Year'
Senate Majority Leader Mitch McConnell, speaking on the floor of the upper chamber on Monday for the first time since Justice Ruth Bader Ginsburg's death, pledged to swiftly confirm whomever President Donald Trump nominates to fill her place on the U.S. Supreme Court.
Rejecting accusations from Democrats that moving to confirm a new justice would be hypocritical just weeks before the election—given McConnell's refusal in 2016 to allow a vote on President Barack Obama's nominee, citing that year's election—the Kentucky Republican promised to hold a vote "this year," potentially even before the November 3 contest.
"There was clear precedent behind the predictable outcome that came out of 2016, and there is even more overwhelming precedent behind the fact that this Senate will vote on this nomination this year," McConnell said. "The American people re-elected our majority in 2016. They strengthened it further in 2018 because we pledged to work with President Trump on the most critical issues facing our country."
McConnell's vow is despite Ginsburg's dying wish that she be replaced only after the winner of November's election is sworn into office on January 20.
Trump has yet to officially announce his choice, but said he expects to make it by Friday or Saturday. His shortlist is down to just five potential picks.
Ginsburg, who's long battled pancreatic cancer, died of complications stemming from the illness at her Washington, D.C., home on Friday. The liberal justice icon was 87 years old.
With just 43 days until the election, Ginsburg's death throws a major wrench into Washington's already hyperpartisan politics. But given Republicans' control of the Senate, Democrats have few—if any—tools in their arsenal that could prevent the chamber from confirming a Trump nominee before a new Congress or president is ushered into office.
GOP lawmakers argue that because their party controlled the Senate in 2016 and Democrats held the White House, this time around is far different because Republicans control both. McConnell cited the speedy confirmations of Justices John Paul Stevens (19 days), Sandra Day O'Connor (33 days) and Ginsburg (42 days) as evidence that plenty of time remains before the election.
"The American people are about to witness an astonishing parade of misrepresentations about the past, misstatements about the present and more threats against our institutions from the same people who have already been saying for months they want to pack the court," McConnell continued. "The Senate has more than sufficient time to process a nominee. History and precedence make that perfectly clear."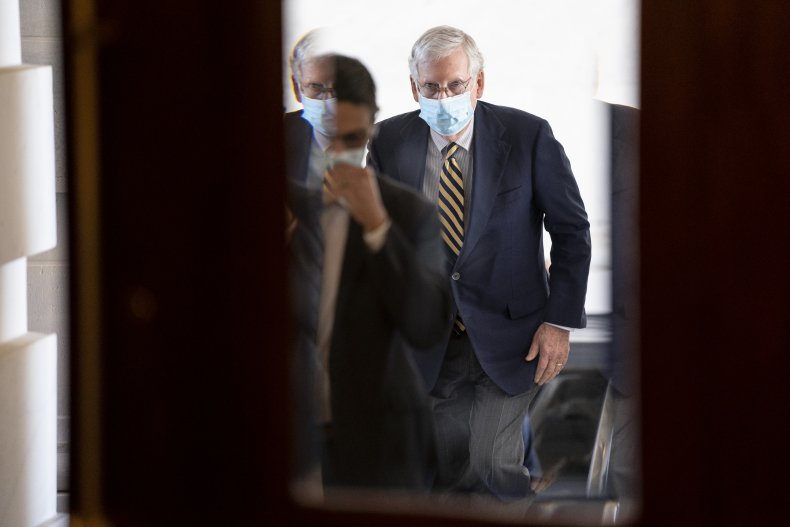 Justice Antonin Scalia died 237 days before the 2016 election, who Obama attempted to replace with Garland. Ginsburg died just 46 prior to this year's contest.
Democrats need just four GOP senators to break ranks and oppose confirming a new justice. So far, two of them have—Senators Lisa Murkowski (R-Alaska) and Susan Collins (R-Maine). As of Monday night, it appeared Democrats will lack the support required from Republicans to block Trump's nominee.
And even if Democrats did succeed in flipping enough GOP lawmakers, it's possible that McConnell could win back their support if he waits until after Election Day and if Trump wins. Murkowski and Collins have said the winner of the presidential election should decide. There have been no indications that any Democrats will side with Republicans.
Senate Minority Leader Chuck Schumer, who privately told his Democratic colleagues on a call over the weekend that "nothing is off the table" to stop Republicans, said Monday that his GOP peers "have no right to fill it."
"There's only one way, one way, for this Chamber to retain its dignity through this difficult chapter...for four brave Senate Republicans to commit to rejecting any nominee until the next president is installed," the New York Democrat said on the floor. "Tell me how this would not spell the end of this supposedly great deliberative body—because I don't see how."
The confirmation hearings, which will be led by Senate Judiciary Committee Chairman Lindsey Graham (R-S.C.), could begin as soon as next week. Graham sent a letter on Monday to his fellow Democrats on the panel, saying that the tense confirmation process of Justice Brett Kavanaugh—which was nearly upended over accusations by women of sexual assault—has transformed how he views the proceedings.
"I therefore think it is important that we proceed expeditiously to process any nomination made by President Trump to fill this vacancy," Graham wrote. "I am certain if the shoe were on the other foot, you would do the same."
This story was updated to include information about Democrats lacking GOP support to block Trump's nominee.