Mitch McConnell Warns Bill Barr Investigation Could Be 'Witch Hunt in the Making'
Senate Minority Leader Mitch McConnell (R-KY) warned that any potential investigation into former Attorney General Bill Barr in relation to reports that the Department of Justice under former President Donald Trump obtained metadata on two members of Congress risks turning into a "witch hunt."
McConnell spoke from the floor of the Senate on Monday and criticized what he called "politically-motivated investigations," as Democrats push for Barr and his predecessor as attorney general, Jeff Sessions, to testify under oath on the matter.
The Trump-era DOJ reportedly subpoenaed Apple for metadata from House Intelligence Committee members Representative Adam Schiff and Representative Eric Swalwell in 2018. The committee was investigating Trump's alleged ties to Russia at the time.
Speaking on Monday, McConnell said: "Late last week the Democratic leader and the Democratic whip gave in to the urge to pick at the scab of politically motivated investigations that have become their party's favorite weapon against the previous administration."
McConnell said that Democrats had ignored "clear abuses of power" during investigations of Trump's 2016 campaign.
"So any outrage from Democrats that alleged criminal leaks within their own ranks rightly drew the attention of federal investigators rings completely hollow," McConnell said.
The DOJ subpoenaed Apple for metadata from 12 people connected with the House Intelligence Committee, including one minor. Republicans controlled the committee in 2018 and Schiff was the most senior Democratic member. He is now chairman.
Prosecutors were reportedly looking for the sources behind news stories about contacts between Trump officials and Russia. The investigations started under Sessions, who was attorney general in 2017-2018, according to The New York Times, but they did not find evidence linking the stories to the committee.
Eight journalists were also targeted in an effort to identify their confidential sources.
McConnell said it was "particularly disappointing" that Democrats wanted to investigate Barr for decisions that took place before he became attorney general.
"Attorney General Barr served our nation with honor and with integrity," McConnell said. "These latest attempts to tarnish his name bear the telltale signs of a witch hunt in the making."
McConnell said he believed the DOJ's inspector general was "fully equipped" to handle any investigation into the issue.
"'So I'm confident that the existing inquiry will uncover the truth," he said. "There's no need for a partisan circus here in the Congress."
However, Democrats called on Friday for Barr and Sessions to appear before the Senate Judiciary Committee. In a joint statement, Senate Majority Leader Chuck Schumer and Senate Judiciary Chairman Dick Durbin warned that any officials who refused to voluntarily cooperate with an investigation could be "subject to subpoena and compelled to testify under oath."
"The revelation that the Trump Justice Department secretly subpoenaed metadata of House Intelligence Committee Members and staff and their families, including a minor, is shocking," the senators' statement said. "This is a gross abuse of power and an assault on the separation of powers."
When reached by Newsweek on Tuesday, Schumer's office pointed to the senator's comments on the Senate floor on Monday.
"Despite the fact that we are now almost six months into a new administration, the sins of the previous administration are still coming to light," Schumer said, citing a New York Times report on the subpoenas.
"This is a gross abuse of power," Schumer said. "It's an assault on the separation of powers. The notion that any president, via their political appointees, could manipulate our democratic system to tap into personal data has the fingerprints of a dictatorship – dictatorship – all over it."
"This appalling politicization of the Department of Justice by Donald Trump and his sycophants must be investigated by both the DOJ Inspector General and by Congress," he said. He warned of subpoenas if potential witnesses don't cooperate.
"This issue should not be partisan; under the Constitution, Congress is a co-equal branch of government and must be protected from an over-reaching executive. We expect our Republican colleagues to join us in getting to the bottom of this very, very serious matter," Schumer said.
Newsweek has asked Mitch McConnell for comment.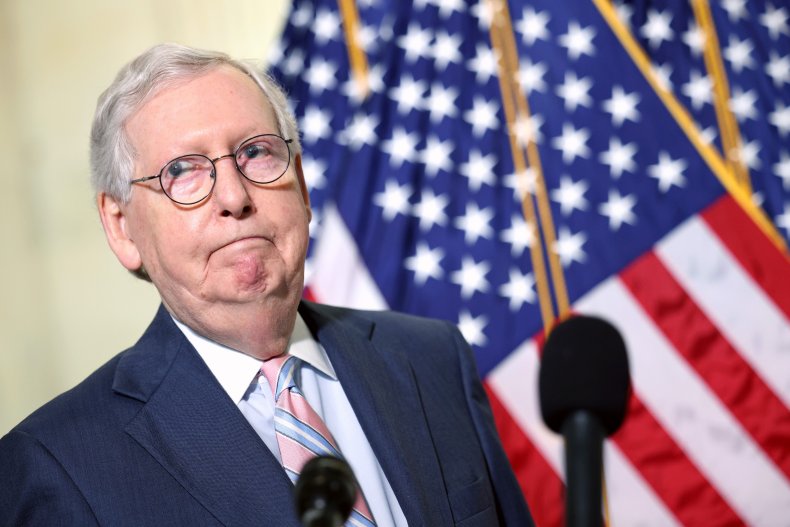 6/15/21 6.55am ET: This article has been updated to include further comment from Senator Chuck Schumer.