Mitch McConnell, Who Blocked Merrick Garland, to Give Biden Nominee 'Fair Look'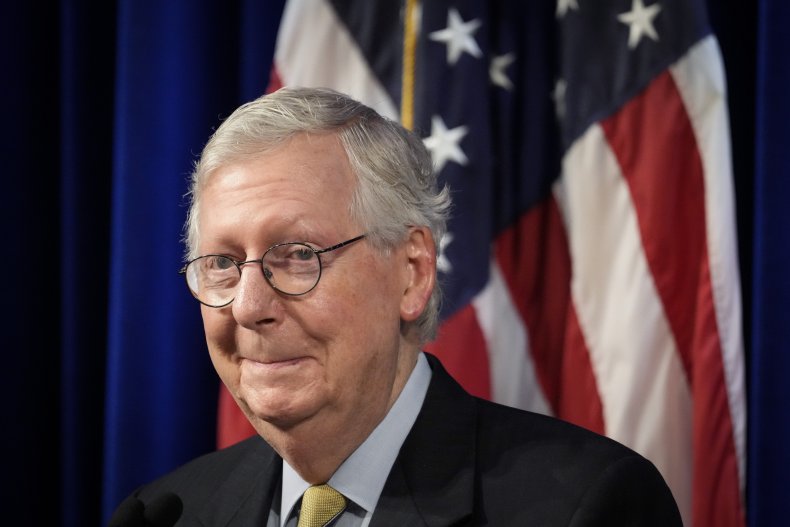 Senate Minority Leader Mitch McConnell (R-Ky.), who, as majority leader in 2016 blocked Merrick Garland from being confirmed to the United States Supreme Court, has pledged to give President Joe Biden's nominee "a fair look."
During a Thursday event in Kentucky, McConnell promised to remain undecided about Biden's pick, although earlier that day he warned the president against choosing a member of "the radical left." Biden is expected to name his nominee by the end of February.
"Look, I'm going to give the president's nominee—whoever that may be—a fair look," McConnell told reporters. "And not predict today, when we don't even know who the nominee is, how I might vote."
McConnell praised outgoing Justice Stephen Breyer for his opposition to "packing" the court, which would expand the number of justices on the bench beyond the current nine. McConnell said that he admired Breyer, who is considered part of the court's liberal wing, because the justice "believed in the institution, believed it was apolitical."
Breyer, nominated by President Bill Clinton in 1994, was the last Democratic Supreme Court nominee McConnell voted to confirm. Only nine Senate Republicans voted against Breyer. However, the politics of nominating judges to the court has become far more divisive and partisan since then.
In a statement McConnell released earlier Thursday, the minority leader suggested that his support could be dependent on the president accomplishing the goal of choosing a judge with no political leanings.
"Looking ahead — the American people elected a Senate that is evenly split at 50-50," McConnell said in the statement. "To the degree that President Biden received a mandate, it was to govern from the middle, steward our institutions, and unite America.
"The President must not outsource this important decision to the radical left," he added. "The American people deserve a nominee with demonstrated reverence for the written text of our laws and our Constitution."
After the death of conservative Justice Antonin Scalia in early 2016, McConnell guided Senate Republicans to block President Obama's pick from being seated on the court without first holding hearings. The then-majority leader argued that it was too close to that year's presidential election to continue the process. Pundits believe McConnell just didn't want to allow an outgoing Democratic president to put forth a liberal nominee.
McConnell was heavily criticized after he abandoned the same standard to quickly confirm Justice Amy Coney Barrett following the death of Justice Ruth Bader Ginsburg less than two months before the 2020 presidential election. Barrett was one of three conservative justices nominated by former President Donald Trump.
All three Trump justices were confirmed after McConnell directed Senate Republicans to change filibuster rules to allow for their confirmation. The same rule change ensures that Republicans would be powerless to stop Democrats from confirming Biden's pick without their support.
Still, Republicans may choose to slow down the confirmation process and are all but certain to speak out against Biden's choice during confirmation hearings, regardless of who is nominated.
Senator Susan Collins (R-Maine), one of only three Senate Republicans who voted to confirm Judge Ketanji Brown Jackson to a lower federal court last year, stressed that there was "no need for any rush" on a SCOTUS confirmation. Brown Jackson is believe to be on Biden's short list of nominees.
Senate Majority Leader Chuck Schumer (D-N.Y.) has indicated a desire for a "quick" process.
Newsweek reached out to the White House for comment.