Mitch McConnell's Dem Challenger Amy McGrath Thanks Him for Endorsement at Debate After He Calls Her a 'Marine' and a 'Mom'
Senate Majority Leader Mitch McConnell's Democratic challenger Amy McGrath thanked her opponent for his "endorsement" while sharing an out of context clip of him speaking during their Monday night debate.
On Tuesday, McGrath tweeted "thank you for your endorsement" alongside a video of McConnell saying that "she's a Marine, she's a mom and I've been there too long." The 4-second clip was taken from McConnell's response to McGrath's plans to help their home state of Kentucky if elected, with the incumbent critiquing his challenger's campaign and her repeated touting of her decades-long military experience.
"She mentions she was in the Marines about every other sentence," McConnell said during the debate. "I think her entire campaign is she's a Marine, she's a mom and I've been there too long. What we need to see are specifically what she has in mind to fix the issues that she thinks need fixing. And I'll tell you what she has in mind, she's going to Washington, she's going to make Chuck Schumer the majority leader."
Former fighter pilot McGrath's campaign has leaned heavily on her military service, which included becoming the first woman to fly a combat mission for the Marines. McConnell, who served about one month in the Army Reserves in 1967 before leaving on a medical discharge, opened Monday's debate by congratulating McGrath for her service while also appearing to take credit for her having the opportunity to serve.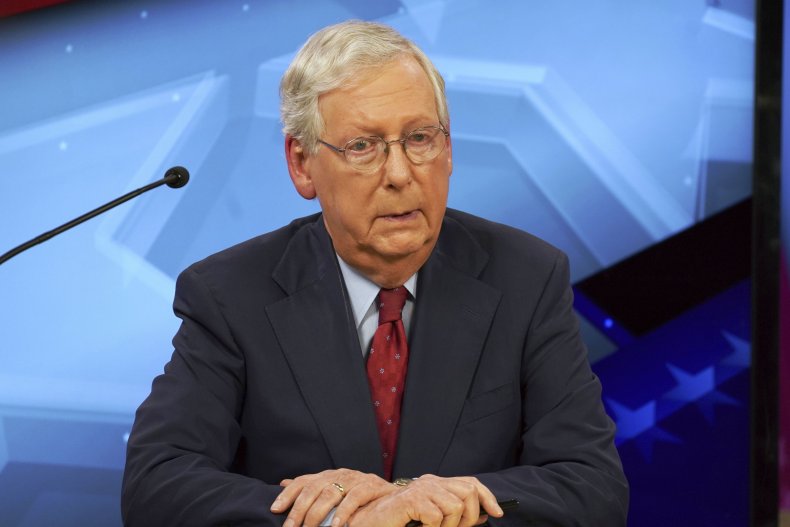 "I want to start by congratulating Colonel McGrath for her service in the military," McConnell said. "It's been my privilege to nominate 131 Kentucky women to have the same opportunity she did. I also was involved in making it possible for women in the military to go into different jobs, like being able to fly in combat."
A different video clip of McConnell during the debate quickly went viral on Monday night, showing the majority leader laughing for an extended period as McGrath criticized him for failing to pass a second stimulus bill amid the COVID-19 pandemic.
While McGrath responded to McConnell's insistence that Democrats were to blame for the failure with a short laugh, the incumbent continued to laugh and grin as his challenger described the pandemic as a "national crisis." The moment was shared by many on Twitter, with McGrath remarking that "there's nothing funny about 214,000 Americans dying" while sharing the clip herself.
Despite enthusiasm among Democrats nationally, McGrath is a longshot to unseat the six-term McConnell. Almost every poll of voters in Kentucky has shown the majority leader maintaining a comfortable lead over McGrath, sometimes in the double digits.
Newsweek reached out to the McConnell campaign for comment.
Mitch McConnell's Dem Challenger Amy McGrath Thanks Him for Endorsement at Debate After He Calls Her a 'Marine' and a 'Mom' | News