Mitch McConnell's Favorability Rating Down 10 Points in Months Since Trump Lost Election
Senate Minority Leader Mitch McConnell's job approval rating among registered voters has dropped since Democrats took control of the White House and Senate after last year's elections.
The Kentucky Republican's favorability rating has also taken a hit in the months since Trump lost his bid for re-election to President Joe Biden.
A Morning Consult poll published in mid-February found that the registered voters surveyed rated their approval of McConnell's job performance 29 points lower than poll respondents did before the 2020 general election. Though that drop is significant, McConnell's favorability rating among registered voters has not dipped as much, although his average favorability has trended down from the low 30s to the low 20s since last fall.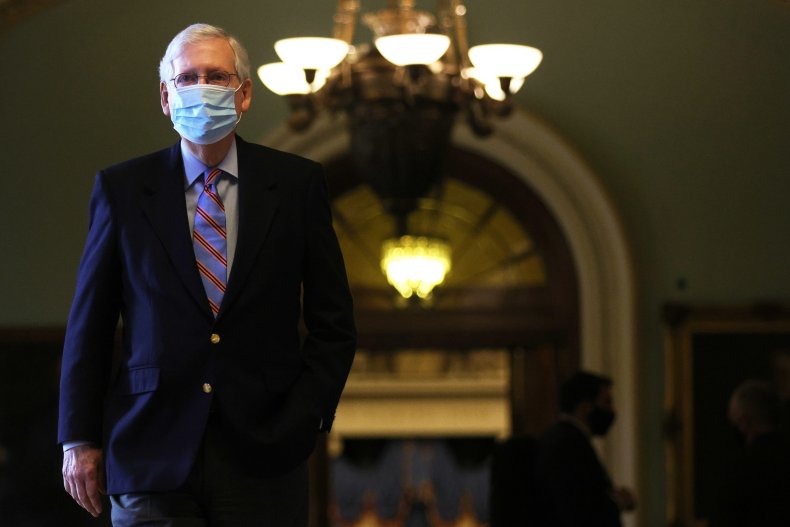 A Politico/Morning Consult poll released in mid-October found McConnell's favorability among registered voters to be about 30 percent. That favorability dropped to 20 percent by the time a new Politico/Morning Consult poll was released in mid-March.
Polls by The Economist/YouGov found his favorability dropped by an even greater margin between early November and late March. According to an Economist/YouGov poll conducted in the days before the election, McConnell's favorability was at about 32 percent, but a poll conducted late last month said his favorability among registered voters dropped to 19 percent.
Another Economist/YouGov poll, conducted less than a week after Trump left office, said only about 16 percent of registered voters found McConnell very or somewhat favorable, but that number rebounded to 21 percent in another poll released a few days later.
Though McConnell's job approval and favorability ratings have dropped in recent months, members of Congress in general tend to receive lower approval ratings from the American public than presidents and state leaders. McConnell's favorability specifically has polled lower than that for other senators in the past, with one mid-2019 poll finding he was the least popular politician in the Senate, according to FiveThirtyEight.
Even though McConnell's favorability among voters polled in the low to mid-30s last fall, he won his bid for reelection with more than 57 percent of the votes cast in Kentucky and will not have to campaign to keep his seat for another six years. Though Trump has sharply criticized McConnell in the months since he left the White House, McConnell's secure position after winning another term last fall enables him to continue his work as the Senate's minority leader without fearing an immediate challenge for his seat.
Newsweek reached out to McConnell's office for comment and will update this story with any response.