Mitch McConnell's Fundraising Soars For Third Straight Quarter After Impeachment Brings In 'Record-Breaking' Cash
For the third quarter in a row, Mitch McConnell's campaign has roughly doubled its fundraising, an achievement undoubtedly fueled—at least partly—by the impeachment trial of President Donald Trump in the Senate majority leader's chamber earlier this year.
The Kentucky Republican's re-election bid brought in a "record-breaking" $7.45 million in the first three months of this year and has the "most-ever cash on hand for any campaign" in the state's history, with $14.85 million, the campaign said Tuesday.
"Kentuckians know that at a time of great consequence, there is no substitute for the proven leadership of Mitch McConnell," campaign manager Kevin Golden said in a statement.
The coronavirus pandemic, whose biggest impact during the quarter came in its last two weeks, appears to have had little deterrence on McConnell's fundraising ability.
The driving forces behind the lawmaker's soaring numbers were almost certainly twofold: the president's impeachment trial and McConnell's face-off against a well-funded Democrat, former Marine Corps pilot Amy McGrath. The trial largely took place in January and resulted in Trump's acquittal of two impeachment articles for abuse of power and obstruction of Congress in early February.
McConnell, currently in his sixth Senate term, raked in nearly double the $3.8 million he raised in the fourth quarter of 2019. His fourth-quarter number, which occurred during the House's impeachment of Trump, nearly doubled his amount in the third quarter.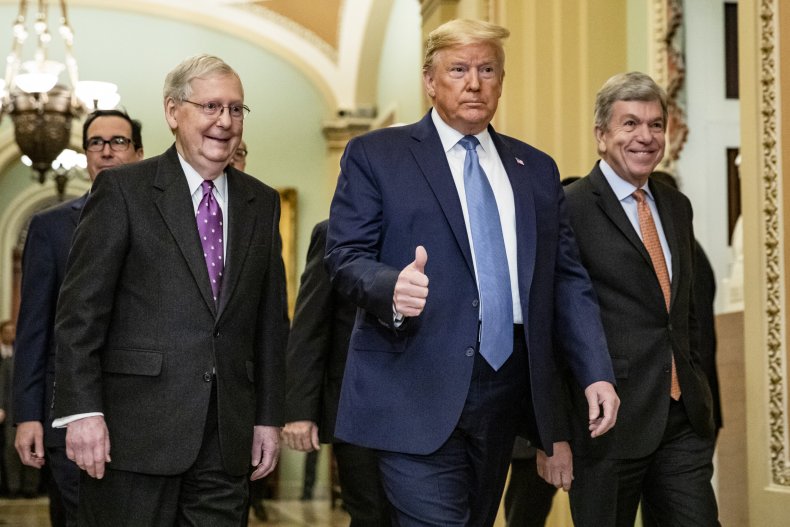 But McGrath announced just hours after McConnell that she hauled in $12.8 million in the first three months of this year, outraising her incumbent opponent for the third quarter in a row and continuing to prove herself to be a formidable candidate. She raised $6.2 million and $10.7 million in quarters four and three of last year, respectively.
Still, McConnell's large boost this year bodes particularly well, as fundraising numbers will likely see sharp drops in the second quarter because of the pandemic's stifling effect on the economy. McConnell, as the Senate's leader, has been at the forefront of crafting economic stimuluses, including the recent $2 trillion package that passed the chamber unanimously in late-March and included boosted unemployment benefits, individual checks for Americans and relief for small businesses.
And his campaign sees his recent legislative work as an achievement that enhances its candidate's approval in the state.
"The choice became so clear when Leader McConnell was writing and earning unanimous support for the largest rescue package in American history while Amy McGrath stood with Nancy Pelosi to urge further delay of relief in order to leverage left-wing priorities unrelated to the coronavirus," Golden said.
"The enthusiasm from across the Bluegrass State to uphold our conservative values and re-elect Senator McConnell will only grow as Election Day approaches," the campaign manager added.
This story was updated to include first-quarter fundraising figures from Amy McGrath.