A government watchdog has alleged that Elaine Chao, former transportation secretary and wife of Republican Senator Minority Leader Mitch McConnell, abused her power while in office. The watchdog said that she should be prosecuted for it.
An inspector general overseeing the Transportation Department announced its findings in a 44-page report released on Wednesday. The report accused Chao of a dozen instances of using her office's staff to conduct personal tasks and work related to promoting the Foremost Group, a New York-based shipping business owned by her father and sister. The business does extensive business within China, according to the Associated Press.
If true, the allegations would violate federal ethics rules. But even though the inspector general relayed reports of Chao's alleged abuses to the Justice Department's U.S. attorney's office and its Public Integrity Section last December, the Justice Department declined to investigate, citing no evidence of criminal wrongdoing.
Nevertheless, the report alleged that Chao directed political appointees within her department to check with the Department of Homeland Security about a specific individual's pending work permit application. The individual was a student who had received a scholarship from her family's philanthropic foundation.
The report also claimed that in departmental emails, Chao directed her staff to include her father, sister and brother-in-law in official events and high-level meetings scheduled during a departmental visit to China. The trip was initially set for November 2017.
The trip's plans reportedly included visits to places that her family's business had supported as well as a meeting with top Chinese leaders that would be attended by her father and sister but with no other departmental officials present. The trip was later canceled.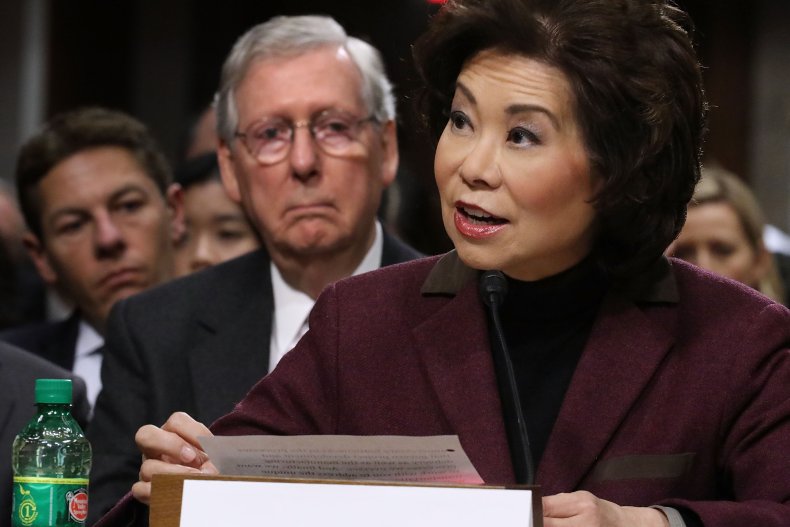 Additionally, Chao allegedly directed department staff to handle an interview of her father, James Chao, by a Chinese-language TV station. The interview was set to occur in his company's headquarters and sought to highlight her father as the "Chinese Ship King," touting his company's international business dealings.
Furthermore, Elaine Chao allegedly had the Department of Transportation's public affairs staff help her father market his personal Chinese-language biography and edit his Wikipedia page. The report also accused her of using staff to inquire about store repairs for an item belonging to her father and to run personal errands, like fetching Christmas ornaments.
When asked about the report's accusations, Chao supplied a September 2020 memo stating that she had incorporated her family into her departmental dealings as a way to charm Asian audiences. The memo mentioned that Asian cultural traditions champion "honor and filial respect toward one's parents."
Responding to the report, a public relations agency representing Elaine Chao issued a statement that read, in part, "This report exonerates the secretary from baseless accusations and closes the book on an election-year effort to impugn her history-making career as the first Asian-American woman appointed to a president's cabinet," the Times reported.
Mitch Behm, the Transportation Department's deputy inspector general, wrote in a letter to House lawmakers, "A formal investigation into potential misuses of position was warranted," adding that Chao had used the "public office for private gain."
Democratic New York Representative Carolyn Malone, chair of the House Committee on Oversight and Reform, said in a statement issued Wednesday that the report's findings "demonstrate that Secretary Chao used her official position and taxpayer resources for the benefit of herself and her family."
"Secretary Chao's flagrant abuse of her office provides further evidence that additional ethics and transparency reforms are needed," Malone added.
Chao resigned in early January 2021 in response to the January 6 insurrection at the U.S. Capitol. She wrote that the riots had "deeply unsettled" her. Before working for the administration of President Donald Trump, she served as labor secretary under President George W. Bush.
Newsweek contacted McConnell's office for comment.