Two prominent Republican lawmakers are having a war of words over who used to be the bigger Mitt Romney supporter.
The Utah senator and former GOP presidential candidate has found himself at the center of a heated intraparty battle for Georgia's Senate seat between Senator Kelly Loeffler and Representative Doug Collins. The election is set to take place in November.
The two candidates are deploying a new tactic that they hope will win them brownie points with the state's conservative voters: criticize one another for once backing the Never-Trumper who has been outcast by the president and his supporters for being the lone Republican to vote for Donald Trump's removal from office.
In a series of tweets on Thursday, Collins painted Loeffler as someone who is "cut from the same Never Trump cloth" as Romney, and highlighted her prolific donations to his presidential campaign. Meanwhile, Loeffler pointed to Collins' past praise of Romney.
The attacks are a representation of the intense—and unusual—battle between the two members of Congress from the same party for the same seat. Trump has declined to weigh in during the race, offering praise for Loeffler, the incumbent, and Collins, the former ranking member of the House Judiciary Committee who helped lead a vigorous public defense of the president during the Mueller investigation and the impeachment process. However, Georgia Governor Brian Kemp (R) appointed Loeffler after the retirement of Senator Johnny Isakson (R) in December 2019, defying Trump's preference at the time for Collins.
"They'd rather go after someone to show their Republican credentials than embrace Trump," Republican strategist Susan Del Percio told Newsweek. "They're not hugging the president to see who can hug him more, and that's because his poll numbers are hurting."
The National Republican Senatorial Committee has told Collins to butt out of the election, worried that he could split the GOP vote and allow a Democrat to win the deep red state. The election is jungle style, where all parties face off at once. Still, Collins has refused to back down.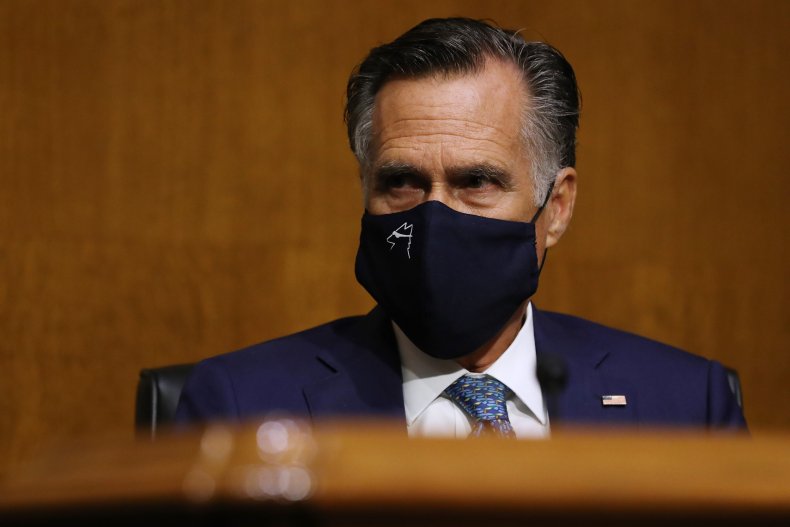 Collins attacked Romney on Twitter for reportedly blocking the subpoena of former Obama officials to answer questions about surveillance of the Trump campaign and its contacts with Russia under the Obama administration as part of a Senate panel's probe. He then turned the focus to Loeffler and her major donations for Romney but lack thereof for Trump in 2016.
"Kelly won't answer the question because she doesn't want Georgians to know the truth: @KLoeffler and @MittRomney are cut from the same Never Trump cloth - two self-funders putting self before country," Collins wrote.
Loeffler responded with Facebook posts from Collins in 2012, one of which was posted read that he "proudly" cast his vote for Romney and was "excited" for his election.
Collins later said Loeffler, based on her contributions to Romney, must have "voted for Obama. Only. Possible. Conclusion." Loeffler responded: "Nope. But you did vote for every single one of his budgets!"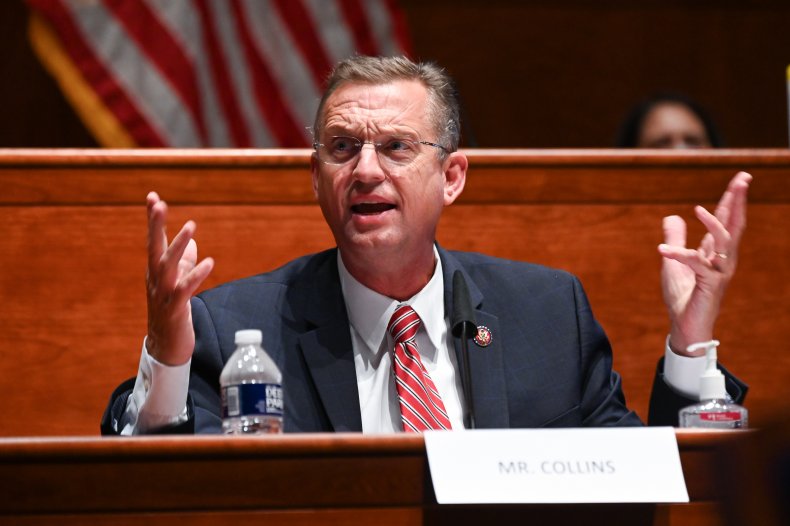 Collins did offer past praise for Romney. But it's also true that Loeffler was a Romney mega-donor, something she did not do for Trump in his first campaign.
Loeffler gave $750,000 to Romney's Super PAC during his failed presidential endeavor. Her largest one-time donation of $300,000 to Romney in 2012 even eclipses the $290,000 she's given to Trump's Super PAC this year. Loeffler and her husband, New York Stock Exchange Chairman Jeff Sprecher, gave a combined $1.5 million to Romney's presidential campaign.
Sprecher cut Trump's Super PAC a check earlier this year for $1,000,000, even as his wife was under scrutiny for stock transactions amid the coronavirus pandemic. Loeffler rebuffed critics' calls to resign over a large stock sell-off before the virus roiled the financial markets that some alleged was insider trading. The Justice Department ended their probe of the matter in May and did not pursue any charges.
Sprecher also gave $2,000 to Hillary Clinton's 2008 campaign, the same year that Trump and his eldest son, Donald Trump, Jr., did as well.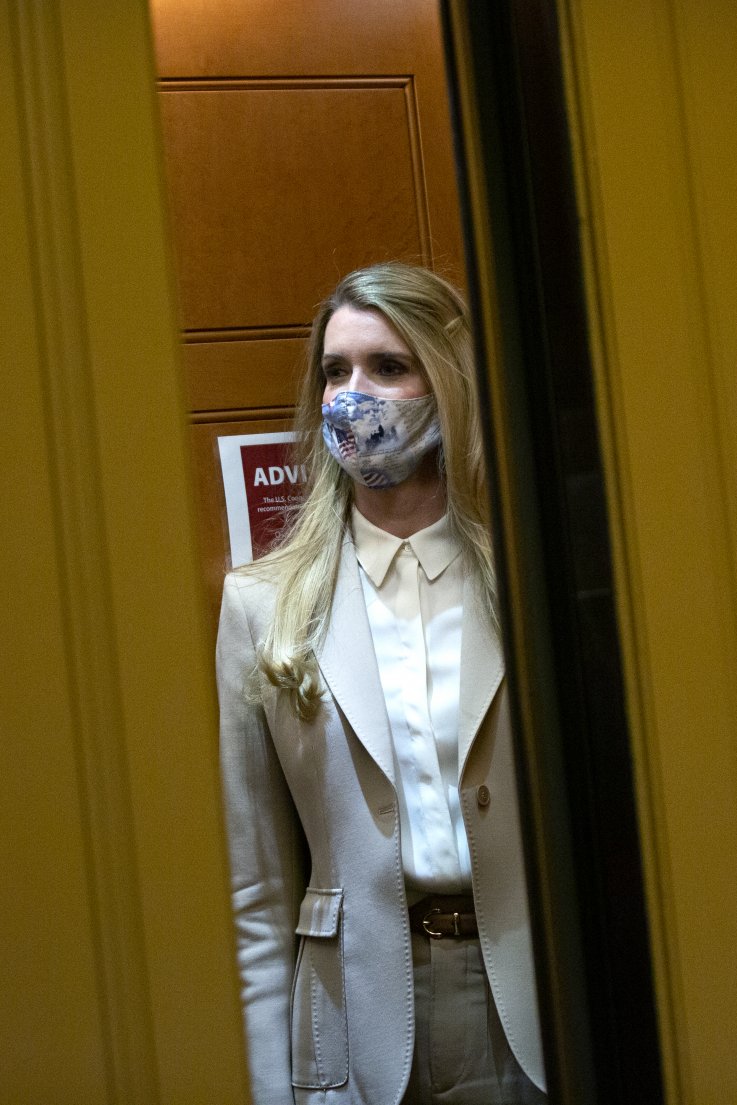 Sen. Kelly Loeffler (R-GA) steps into an elevator in the Senate Subway of the U.S. Capitol on August 6 in Washington, DC.
Photo by Stefani Reynolds/Getty
While the squabble between Collins and Loeffler over their anti-Romney stances present a number of hypocrisies, the brunt of the irony falls on Loeffler, a longtime Georgia Republican strategist told Newsweek.
"[Loeffler] stayed on the sidelines in 2016 because the truth is, she's not a Trump-Republican, and she's kind of getting away with it because she's able to bury people in spending. The fact is, she wasn't for Trump and wasn't publicly until [Collins] entered the race," said the GOP strategist, who requested anonymity because of his personal ties to Collins but who remains neutral publicly. "This is part of a pattern... She is lying in a way that is flabbergasting."
Loeffler is a wealthy former financial executive who has almost entirely self-financed her bid.
The GOP strategist said that as a representation of how close the two were, Romney would stay at Loeffler's house when he visited Georgia on the campaign trail. Loeffler's campaign did not respond to Newsweek's question about the claim.
The Republican strategist, who is affiliated with neither campaign, pointed to previous "disingenuous" criticisms of Collins, such as the ridicule Collins received from Loeffler for his friendship with former Georgia gubernatorial candidate Stacey Abrams, a Democrat. In 2018, Loeffler, who owns the WNBA team Atlanta Dream, honored Abrams on the court during a game and amid her race against Kemp.
"Next thing you know, [Loeffler] will run ads saying Collins can't be trusted because he owns the Atlanta Dream," the strategist said sarcastically.
Collins' campaign could not be reached for comment and his congressional office did not respond to Newsweek's inquiry. Romney's office also did not respond for comment.