Mitt Romney Calls Rep. Amash's Trump Impeachment Comments 'Courageous' but Doesn't Support Removing President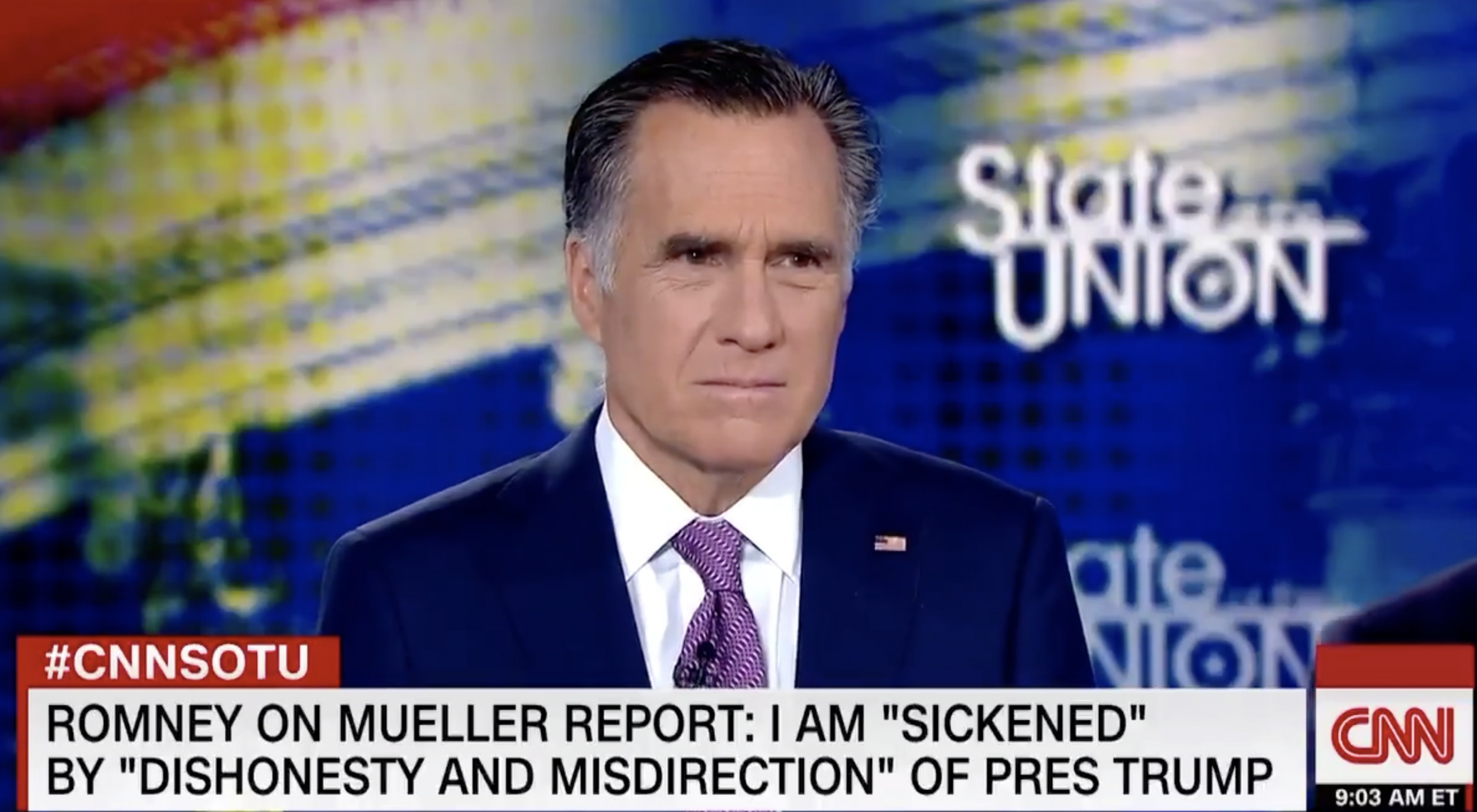 Utah Senator and one-time Republican presidential nominee Mitt Romney on Sunday said fellow Republican lawmaker, Congressman Justin Amash was "courageous" for publicly stating his belief that President Donald Trump had "engaged in impeachable conduct," but that he didn't believe in moving forward with the process of removing the president from office.
Amash issued a lengthy Twitter statement Saturday, claiming that after reading the full report on Special Counsel Robert Mueller's investigation into Russian election interference and possible obstruction of justice by the president, that Trump had indeed taken actions worthy of impeachment.
Appearing on CNN's State of the Union Sunday, Romney — one of the few prominent Republicans who has been openly critical of Trump — could not get behind Amash's apparent call for impeachment.
"My own view is that Justin Amash has reached a different conclusion than I have," Romney told host Jake Tapper. "I respect him, I think it's a courageous statement, but I believe that to make a case for obstruction of justice you just don't have the elements that are evidenced in this document. And I also don't believe that an impeachment call is not only something that relates to the law but considers practicality and politics, and the American people just aren't there."
The former Massachusetts governor also pointed out the significant roadblock to any attempt to impeach Trump: the Republican majority in the Senate.
"I think those that are considering impeachment have to look at the jury, which would be the Senate," he explained. "The Senate is certainly not there yet either."
The impeachment process begins in the House of Representatives, where only a simple majority is needed to indict the president. Given the Democrats sizeable majority in that chamber, Republicans like Amash would likely not even be needed to successfully impeach Trump. However, the actual decision of whether or not to remove the president would reside with the Senate, where a two-thirds majority is needed. Republicans currently hold 53 of the chamber's 100 seats, so a rather significant number of GOP senators would need to break the party line to oust Trump from office.
Romney did admit to Tapper that he was "troubled" by much of what he read in the Mueller report.
"Everyone reaches their own conclusion," he explained. "As I read the report, I was troubled by it; was very disappointing for a number of reasons, but it did not suggest to me that this was time to call for impeachment."
Tapper asked the senator if he thought that Trump had brought disgrace to the office of the presidency. Romney did not answer that question in the affirmative, but did not attempt to defend the president.
"I think a number of the things that were done were really, really troubling, and unfortunate and distressing. Clearly, the number of times there were items of dishonesty, misleading the American public and the media — those are things you would not want to see from the highest office in the land," said the senator, who also would not go so far as to agree that Trump had abused his power as president.
"An abuse of power is going to be a whole different level, which suggests impeachment. I don't think impeachment is the right way to go," explained Romney. "One of the things that's difficult in order to make a case for obstruction of justice or impeachment is whether or not there was intent, and when there's not an underlying crime I think it's difficult to put together an effective case to prosecute those crimes."
On the issue of moral leadership, Romney said President Trump could "substantially improve his game when it comes to helping shape the character of the country."
He explained: "I think young people — as well as people around the world — look at the President of the United States and say 'Does he exhibit the kind of qualities that we would want to emulate?' And those are qualities of humility, of honesty, integrity, and those are things where... I think the president has distanced himself from some of the best qualities in the human character."
While Romney did not condemn Amash for breaking party ranks and saying Trump could be impeached, his niece — Republican National Committee Chair Ronna McDaniel — did.
"It's sad to see Congressman Amash parroting the Democrats' talking points on Russia," McDaniel said in a statement emailed to Newsweek Saturday evening. "The only people still fixated on the Russia collusion hoax are political foes of President Trump hoping to defeat him in 2020 by any desperate means possible. Voters in Amash's district strongly support this President, and would rather their Congressman work to support the President's policies that have brought jobs, increased wages and made life better for Americans."