Mitt Romney Casts Presidential Election Vote Against Donald Trump For the Second Time
Mitt Romney has cast his election ballot, and the Utah Senator said his vote once again did not support President Donald Trump's campaign.
The Republican, and former presidential nominee, did not share details about his vote, according to Manu Raju, CNN's senior congressional correspondent. Raju relayed the confirmation from Romney in a tweet posted Wednesday afternoon.
"Mitt Romney told me he already voted in the elections but he wouldn't say if he voted for Joe Biden or wrote someone else in. 'I did not vote for President Trump,' he said," Raju wrote in the tweet.
Romney led his own presidential campaigns during election cycles in 2008 and 2012. His latter campaign earned Romney the Republican nomination, although he ultimately lost the election to former President Barack Obama, who went on to resume office for a second term. Prior to his presidential bids, Romney served as the governor of Massachusetts between 2003 and 2007. He was elected to the U.S. Senate in 2019.
Although known for his conservative politics, Romney has historically clashed with Trump, speaking out against his 2016 campaign and later confirming he did not vote for the current president during that year's election. In comments to reporters about one year into Trump's presidency, Romney said he cast a ballot for his wife, Ann Romney, instead.
Months ahead of the 2016 election, and before Trump earned the Republican nomination, Romney delivered scathing remarks arguing against his candidacy. In it, Romney called Trump a "phony" and a "fraud," while emphasizing his past dishonesty and proposed policies as president. At the time, Romney highlighted Trump's attacks on immigrant communities, conduct toward women and intentions to repeal the Affordable Care Act.
Trump responded with condescending remarks about Romney's presidential campaign during a subsequent rally, telling a crowd of supporters, "he was begging for my endorsement," in 2012. Romney quickly noted that he would not have accepted the endorsement if Trump's rhetoric was as racist and ableist four years prior as it had become in 2016.
As a member of the Senate, Romney voted to impeach Trump for abuse of power last February, the only Republican senator to do so. House Democrats' previously voted to impeach the president on two charges, abuse of power and obstruction of Congress, following a lengthy inquiry and trials that took place at the end of 2019. Trump was eventually acquitted after the senate vote.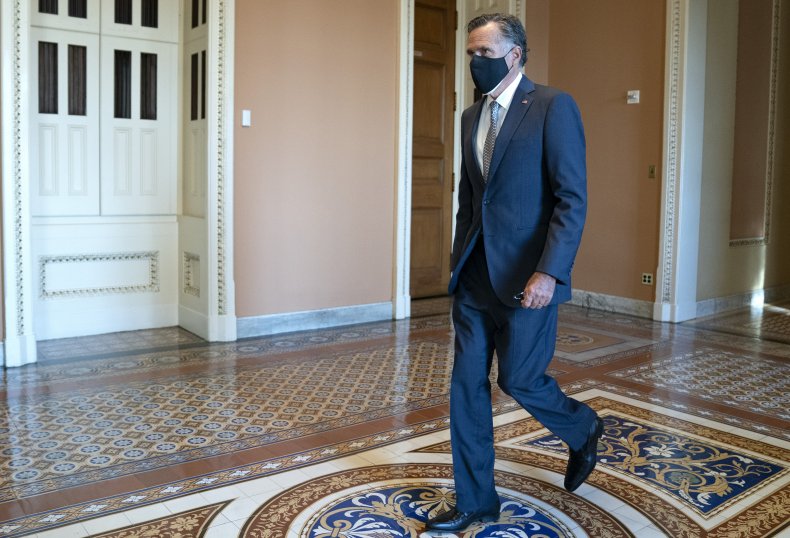 Romney has continued to denounce Trump throughout his current re-election campaign. Most recently, the senator condemned his failure to denounce QAnon, a far-right conspiracy theory, and said the move furthered "an alarming pattern" where "politicians and parties refuse to forcefully and convincingly repudiate groups like antifa, white supremacists, and conspiracy peddlers."
Newsweek reached out to Romney's office for additional comment but did not receive a reply in time for publication.