Mitt Romney Compares His Presidential Loss to Donald Trump's: 'I Didn't Go Out and Say Fraud'
Senator Mitt Romney called out President Donald Trump again for claiming election fraud even after 306 electors formalized President-elect Joe Biden's victory on Monday.
"You know, I think the biggest concern that I have is that people here genuinely believe that somehow this election was stolen, and there's no evidence of that. The president was saying it was stolen even before Election Day happened. He said if he loses, it would be fraud. No one knows that," Romney told CNBC on Monday night.
The Utah senator compared Trump's failure to concede the election to his own presidential loss in 2012, when Romney ran against former President Barack Obama, who secured 332 electoral votes and 51.1 percent of the popular vote.
"I thought I was going to win, too, when I ran for president in 2012. I didn't. I didn't go out and say fraud," he said.
Romney conceded the 2012 presidential election the morning after election night, announcing he had called Obama to congratulate him.
He told supporters during his concession speech, "I so wish that I had been able to fulfill your hopes to lead the country in a different direction, but the nation chose another leader. And so Ann and I join with you to earnestly pray for him and for this great nation."
Romney has been outwardly critical of Trump's election challenges since the results were announced last month. The senator was one of the first Republicans to break with the president and congratulate Biden on his win.
On November 7, Romney tweeted, "Ann and I extend our congratulations to President-elect Joe Biden and Vice President-elect Kamala Harris. We know both of them as people of good will and admirable character. We pray that God may bless them in the days and years ahead."
He also told reporters a few days later that Biden's team should be given the tools to begin a transition of power, which the Trump administration had balked at for weeks.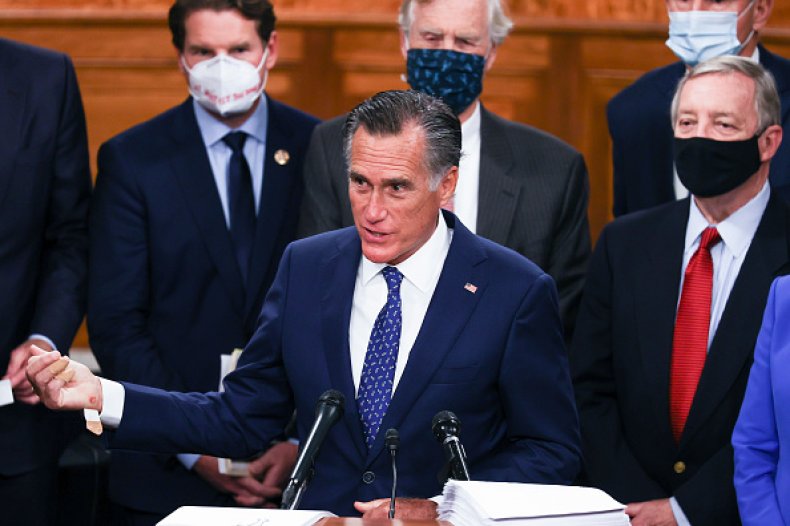 Romney has criticized other GOP leaders in the past for threatening to protest the Electoral College vote, but he's also noted there are congressional Republicans who agree with him.
"I know there are a number of people who feel like I do and have expressed their points of view. Some feel there is no upside in attacking fellows in our party," he said. "But I think it's important to say where you stand. That's what I've tried to do."
The Trump campaign's efforts to overturn the election results have slowed in recent days, after the Supreme Court rejected a Texas-led lawsuit the president had shortly before called "the big one."
On Monday, Romney expressed concern that the responses to Trump's baseless claims of fraud, including legal challenges brought forward by the president's campaign and support from Republican officials, will hurt America's reputation of a democratic nation.
"You know, we have a process, we count the votes. That's the way it is. And I'm concerned that the cause of democracy here, as well as around the world—people look to us," the senator said. "We're the democratic leader of the world. What's going on now, I'm afraid, is terribly dispiriting to people all over the globe."
Newsweek reached out to the Trump campaign for comment but did not hear back before publication.